A few highlights from today's report on existing-home sales from the National Association of Realtors:
1. What seemed to receive the most media attention was the 0.6% monthly decline in existing-home sales from February to March. However, for the month of March, the number of existing-homes sold this year -- at 4.92 million units -- was the highest sales total for the month since 2007 (see chart below). It was also an increase of 10.3% above March home sales last year, and the 14th consecutive month of a year-over-year sales gain.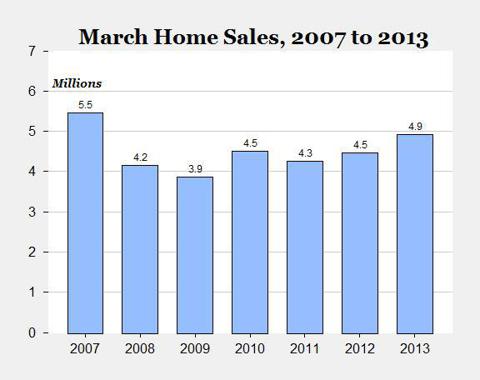 2. The median sales price for existing-homes sold in March ($184,300) posted its largest annual year-over-year percentage increase (11.8%) since November 2005, more than seven years ago (see chart below). Part of the 11.8% annual price gain was due to a shift in the sales mix of homes sold in March compared to a year ago, with a 16% decrease in sales of homes below $100,000 (fewer distressed sales) and large double-digit percent increases in higher-priced homes of $250,000 and above. But home prices have also been pushed higher due to strong buyer demand interacting with low levels of homes available for sale in many markets (see related housing report here).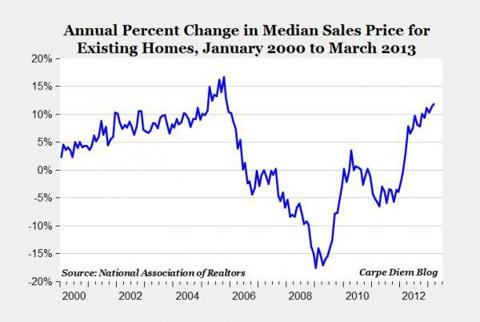 While some are already quick to declare an end to (or slowdown of) the housing recovery ("The Recovery In Housing Is Behind Us: David Rosenberg"), that seems premature to me. The path from housing bust to housing recovery is likely to be a choppy at times, and there's nothing in the March report today on existing-home sales to suggest that the housing recovery has stalled. With existing-home sales for the month of March at their highest level in six years, the housing recovery continues.