SanDisk Corporation (SNDK) designs, develops and manufactures data storage solutions using its flash memory, controller and firmware technologies. It is a pioneer in NAND technologies and holds many key patents. Its stock has recovered well after June last year, when it fell from around $50 to $30 in just two months. Since then it has been following an upward trend. The company announced its quarterly earnings recently in which its revenue grew by more than 11% year-on-year while it reported an EPS of $0.84 against an estimate of $0.79. The retail channels produced year-over-year revenue growth of 34%. This performance was much better than the consensus estimate.
I see 5 good reasons why this stock looks like a buy to me. Let me enumerate them -
Solid State Devices (SSD) future demand growth
Stabilization of Average Selling price (ASP) per gigabyte of flash memory
Expected flash memory market share growth
Surge in smartphone demand
Yen effect
SSD growth
In Q1 2013, SSD products contributed 20 percent of the total sales for the company. This was a 200% increase over last year same quarter. The combined sales of Client and Enterprise solid state devices tripled year-on-year. The company expects the SSD share in revenues to increase to 25% of the total sales in 2014.
According to a report, the market for enterprise SSDs will grow from 3,82,000 units in 2011, to 3.9 million units in 2016, representing average annual growth forecast of 59%. This will increase the SSD revenues from $582 million in 2011, to $3.5 billion in 2016, an average annual rate of 43%. This growth will be driven by SSD price decline, HDD substitution and internet growth. The two graphics below further substantiates the point.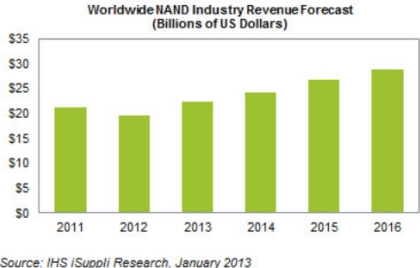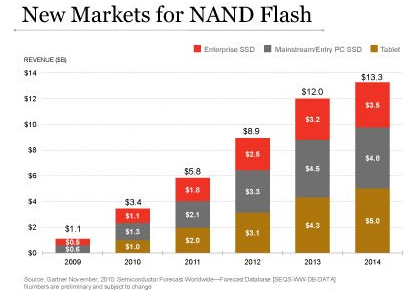 If the company is able to capture a substantial market share of cloud based enterprise SSD, it will lead to an increase in the upside potential of the stock.
Stabilization of ASP per gigabyte of flash memory
The average selling price per gigabyte of flash memory has declined from $3 in 2008 to around $0.50 in 2012. This is further expected to come down in the future, but the rate of decline might slow down. This is because a lot of manufacturers might cut flash memory production in the coming years. This will reduce the gap between supply and demand, leading to a slowdown in the fall in prices. This will help the company in focusing on capturing more market share, rather than worrying about the continuous fall in prices, further increasing the upside potential.
Flash memory market share
The graph below is an indication of the market share of SanDisk in the flash memory segment over the years.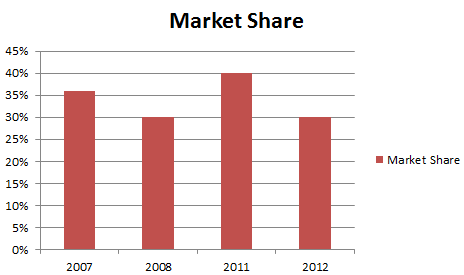 The market share of the company fell from around 40% in 2011 to 30% in 2012. This was because of the entrance of many new players in the market (like Seagate). The company has made efforts to defend its market share by striking a deal with some OEMs (like NVIDIA) and is expected to regain its market share in the near future due to its extensive ties with the leading OEMs.
Surge in tablet and smartphone demand
Due to current trends in the demand of tablet and smartphones around the world, specially emerging countries, the company is set to increase its SSD sales in the years to come. Also as a majority of these devices have card slots, the company is expected to increase its sales of SanDisk Ultra mobile cards.
Yen effect
Weakening of yen will further help the company in increasing its gross profit. The company recently stated in its quarterly earnings conference call that a 10% movement in the yen to dollar exchange rate will increase the gross margins of the company by 300 basis points. This will ultimately lead to a higher net income and thus higher valuation.
Conclusion
The trailing P/E ratio of the company is much higher than the industry average, but its forward P/E ratio is a bit lower. This indicates an expected increase in the EPS of the company. The growth forecast in EPS for the next five years is higher than the semiconductor industry. This means currently the stock might be a little overvalued and has little short-term gain potential.
But over a period of the next two years, the five factors mentioned above will drive the growth of the company. The company has raised its estimated revenues from $5.6 billion to $5.75 billion next year. Gross margins are also expected to increase from 41% to 43%. Investors might buy the stock when it reaches around $50 and hold it for a sufficient period of time to get considerable returns.
Disclosure: I have no positions in any stocks mentioned, and no plans to initiate any positions within the next 72 hours. I wrote this article myself, and it expresses my own opinions. I am not receiving compensation for it (other than from Seeking Alpha). I have no business relationship with any company whose stock is mentioned in this article.