Despite the recent correction, the broad equities market could still move higher. Nevertheless, investors who are wary of any potential volatility along the road could consider exchange traded funds that focus on consistent dividend payers, say S&P analysts.
"While we believe equities should move higher in the next twelve months, the journey will likely be a volatile one," Todd Rosenbluth, S&P Capital IQ Director of ETF and Mutual Fund Research, wrote in a research note. "With that in mind, we think investors might find investment strategies focused on consistent dividend-paying stocks appealing. Not only can they help protect against downside in a market pullback, they can also aid returns during a subsequent potential market rally."
Over the long-term, consistent dividend payers have contributed to higher returns. Specifically, over 40% of total return in the S&P 500 since 1926 has come from reinvested dividends.
One way to gain exposure to quality dividend paying stocks is through the Vanguard Dividend Appreciation Index Fund (NYSEARCA:VIG). Rosenbluth believes that VIG offers a "diversified way to get exposure to companies with dividend growth prospects," and the fund's "overweight" ranking is attributed to S&P's performance risk and cost analysis.
VIG tracks a group of "dividend achievers" that have increased their dividends in each of the past 10 years.
The fund's top holdings have a combination of attractive valuations, modest risk and strong balance sheets, according to S&P analysts. VIG, while holding a large exposure to defensive sector consumer staples, also includes cyclical exposure to industrials, consumer discretionary, energy and materials.
VIG has a 0.13% expense ratio and comes with a 2.17% 12-month yield. The ETF has outperfrmed the S&P 500 index so far this year, gaining 9.9% year-to-date, compared to the 8.8% rise in the S&P 500.
Vanguard Dividend Appreciation Index Fund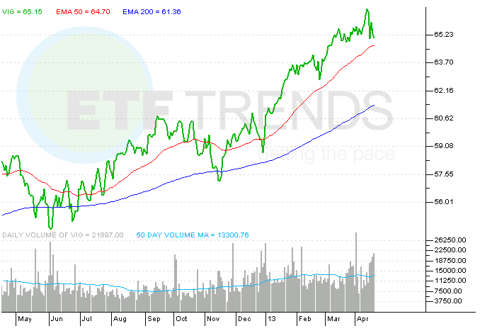 Click to enlarge
Max Chen contributed to this article.
Disclosure: I have no positions in any stocks mentioned, and no plans to initiate any positions within the next 72 hours. I wrote this article myself, and it expresses my own opinions. I am not receiving compensation for it. I have no business relationship with any company whose stock is mentioned in this article.