VIX - Market Sentiment:
Welcome to my 200th SA article. Monday S&P futures were drifting higher into the open as world markets were mixed across the board. Tonight we have China's flash PMI number set to come out at 9:45 p.m. EST, which is sure to move the futures in one direction or another. Last week massive China ETF (NYSEARCA:FXI) puts were purchased and now are near 200K in total open interest. This would signal tonight's release will more than likely be a miss. Additionally, tomorrow German and French flash PMIs are also released along with U.S. New home sales numbers, which could add some volatility to the market. The past few weeks have whipsawed us back and forth in the market, so it will be interesting to see where our next leg takes us.
Just like clockwork, volatility is back to being sold by everyone across the board even as earnings continue to disappoint. If you would have told me Caterpillar (NYSE:CAT), IBM (NYSE:IBM), Oracle (NASDAQ:ORCL), and General Electric (NYSE:GE) all reported bad quarters and lowered guidance, I would have never dreamed the S&P would be anywhere near 1560. Regardless, volatility continues to be heavily traded in both the ETF and futures market. Last week (here) the sonar report highlighted a divergence between VIX and Volatility ETF (NYSEARCA:VXX). VXX saw heavy options looking for lower volatility. Today specifically in the VXX, volatility reversed course halfway through the day with calls being bought along with puts overall, but at a 2 to 1 clip. Calls were bought on the ask 49% of the time and puts were bought 54% of the time, but net premium of the calls was almost twice that of the puts. Options activity was just about average, with puts outnumbering calls 1.2 to 1 on the day.
Statistics and Screenshot Provided By LiveVol
VIX futures are listed below.
Yesterday
· May VIX futures 15.95
· June VIX futures 16.80
· July VIX Futures 17.55
Today
· May VIX futures 15.27
· June VIX futures 16.01
· July VIX Futures 16.79
Options Paper:
For those who follow me and my trades on Twitter, I initiated 2 trades today. Both just happen to be reporting earnings after the bell tonight. The first was just as I spoke about in my sonar reports last week. I initiated a long on Netflix (NASDAQ:NFLX) through both call calendars and call diagonals. This was simply a play on the largest trades of the day, which were mostly bullish as more than 2.5M in call premium poured into the name ahead of earnings. Volatility did not spike on the day and actually trended lower as the trading day went on as bears and bulls position for a large move post earnings. The front month straddle has collapsed from the 34.00 to around the 30.00 level, and the back month straddle also has fallen from the 38.00 level to under 35.00. For those not familiar with an options straddle, it is the price market makers or options sellers are looking at in terms of price movement between now and expiration. As it sits right now, NFLX, after moving up 7.1% ahead of earnings, that would put NFLX north of 205 or below 145 on May expiration. If one is looking at just the weekly straddle, it is expecting approximately a 26.00 move between now and Friday. One should take these numbers with a grain of salt, however, as the last earnings report on 1/23 expected a 16.45 move, which moved to 60.00+ after NFLX rocked above 150.00. Options activity has remained incredibly bullish even with the recent pullback, so I'm hopping on this train looking for a low risk way to play to the upside and volatility collapse from the earnings release. Options premium has seen calls bought to the tune of more than 10M over the last 2 weeks and puts overall sold to the tune of 1M. Options were almost 150% average daily volume, with calls outnumbering puts 1.2 to 1.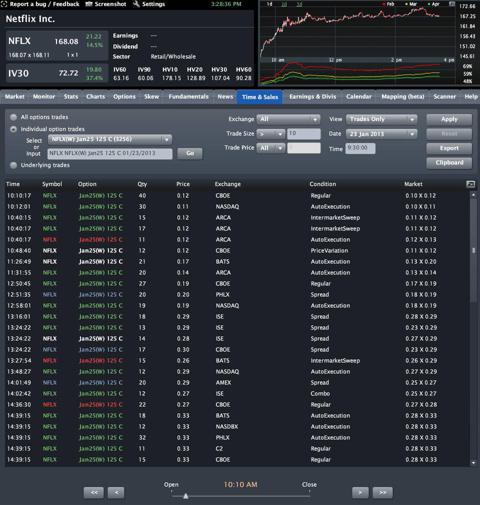 Statistics and Screenshot Provided By LiveVol
My second trade of the day was a short on Zions Bancorp (NASDAQ:ZION), looking to ride the wave of finance down. ZION is not a heavily traded name in the world of options, and today was no different ahead of earnings after the bell tonight. ZION today saw almost 2x average daily volume today, with calls outnumbering puts 4 to 1, which looks bullish on the surface. This is until you look at 41% of the 1.2K calls that were sold on the bid and 47% of the puts that were bought on the ask, looking for this bank to head lower post earnings. I specifically played a synthetic short, selling the calls to buy puts in the name and could spread at any time or buy/short common stock in the afterhours to reduce risk. I typically do not advise anyone to be naked short calls, but I like the risk reward here and options activity continues to be bearish. Options net premium were overall sold on both the calls and puts, but the put side today was due to profit takers rolling positions out and lower looking for downside between now and June expiration.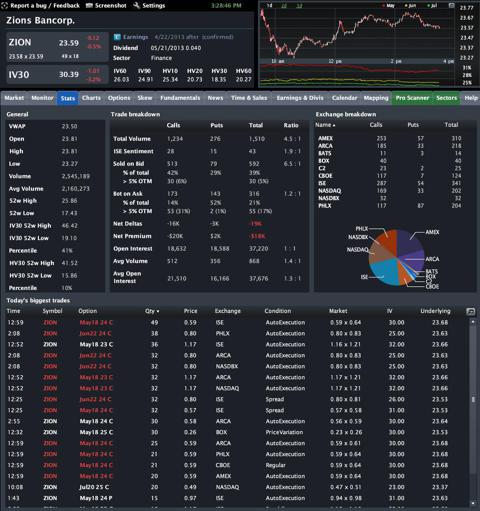 Statistics and Screenshot Provided By LiveVol
In celebration of my 200th article, I decided to do a third highlight for a name that was ripping today: Microsoft (NASDAQ:MSFT). MSFT today was trading higher by more than 4%, and the options pits were buzzing trading more than 2.5x average daily volume. Today at 3:26 p.m. ET, a massive long-term bull stepped up to the plate and bought 50K calls of the January 2015 expiration. The "Call stupid" was purchased buying 20K of the 37 strike calls for 1.09 and 30K of the 42 strike calls for .465. Overall, almost 3.6M was sent in this one single order looking for MSFT to break higher between now and January 2015 by some 33%. Even more impressive, 59% of the 278K calls trading today were bought on the ask, totaling more than 6.2M in net call premium bought on the day. Add this one to your radar, as it appears someone liked the MSFT quarter and likes the nice .23 upcoming dividend.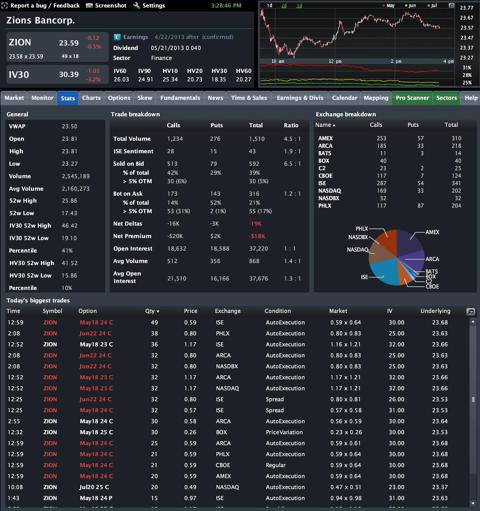 Statistics and Screenshot Provided By LiveVol
Popular ETFs and equity names with bullish/bearish paper:
Bullish Option Flows - ISE and % OTM calls bought on offer
Deutsche Bank (NYSE:DB) 74% - 4.5K OTM calls
Russian ETF (NYSEARCA:RSX) 71% - 4.7K OTM calls - This name continues to see call buying
Micron Technology (NASDAQ:MU) 66% - 23.5K OTM calls bought looking for this name to get back to post earnings highs.
Bearish Option Flows - ISE and % OTM puts bought on offer
Men's Warehouse (MW) - 98% - Large 4.5K OTM puts bought in August 26 strike could be closing short check OI.
Hercules Offshore (NASDAQ:HERO) - 97% - 2K OTM puts bought
Genworth Financial (NYSE:GNW) 81% - 5.1K OTM puts bought
Disclosure: I am long AGNC, BA, BAX, CBB, CIM, CONE, DNDN, DRYS, HEK, IOC, LNG, NFLX, NQ, TLM, and I am short ASH, EA, HPQ, LULU, PH, SPY, ZION.
Trades Today: Added to LULU short, bought NFLX call calendar/diagonal, Bought PH put butterfly, Short synthetic ZION.
Portfolio Exposure:
Long: 23.5%
Short: 17.5%
Cash: 59.0%
I wrote this article myself, and it expresses my own opinions. I am not receiving compensation for it (other than from Seeking Alpha). I have no business relationship with any company whose stock is mentioned in this article.
Disclaimer: The opinions in this document are for informational and educational purposes only and should not be construed as a recommendation to buy or sell the stocks mentioned or to solicit transactions or clients. Past performance of the companies discussed may not continue and the companies may not achieve the earnings growth as predicted. The information in this document is believed to be accurate, but under no circumstances should a person act upon the information contained within. I do not recommend that anyone act upon any investment information without first consulting an investment professional as to the suitability of such investments for his or her specific situation.