The outlook for agricultural equipment outside of the Americas remains uncertain. Key markets such as Germany and France are holding up just fine, but investors are aware that some weather-related issues are impacting other parts of Northern Europe. Moreover, investors have no reason to think that the broader economic environment, or more specifically credit conditions, in many parts of Southern Europe have improved significantly in the past several months. Taken together, the outlook for European agri-equipment is rather mixed, and the European market is estimated to be modestly lower by 5% next year.
Although Deere & Co. (NYSE:DE) is poised to gradually gain market shares in key regions this year, it seems that Europe could be a modest drag on the company's earnings. Analysts forecast a healthy outlook for U.S. construction spending and industrial production, but they expect limited cyclical upside and potential multiple compression risk for construction rental and aerial platform stocks this year. Crane manufacturers, equipment rental companies and wallboard suppliers are significantly earlier in the cycle in U.S. construction.
The chart below illustrates machinery stocks trading at a sharp discount to the S&P 500 against the historical range P/E multiples.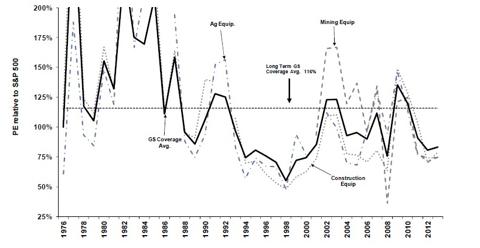 Source: Company Data, Factset Research
Investors consider Deere's business growth catalysts as "underrated." Several industry factors contribute to the company's business top line growth including the North American construction markets, boosted by a U.S. housing recovery and strength in the independent rental channel. Analysts expect margins to improve but at a sluggish pace due to the lingering international expansion costs.
Management has signaled that a resilient demand for equipment in North America should occur. Farmers reported that some areas in the U.S. that were hardest hit by drought seem to be hanging in there given the benefit of carryover income from prior year harvests, strong crop prices and crop insurance protection.
Deere is coming off a muted demand from the South American region last year. This year should benefit at easy comparable sales figures. Some strong agricultural indicators around South America's second harvest season are positive. Additionally, some clarity around government financing programs in Brazil seems to be supporting a demand pick up in Deere's equipment products.
Deere's revenues from tractors and combines in U.S. and Brazil make up approximately 60% of Deere's global agricultural sales, including North America sales of high horsepower row crop/4WD tractors. Combines are up by 22% through the first four months of Deere's fiscal year.
Equipment data for agriculture reported by ANFAVEA revealed as of the third quarter of 2012, total domestic unit sales in Brazil increased by 4% versus the same period in 2011. The data also tells that it is trending better than Deere's earnings guidance for the South American markets of down by 5% to 10%. Domestic sales of combines and tractors in Brazil increased by 12%. This bodes well for the company whose market share has begun to decline in 2013. Incremental weakness was seen from its government's restrictions on import licensing.
Investors are not expecting any near-term improvement in Deere's business in Argentina. However, sales would likely pick up by the middle of 2013 when Deere commences its local assembly operations.
Execution of strategic plans will improve this quarter, but remains a work in progress. Industry retail sales regained sharply during the past two months. It rose 40% in October and up 22% in September, which is perhaps the most compelling indication that Deere has already addressed some of the operational inefficiencies at its Harvester Works facility.
There were a variety of issues that impacted Deere's production last quarter, including a significant increase in the number of unique parts required on the new combine model versus older models, which led to some challenges with suppliers, and hampered an already back-end loaded production schedule. These issues led to delays and cancellations in getting some combines shipped out to its dealers.
The bulk of Deere's revenue shortfall will regain in the fourth quarter this year, as it seems unlikely that Deere will be able to resolve all these issues in such a short amount of time. Deere's inventory and receivable levels, which have increased the past two quarters in a row, have also raised some concerns for investors.
Deere inventory levels will moderate towards the last quarter of 2013, after a portion of inventory increase caused by emerging market weakness could take several more quarters to work down. However, the last remaining increase in inventory was related to the execution issues discussed earlier. This could show improvement as early as this quarter given the rebound in "combines" production.
Growth Outlook and Valuations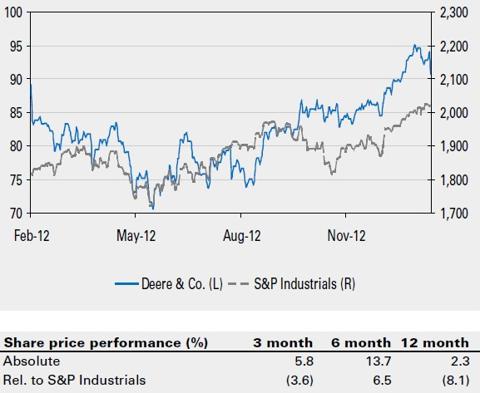 Source: Company Data
Deere's used equipment inventory levels are manageable. Used equipment inventory levels are down on average from year ago levels. Market for used high horsepower tractors and seasonal tillage, planting and sprayer equipment is relatively solid.
Seasonal pressure on corn prices has once again raised investor concerns about the sustainability of the current agricultural cycle. But crop prices and Deere's stock performance should improve once investors realize that current yield expectations are too high and demand expectations are too low.
Barclays rated the stock as Overweight with a price target of $102 on P/E of 10.7X on potential upside on shares at EPS of $8.65 and a market capitalization of $35.9 billion.
Goldman Sachs maintains its 12-month price target of $98 with a Neutral rating on 6.9X EV/EBITDA (Enterprise Value to Earnings Before Income Tax, Depreciation and Amortization) equivalently 10.8X P/E.
Disclosure: I have no positions in any stocks mentioned, and no plans to initiate any positions within the next 72 hours.
Business relationship disclosure: Black Coral Research is a team of writers who provide unique perspective to help inspire investors. This article was written Hans Centena, one of our Senior Analysts. We did not receive compensation for this article (other than from Seeking Alpha), and we have no business relationship with any company whose stock is mentioned in this article.
Additional disclosure: Black Coral Research is not a registered investment advisor or broker/dealer. Readers are advised that the material contained herein should be used solely for informational purposes. Investing involves risk, including the loss of principal. Readers are solely responsible for their own investment decisions.