Inergy, L.P. | Investor Relations | Press Release.
I think Inergy LP (NRGY) should definitely be on every income investor's radar. This company has increased the distribution every quarter for something like 7 years straight. Its management has cost under control and a well managed growth plan.
The retail propane market seems pretty recession proof (almost too late now!). Growth is possible by making acquisitions in this still fragmented business.
Inergy has also been creative in the growth of its midstream natural gas business. With operations focused on California and New York, the company has large markets to grow into.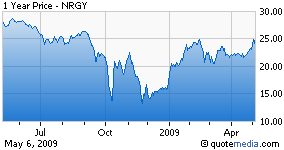 Although the share price dropped to close to $12 over the last year, the share price is now 2% above where it was in the middle of 2008. Throw in a 10%+ dividend and long term investors should be pretty happy.
Disclosure: NRGY is a component of my site's hypothetical Income Portfolio.