As I write this, Netflix (NASDAQ:NFLX) is up 25% to $218 in the after-hours session after reporting generally positive earnings, which met revenue expectations and came in at the high end of subscriber expectations while besting EPS consensus.
On the whole these earnings seem good, if not extraordinary. However, something really caught my eye -- the subscriber guidance for Q2 2013:
As we discussed a quarter ago and in our April 2012 Investor letter appendix, we generally expect Q2 net additions to be lower than prior year Q2 due to increased seasonality of net additions. This coming Q2, however, we have Arrested Development, and momentum from lots of new content coming to the service, so we expect to see slightly higher net additions than Q2 a year ago.
Why did this catch my eye? Because Q2 2012 was horrid from the subscriber standpoint. Here are the numbers from last year (Source: Netflix, emphasis is mine):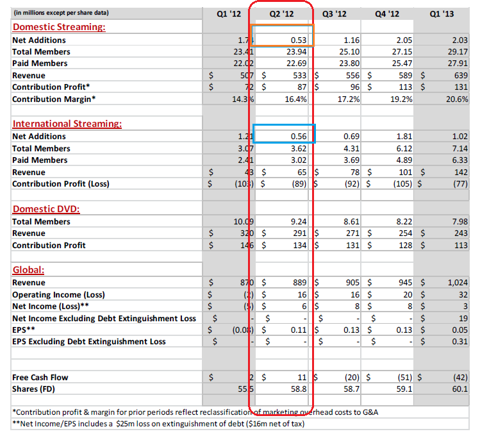 So basically last year during Q2, Netflix added 0.53 million domestic subscribers. Were Netflix to just beat this number slightly, as it seems to imply, that would represent a huge drop from this quarter's 2.03 million. While one can blame it on seasonality as Netflix is doing, this hardly seems the kind of development to be celebrated with a 25% gain.
Also …
Netflix is fond of presenting the following chart, representing how many of its top 200 shows other competitors, such as Amazon.com (NASDAQ:AMZN) or Hulu, have.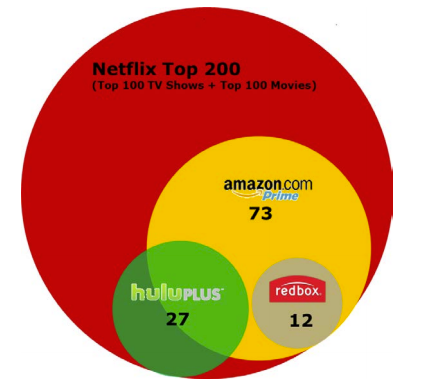 Again this quarter, Netflix reprises the motto:
Last quarter we shared with you that of our "top 200" titles, Amazon Prime Instant Video had only 73. This quarter it was 74.
So what's the problem? This chart and comment are highly -- and I mean highly -- misleading. The most that any competitor can have of Netflix's top 200 shows would be 200, and for that to happen, there could be no exclusive Netflix shows. And worse still, were any of Netflix's competitors to produce a chart using the same criteria, and it, too, would look similar. Because Netflix also doesn't have the 200 top shows that its competitors show, namely those that are exclusive as well as others. In short, the chart is misleading.
Conclusion
In light of Netflix's light guidance on domestic streaming subscribers, I think that this night's huge gain won't hold. I expect Netflix to be up strongly all through tomorrow's session, but not to end up 25%. Accordingly, I shorted a small position into the after-hours euphoria.
Disclosure: I am short NFLX and AMZN. I wrote this article myself, and it expresses my own opinions. I am not receiving compensation for it (other than from Seeking Alpha). I have no business relationship with any company whose stock is mentioned in this article.