Investment Thesis
Mylan Inc. (NASDAQ:MYL) has seen a moderate 3.24% increase YTD. This is slightly down because of the recent pullback in March when the stock fell 6.13% on news of Valeant Pharmaceuticals (NYSE:VRX) allowing Actavis (ACT) to exclusively market and distribute an authorized generic version of Valeant's Zovirax ointment, which Mylan had recently received approval from the FDA for. This news has brought a great opportunity for investors to get in the stock while it is in the midst of a pullback. The Company still has many pending FDA approvals for its generic pharmaceutical product portfolio. Another catalyst that it has for the long-term is its expansion to emerging markets, where generic drugs can thrive. Of course, as the company expands its global reach, its influence from macroeconomic conditions is greater, but in the long run, as macro conditions improve, I believe Mylan will thrive as the leader in generic pharmaceuticals.
Company Report-Initiation of Coverage
Rating & Target
BUY
Target Price (1 yr): $34.00
Current Price (04/19/2013): $28.34
Total Return to Target: 19.97%
52-Week Range: $20.21 - $31.22
Market Data
P/E Ratio (TTM): 18.36
Beta: 0.79
Market Capitalization (Mil.): $10,700.57
Shares Outstanding (Mil.): 382.71
Dividend: --
Company Description
Mylan Inc. is a fully integrated global pharmaceutical company that develops, licenses, manufactures, markets and distributes generic, branded generic and specialty pharmaceuticals. It operates in two segments, generic and specialty. The Generics segment primarily develops, manufactures, sells, and distributes generic or branded generic pharmaceutical products in tablet, capsule, and injectable or transdermal patch forms, as well as active pharmaceutical ingredients (API). This segment serves proprietary and ethical pharmaceutical wholesalers and distributors, group purchasing organizations, drug store chains, independent pharmacies, drug manufacturers, institutions, and public and governmental institutions. The Specialty segment manufactures and sells branded specialty injectable, nebulized, and transdermal products for life-threatening conditions. This segment serves pharmaceutical wholesalers and distributors, pharmacies, and healthcare institutions. Currently, Mylan has a global portfolio of approximately 1,100 different products covering a vast array of therapeutic categories. The Company was founded in 1961 and is based in Canonsburg, Pennsylvania.
1-Year Performance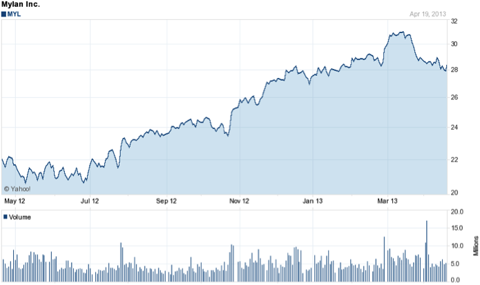 Source: Yahoo Finance
Investment Overview
Mylan to acquire Agila to create leading global injectables platform
On February 27, 2013, Mylan Inc. announced that it had signed a definitive agreement to acquire Agila Specialties Private Limited, a developer, manufacturer and marketer of high-quality generic injectable products, for $1.6 billion in cash. This acquisition will create a global injectables leader, significantly expanding and strengthening Mylan's global injectables platform and providing the Company entry into new high-growth geographic markets. The transaction is expected to close in the fourth quarter of 2013, subject to regulatory approvals and certain closing conditions. CEO Heather Bresch believes that "the acquisition of this unique asset delivers on several of Mylan's strategic growth drivers by further expanding and diversifying our product portfolio and geographic reach. Agila will bring us one of the most state-of-the-art, high quality injectables manufacturing platforms in the industry. Our significantly expanded manufacturing capacity will allow us to vertically integrate our injectables platform and fast-track our ability to pursue additional product opportunities and partnerships to facilitate long-term growth." According to CFO John Sheehan, "the acquisition will immediately enhance our revenue and earnings growth upon closing, and nearly double our business from injectables in the first full year." Agila will bring Mylan a broad product portfolio of more than 300 filings approved globally and marketed through a network covering 70 countries. Agila's research and development and regulatory track record are reflected in its industry-leading number of approvals and fast approval timeframes. The global generic injectables market is expected to grow at a compound annual growth rate of 13% from 2011-2017 driven by patent expirations, outpacing most other dosage forms. The combined Mylan/Agila portfolio will represent approximately 70% of regulated market demand for injectables.
Growing presence in emerging markets
Mylan supplies antiretroviral (ARV) drugs to more than 120 countries around the world, and nearly 40% of HIV/AIDS patients receiving treatment in developing countries depend on a Mylan product. Mylan recently entered the South African market with a comprehensive portfolio of ARV drugs.
Mylan has many new drug applications pending for approval
Currently, Mylan has 178 Abbreviated New Drug Applications (ANDA) pending FDA approval representing $78.4 billion in annual sales, according to IMS Health. Thirty-five of these pending ANDAs are potential first-to-file opportunities, representing $20.3 billion in annual brand sales.
Consistent revenue growth
As shown by the graphs below, Mylan has posted consistent annual growth in revenue and earnings per share over the years. This positive trend has continued while Mylan has had increasing research and development expenses, which shows that its profitability has been increasing as a result of its product development capability.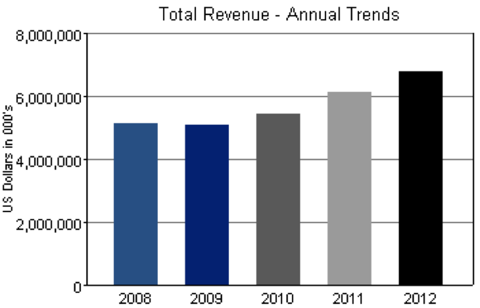 Source: i-Metrix

Source: CNBC
Strong financials
Mylan has a P/E ratio of 18.36 compared to the industry average of 28.81 indicating that the stock is underpriced compared to its competitors based on its earnings. With a forward P/E of 8.68, analysts expect the Company to definitely grow in the near future. It has an operating margin of 16.33% compared to the industry average of 13.66%. The management's effectiveness is shown by return on assets of 5.46% compared to the industry average of 4.47%, return on investment of 6.86% compared to the industry average of 5.92%, and by its impressive return on equity of 18.66% compared to the industry average of 7.92%. It also has a strong profit margin of 9.43% compared to its closest competitors, Actavis' 1.65% and Teva Pharmaceuticals Industries Limited's (NYSE:TEVA) 9.66%, considering it has a smaller market cap than its competitors. Mylan has higher revenue, operating margin, net income, and EPS than Actavis.
· Its operations extend to numerous countries outside the U.S., and operating globally exposes it to certain additional risks including, but not limited to, compliance with a variety of national and local laws of countries in which they do business and wage increases or rising inflation in the countries in which it operates in
· Movements in foreign currency exchange rates could have a material adverse affect on its business, financial position and results of operations since a significant portion of its revenues, indebtedness and other liabilities and its costs are denominated in foreign currencies
· Future revenue growth and profitability are dependent upon its ability to develop and/or license, or otherwise acquire and commercialize, new generic and patent or statutory protected pharmaceutical products in a timely manner
· High debt-to-equity ratio of 1.71 compared to industry average of 0.18 indicating that Mylan primarily uses debt to finance its operations
Industry Overview
Mylan Inc.'s primary competitors include other generic companies and branded drug companies that continue to sell or license branded pharmaceutical products after patent expiration and other statutory expirations. Further regulatory approval is not needed for a brand manufacturer to sell its pharmaceutical products directly or through a third-party to the generic market, nor do such manufacturers face any other significant barriers to entry into such market. The U.S. pharmaceutical industry is very competitive. The primary means of competition are innovation and development, timely FDA approval, manufacturing capabilities, product quality, marketing, portfolio offering size, customer service, reputation and price. The environment of the U.S. pharmaceutical marketplace is highly sensitive to price. To compete effectively, Mylan relies on cost-effective manufacturing processes to meet the rapidly changing needs of its customers around a reliable, high quality supply of generic pharmaceutical products. In regards to its Specialty Segment business, significant sales and marketing effort is required to be directed to each targeted customer segment in order to compete effectively.
The U.S. pharmaceutical market is undergoing, and is expected to continue to undergo, rapid and significant technological changes, and Mylan expects competition to increase as these advances are made. Mylan intends to compete in this marketplace by (1) developing therapeutic equivalents to branded products that offer unique marketing opportunities, are difficult to formulate and/or have significant market size, (2) developing or licensing brand pharmaceuticals that are either patented or proprietary and (3) developing or licensing pharmaceutical products that are primarily for indications having relatively large patient populations or that have limited or inadequate treatments available.
The pharmaceutical industry is also affected by Medicaid, a U.S. federal health care program, requires all pharmaceutical manufacturers to pay rebates to state Medicaid agencies. These rebates are based on the volume of drugs that are reimbursed by the states for Medicaid beneficiaries. The Patient Protection and Affordable Care Act and the Health Care and Education and Reconciliation Act of 2010 raised the rebate percentages for both generic and brand pharmaceuticals effective January 1, 2010.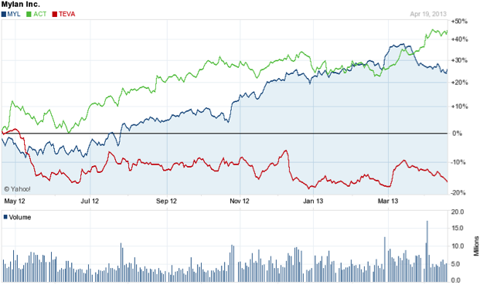 Source: Yahoo Finance
Conclusion
The strong fundamentals and growth initiatives indicate that Mylan Inc. is just experiencing a brief pullback before it starts another uptrend. It is increasing its global footprint by expanding to emerging markets, where price is a big factor in pharmaceutical products. As Mylan gets more FDA approvals on its ADNAs, it should increase its profitability over time. Since the pharmaceutical industry overall is very competitive, the stock may move based on FDA approvals for its competitors or from further regulations passed towards pharmaceutical companies. All in all, I believe that Mylan is a great pharmaceutical play which has great potential to grow.
Disclosure: I have no positions in any stocks mentioned, and no plans to initiate any positions within the next 72 hours. I wrote this article myself, and it expresses my own opinions. I am not receiving compensation for it (other than from Seeking Alpha). I have no business relationship with any company whose stock is mentioned in this article.