After the bell on Monday, shares of streaming giant Netflix (NASDAQ:NFLX) rocketed higher after its first quarter earnings report. Subscriber numbers came in at the high end of guidance, while revenues were roughly in-line with expectations. After subtracting out a loss on the extinguishment of debt, earnings per share beat. Netflix shares jumped more than 25% to around $220 on the news. Today, I'll break down the numbers, and see if this rally is worth buying into.
First Quarter Results:
The table below shows where Netflix came in against its own expectations. Netflix analysts were expecting approximately $1.02 billion in revenues and earnings per share of $0.18.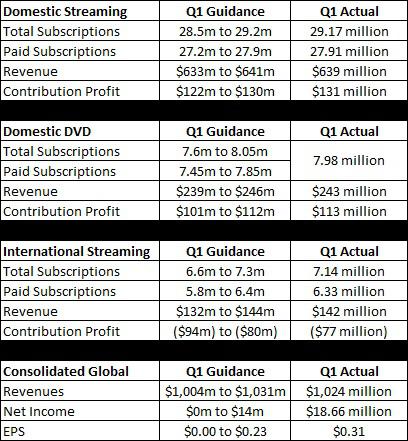 *Net income and EPS are after adjustment for debt extinguishment.
In terms of domestic streaming, Netflix came in at the high end of its guidance or even above in some respects. The company did well with its new original series "House of Cards". In terms of international streaming, the company brought in a fair amount of new subscribers. The number of paid subscribers was more impressive than the number of total subscribers, which really helped revenue and contribution profit numbers. At this point, they haven't expanded internationally in a couple of quarters, so once they start expanding again, contribution losses will increase. Netflix is changing its DVD presentation, which I'll get to later.
Overall and segment margins:
The table below shows Netflix's Q1 margins over the past four years.

*2010 numbers include gain on sale of DVDs. 2013 - excluding debt issue, net profit margin would have been 1.82%.
Netflix saw a year over year improvement in gross margins. While revenues increased by 17.72%, the cost of those revenues only rose by 16.5%. Additionally, total operating expenses rose by just 7.06%, and that helped operating margins. Netflix reported a nice increase in its domestic streaming gross margins, which rose from 28.68% in Q4 of 2012 to 31.65% in Q1 of 2013. The ability for Netflix to increase its streaming gross margins going forward will determine how profitable Netflix can be in the long term. Additionally, the company did not spend as much internationally, and that will help margins.
Balance sheet update:
The following table shows some key balance sheet numbers for Netflix in recent quarters. Dollar values in thousands.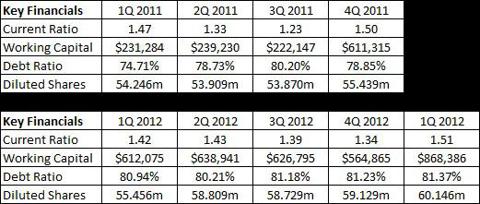 During the quarter, Netflix raised $500 million worth of 8-year notes, and they used approximately $225 million to retire older debt. This is why the company's cash balance, current ratio, and working capital all improved, since the debt is a long-term liability. The debt (liabilities to assets) ratio weakened slightly. The number of shares continues to increase, as investors are further diluted. This increase in shares lost the company 3 cents of earnings compared to the year ago period. Netflix will also convert the $200 million TCV convertible notes on Tuesday. This won't have any impact on the company's cash, and it will turn $200 million of debt into equity on the balance sheet. Netflix announced on the conference call that content liabilities rose from $5.6 billion at the end of 2012 to $5.7 billion at the end of Q1 in 2013. Those obligations not on the balance sheet increased from $3.2 billion to $3.3 billion.
Guidance:
This is where things get interesting. The following table shows Netflix's Q2 guidance compared to its Q1 results.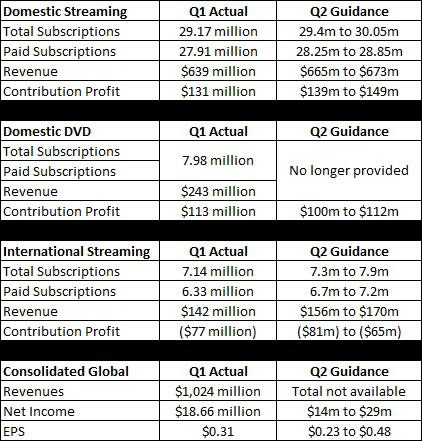 Considering that Netflix has two new originals slated for Q2, "Hemlock Grove", which launched April 19th, plus 15 episodes of "Arrested Development" in late May, I might have expected more than one million domestic streaming sub adds. However, Q2 is their weakest quarter for seasonal adds, so the guidance is fair. Netflix also announced a new four-stream plan that will cost $11.99 per month.
International streaming is expected to show decent improvement as well. However, the company did caution that they are increasing their content spending, which also will have a negative impact on contribution losses. They also increased prices in Brazil early in Q2. In terms of both domestic and international streaming, the company expects to get the number of free trials down, converting more of those trials to paying members.
You may notice that there is some DVD segment information missing. Going forward, Netflix will only provide DVD contribution profit guidance, since that is "what they focus on". They will still report everything else, but not guide to it. I'm wondering if this means an eventual sale of the business is in order. It is possible. Since Netflix's main focus is on streaming going forward, this move makes sense, but it wouldn't have killed them to provide a few extra numbers. I've mentioned in past articles that Netflix always changes how they present their information, and here's another change.
Earnings per share guidance of $0.23 to $0.48 was decent, and the midpoint is above the $0.29 that was expected by analysts for Q2. However, revenue guidance is tricky. In terms of total streaming, the company guided to $821 million to $843 million. If we try to figure out DVD, let's first look at Q1 DVD revenues of $243 million. Since the DVD business is not a focus, these numbers are coming down. I would expect somewhere between $220 million and $235 million. Add that in, and you get a total of $1.041 billion to $1.078 billion. The midpoint of that is $1.0595 billion, in-line with the $1.06 billion analysts are expecting. Given how impressive earnings per share guidance was, revenue guidance seemed a bit weak to me.
Competition:
Netflix virtually ignored competition in its investor letter. There were zero mentions of Redbox Instant, the partnership between Coinstar (NASDAQ:CSTR) and Verizon (NYSE:VZ). Given that Redbox Instant combines both streaming and DVD, I would have expected to hear more about it in the letter. Netflix usually tells us in their investor letters how great they are compared to the competition. On the conference call, I had e-mailed in two questions about this new service, but they were not answered.
In terms of Amazon (NASDAQ:AMZN) and its Prime Instant Video, we got one lousy sentence. I had e-mailed in some questions to Netflix for their Q&A session, because they allow the public to do so. I asked them about their "Top 200" which they bragged about last quarter, their top 100 TV shows and top 100 movies watched during Q4. They said that Amazon Prime had just 73 of those 200 selections in Q4. In this investor letter, they told us that Amazon was up to 74. I find this interesting, considering that Prime Instant Video's library went from over 30,000 titles in December 2012 to over 38,000 in March 2013. You would have expected to see a higher number from Prime. Either Netflix's number is wrong, which I'm not suggesting is the case, or Amazon is adding a lot of different content, like all of the content Netflix has dropped in recent years.
I know that Netflix has really shrugged off competition in the past, but they seemed to take it to an extreme this quarter. With results looking rather good, Netflix seemed to cement their presence in this space. Should this competition start to have a larger impact on Netflix's results, maybe they'll discuss competition more going forward.
Final Thoughts / After-hours:
Netflix was able to deliver in Q1. The company's subscriber numbers were very solid, revenues were in-line, and earnings beat. Q2 guidance was fair, but on the revenue side it did not seem spectacular. Earnings per share guidance was above expectations. Balance sheet metrics improved thanks to the capital raise. The company pretty much blew off competition.
In the after-hours session, shares rose about 25%, trading mostly in the $215 to $220 range. To many, the rise will seem unjustified, as the company trades for hundreds of times its earnings. However, earnings with this company are like a wave. They will rise when they aren't entering new markets, and fall when they do enter new markets, like the second half of this year. Investors are bidding up the stock because they are bringing in new subscribers, and that is generating a solid amount of revenues.
Disclosure: I have no positions in any stocks mentioned, and no plans to initiate any positions within the next 72 hours. I wrote this article myself, and it expresses my own opinions. I am not receiving compensation for it (other than from Seeking Alpha). I have no business relationship with any company whose stock is mentioned in this article.
Additional disclosure: Investors are always reminded that before making any investment, you should do your own proper due diligence on any name directly or indirectly mentioned in this article. Investors should also consider seeking advice from a broker or financial adviser before making any investment decisions. Any material in this article should be considered general information, and not relied on as a formal investment recommendation.