By Patricia Sander
I propose VF Corporation (NYSE:VFC) as a "Investment You Don't Have to Look at Every Day." By this, we refer to a stock that will deliver decent returns over long periods of time, so investors don't have to buy and sell at exactly the right timing, nor worry about occasional dips in stock prices. We believe this is what many non-professional investors want, because they don't have time or want to look at financial news on a daily basis.
The name VF Corporation may not ring a bell, but I'm sure Lee, Nautica, Jansport, Wrangler, North Face, Timberland, Wrangler and Eastpak will. Over the past 9 to 10 years, VFC has returned in excess of 19.2% annualized to shareholders, compared to 4% for the overall market. This is driven to a large extent by 12.8% in annualized earnings growth and 5% from an improvement of P/E ratios from 11.6x to 17.4x. Other than the softness between mid-2007 and 2009, VFC has had a consistent upward trend.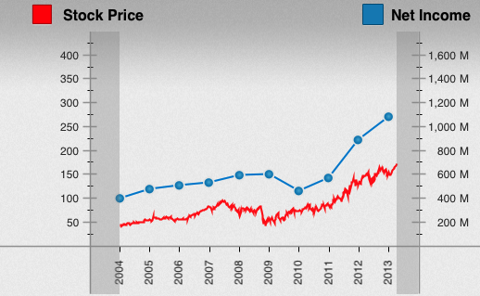 Click to enlarge
Interestingly, compared to Danaher (NYSE:DHR), an earlier pick in the same series "Investment You Don't Need to Look at Every Day", VFC was able to achieve almost the same shareholder returns of around 19% with less earnings growth of 12.8% versus 19.5% of DHR. This was largely because VFC required retaining less of its earnings, hence it was able to return more of its earnings to shareholders in the form of dividends and share buybacks, thereby generating higher return with less earnings growth.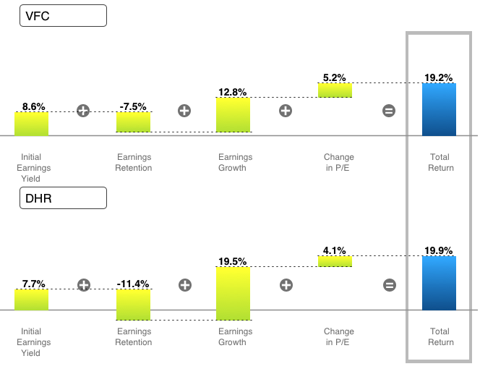 Click to enlarge
One can see why VFC required retaining less earnings by looking at how VFC achieved these earnings growth compared to DHR. Firstly VFC had a higher ROE of 18.6% averaged over this period compared to 16.5% of DHR. This meant that VFC would be able to grow its assets or equity base at the same rate as DHR with a lower retention ratio and return more of its earnings back as dividends and/or share buy-backs. Secondly VFC did not suffer a decline in ROE like DHR did. This meant that for VFC, the earnings retained translated to higher earnings growth than did DHR's. Interestingly, this suggests that VFC has been able to invest in earnings growth without sacrificing ROE, whereas DHR may have sacrificed ROE for the sake of growth.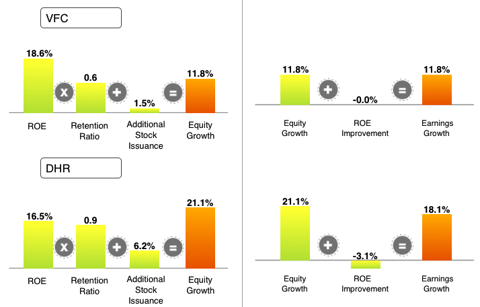 Click to enlarge
At 16.9x trailing P/E, I believe VFC is fairly valued and is a stock that investors can still buy and hold for the long-term. My model assumes a conservative 9% earnings growth rate going forward for the next 5 years, as compared to 15% to 22% revenue growth in the high performing years, 0% to 6% in the down years, and the average EPS growth estimates of 12% for the next two years is 12%. I also assume a slow decline of ROE to its historical average of 1820010%. Being more sensitive to fluctuations in consumer spending and the overall economic climate, VFC's ROE has fluctuated between a high of 25%, a trough of 13% in 2010 and a recovery to 25% again of late. I assume of future P/E ratio of 15.5x, which is conservative compared to the average P/E ratio of the entire market.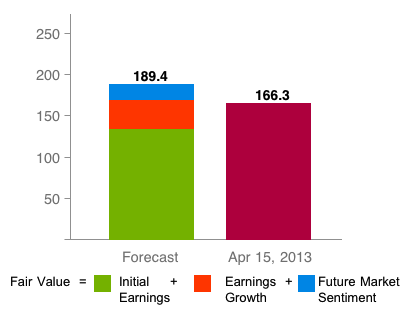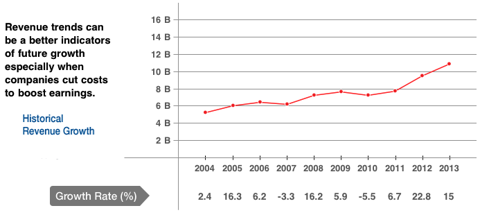 Click to enlarge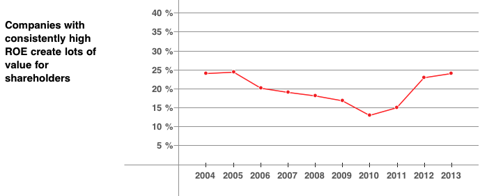 Click to enlarge
My results indicate that VFC's fair value should be closer to $190 per share compared to $166 currently, with current and near-term earnings fully accounting for its current share price. The future expected returns of buying and holding this stock is close to 10%, driven by 9.5% from earnings growth and a small -1.5% to factor in a small expected decline in P/E ratio. Because VFC is expected to deliver ROE that is higher than its earnings growth rate, we expect VFC to continue returning cash to shareholders in the form of dividends or share buybacks, which leads to a positive 1.8% impact on returns from earnings yield net of earnings retained for growth.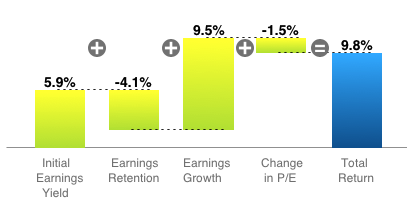 If EPS growth were closer to 12% as analysts are saying, fair value of VFC would be closer to $200, and future returns would be in excess of 11% annualized for buying and holding. On the other hand, if EPS growth were only 4% say, expected returns will be 7% annualized, which is less than cost of equity, but nonetheless higher than investing in treasuries.
Is VFC a better investment than DHR? Assuming Rick, the author of the Danaher article is right, VFC is slightly better than DHR both in terms of higher upside and lower risk. To be fair, we assumed the same earnings growth rate of 9% for both companies. Our VFC model suggests that the fair value of VFC is 14% higher than the current price, compared to 11% for DHR. Current and near-term earnings growth of VFC accounts for more than its current trading price, whereas they account for just a little less than the current trading price for DHR. The reason for this is two-fold: firstly because VFC currently has a lower P/E ratio compared to DHR, which means not only a higher initial earnings yield but a lower risk from declines in P/E ratio; and secondly because VFC is expected to have a higher ROE, which means it will require less of its earnings retained for growth and can return more of its earnings back to shareholders. Of course, the biggest uncertainty that will drive future returns is the future earnings growth rates of VFC and DHR, but I argue that VFC is on a better footing than DHR to generate earnings growth and investment returns, given its higher ROE and lower P/E ratios.

Click to enlarge
As of today, 12 analysts rate VFC a buy, 6 hold and none sell.
Finance professors argue there's no way to beat the market and stock markets are fairly priced almost all the time. We argue there's a difference between price and value. All stocks can have the right price at any point in time, but some may not have any value to an investor who wants to hold stocks over an extended period, achieve decent returns without having to worry about it. All fresh produce have a valid price in the market, but if we want a certain type of fruit, we should go buy the ones we want. We believe this is a significant departure from mainstream investing thinking, which often care more about capturing temporal mispricings in the market, rather than picking investments that actually create shareholder value. Yes, money can be made by being cleverer or faster than the market, but there is a also way for those who want to just buy and hold. VF Corporation is a stock you can buy and hold for the long-term and not worry about every day.
Disclosure: I have no positions in any stocks mentioned, and no plans to initiate any positions within the next 72 hours. I wrote this article myself, and it expresses my own opinions. I am not receiving compensation for it (other than from Seeking Alpha). I have no business relationship with any company whose stock is mentioned in this article.
Additional disclosure: This article was written by Patricia Sander, one of our contributors. Neither CandidMarkets nor Patricia Sander received compensation for this article (other than from Seeking Alpha), and we have no business relationship with any company whose stock is mentioned in this article.