Another day and another 100 points plus rise for the Dow, easy isn't it? The U.S. Government could not have choreographed this better, for the market is now surely inured to the drip-feed of stress test leaks that presumably puts the bad news up front. If the stress tests are to be successful, they need to be credible, and they need to impart a message that the financial sector's capital demands are manageable. On the latter, the aggregate sum looks easily within the bounds of the deep pockets of Uncle Sam, and thankfully so, for if we were dependent on private capital it would be a very different proposition.
This is my running tally of capital needs of the U.S. banks participating in the stress tests:
Bank of America (NYSE:BAC) - $35bn
Wells Fargo (NYSE:WFC) - $15bn
GMAC - $11.5bn
Citigroup (NYSE:C) - $10bn
Goldman Sachs (NYSE:GS) - $0
Morgan Stanley (NYSE:MS) - $0
American Express (NYSE:EXP) - $0
JP Morgan (NYSE:JPM) - $0
Bank of New York (NYSE:BK) - $0
Metlife (NYSE:MET) - $0
An overriding concern many have about the stress tests is that they needed to be credible: a realistic assessment of the state of bank balance sheets. The results aren't that surprising but the question remains if the numbers being reported will convince the market that the tests were credible?
Today's Market Moving Stories
Japanese banks soared overnight as Mitsubishi UFJ Financial (NYSE:MTU) revised its forecast of a loss in the previous financial year turned out better than expected.
The US Monster index improved to 120 from 118 in April confirming evidence in other proxy measures that this Friday's nonfarm payrolls is unlikely to be as weak as initially forecast. The Obama administration said it will trim $17bn from the full year 2010 budget.
The FT reports that the IMF may have got its sums wrong when calculating debt ratios for Eastern European countries - potentially very positive for Emerging Markets. Has been getting a good bit of attention this morning.
In contrast Société Générale (OTCPK:SCGLY) are under pressure this morning after posting an unexpected loss of €278m after writedowns associated with US monoline bond insurers and higher provisions for loans.
One of the "Big Three" Irish dairy processors – Dairygold – reported a collapse in pre-tax profits from €15.9m to €1.3m in 2008 and warns that tough market conditions in 2009 will make it an even more challenging year. Reflecting the problems already highlighted by Glanbia (OTC:GLAPF), Dairygold is suffering from a mis-match between market returns and the price paid for raw milk to farmers.
"New Prosperity, the New Bull Market Magazine" celebrates the recovery of the U.S. economy and the return of the 26-year Bull market after an annoying 7-month long recession and Bear market.
El Pollo Loco has accused KFC executives of 'pathetic' prank calling. I'm sure it seemed like a good idea at the time but these things have a habit of back firing.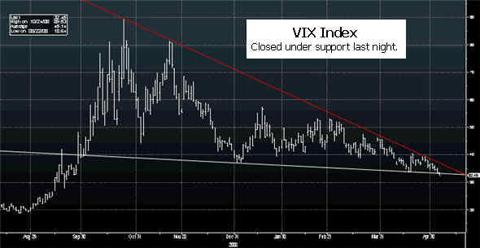 e-CON-omy
The uniformity of the 'sucker's rally' consensus is beginning to fragment. Believers in a new bull market driven by economic recovery are starting to emerge. Could this be a sign that the bear market rally is doing its unpleasant task of sucking everyone in? The good news is that markets outside of the US remain distinctly undervalued. However, the US is already back to fair value.
Bill Hester of Hussman Funds has done some intriguing work on the nature of bear market bottoms. He observes that bear market lows are not generally the result of rapid plunges followed by rapid recoveries. Instead, they are usually characterized by relatively moderate declines and matching recoveries as investors have generally given up hope. Hester also argues that sustainable recoveries are usually accompanied by increasing volume (as opposed to the current contracting volume).
So how does an investor protect oneself against the idea that this is a suckers rally? Société Générale recommend construction of a portfolio of stocks to short that are overvalued, have poor fundamentals, poor capital discipline and dodgy accounting. They select such names as Anheuser-Busch InBev (OTCPK:AHBIF) (mind you their stock is up 7% today), Ericsson (NASDAQ:ERIC), Cairn Energy (OTCPK:CRNCY), and Staples (NASDAQ:SPLS).
All Eyes On Frankfurt
We are often at our most vulnerable when the tension suddenly drops. There is a similar risk for the world economy as Q2 unfolds. Signs of recovery are becoming more widespread and convincing, bringing comfort to investors, households and policymakers after long months of stress and oppressive depression. The positive reaction of market players and, to some extent, consumers is an extremely welcome development that could accelerate the recovery. Policymakers, however, must not let their guard down. The "green shoots" suggest policy efforts are working - they should be sustained and intensified, as the recovery is still extremely fragile and uncertain.
Against this background, the ECB faces its own stress test today. Under a self-imposed deadline, it will have to decide whether a move to direct asset purchases is warranted. The recent stronger data have increased the risk that the bank will settle for a more prudent approach, not going beyond a 25bp cut in rates and an extension of liquidity operations to twelve months. This would be a mistake. With growth set to contract sharply this year and stagnate next year, the output gap is widening rapidly, and risks of deflation outweigh any risks of inflation at this stage. The war against the financial and economic crisis is not won yet.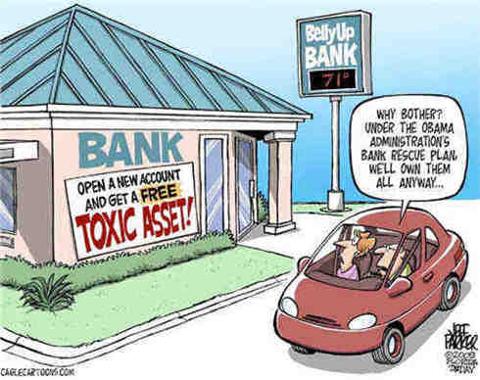 Data Ahead Today (All times UK)
At 11:00 German factory orders for March are released. After steep falls in recent months, orders should be up by 1.5%, the first rise since August.
The Bank of England has an interest rate decision at noon. With the initial phase of Quantitative Easing drawing to a close, the MPC should commit to further asset purchases of around £25bn. This is the first MPC meeting after the Budget, but self-interest is likely to temper any criticism of fiscal policy: Quantitative Easing is designed to lower borrowing costs and BoE warnings about ballooning Gilt supply would risk pushing yields higher still.
Later at 12:45, the ECB are up with their interest rate decision. Signs of stabilisation are no reason for inaction and rhetoric suggests that a 25bp cut in the rate to 1% is a safe bet. Cacophonic communication on unconventional measures reflects Trichet's managerial style and the ECB should hint that rates should remain steady over the coming months. The maturity of longer-term refinancing operations should be extended and a private debt purchase programme should be announced. If the ECB only announces longer-term refinancing to banks, the chances of moving into Quantitative Easing could diminish significantly.
In the U.S., Q1 non-farm productivity is out at 13:30. Productivity should be up by 0.6% as job losses overtake the decline in activity. Then at 20:00, U.S. consumer credit numbers are due. Credit should drop $4bn. Total debt probably needs to fall by $3-4tr to bring debt-to-household income levels back into line with history. The bulk of this can be accomplished in three years.
And Finally… Goin' to the C.P.A. (The Tax Song)

Disclosures: None