By Jason Napodano, CFA
We upgraded shares of Acorda Therapeutics, Inc. (NASDAQ:ACOR) the day after the FDA issued the RTF ("refuse to file") letter on April 1, 2009. At that time the shares were hit hard -- down to the $18 level -- and we noted that we "Finally got our buying opportunity." We previously had a Hold rating on the name, waiting for a pullback before we recommended clients get in.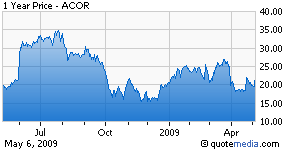 Over the past few months we have become increasingly confident that the application for Fampridine-SR looks strong -- from a clinical data standpoint. The application contains data from a comprehensive development program assessing the safety and efficacy of Fampridine-SR, including two phase III trials that involved 540 people with MS and were conducted under Special Protocol Assessments (SPAs) from the FDA.
The safety and efficacy profile of Fampridine-SR was consistent across phase II and phase III trials. In total, the NDA filing included more that 50 clinical studies and over 1,200 patient-years. Additionally, more than 450 people are currently enrolled in Fampridine-SR extension trials, with treatment duration ranging from seven months to almost five year. We believe the odds favor approval in October 2009.
In the meantime, Acorda is preparing for the launch in the U.S. by doubling the sales force currently promoting Zanaflex, to 120 - 130 representatives by the end of the year. Approval in October 2009 is only a month or two ahead of management's original thinking prior to the RFT letter, so we believe that timelines at Acorda for ramping the commercial infrastructure are well with reasonable expectations.
Management also remains in active discussions with potential European partners for Fampridine-SR. A European partnership has the potential to bring in significant upfront cash and backend milestones and royalties to Acorda. This is a major catalyst for the shares potentially later this summer or fall ahead of U.S. approval.
Fampridine-SR remains one of the more interesting late-stage biotechnology products and has multi-hundred million dollar potential in our view. We have been waiting for an opportunity to recommend the shares. We encourage investors to pick up Acorda based on our belief that the future looks very bright for the firm, despite the minor setback on the filing.
One wildcard event that could send Acorda's shares soaring would be an acquisition by a larger player in the MS space. The three names that come to mind are Biogen (NASDAQ:BIIB), Pfizer (NYSE:PFE) and Sanofi-Aventis (NYSE:SNY). Pfizer seems unlikely given its recent $68 billion engulfing of Wyeth (WYE). Biogen-Idec would be an excellent fit. In the meantime, we see $30 as a near-term fair-value.