As a stay-at-home mom with a penchant for income investing, I've always seen the oil & gas industry as a viable sector for sustainable dividends. With that said, I wanted to take a look at one company which has announced a significant joint-venture with regard to its refining operations in Qatar, as well as the catalysts to keep in mind when looking at the stock as a viable income play.
Total SA ((NYSE:TOT)):Based in Paris, France, Total SA and together with its subsidiaries, operates as an "integrated oil and gas company worldwide. The company operates in three segments: Upstream, Downstream, and Chemicals". (Yahoo! Finance) Shares of TOT, which currently possess a market cap of $110.99 billion, a P/E ratio of 7.62, a forward P/E ratio of 6.95 and a PEG ratio of 1.62, settled at $46.91/share by the end of Monday's trading session.
One of the things to point out for growth investors is the fact that shares of TOT are actually 10.69% lower since January 1st of this year, and for those of you who may be considering a position in Total SA from an income perspective, shares of TOT currently yield 5.84%($2.74) and possess a payout ratio of 40.00%.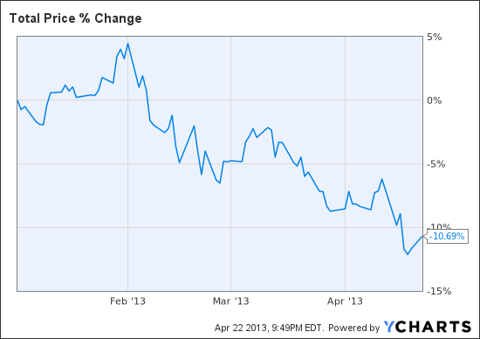 TOT data by YCharts
Qatar Joint Venture: On Monday April 22nd it was announced that State Owned Qatar Petroleum had signed a JV agreement with a consortium led by Total SA to build a $1.5B condensate refinery in the Ras Laffan Industrial City that is expected to be completed by the second half of 2016.
Qatar Petroleum and its partners are expecting the refinery will have a daily production capacity of 60K barrels of naphtha, 53K barrels of jet fuel, 24K barrels of gas oil and 9K barrels of liquid petroleum gas. The ownership profile of the transaction denotes that Qatar Petroleum will hold 84%, Total SA will hold 10%, and the Japanese consortium consisting of Idemitsu Kosan, Cosmo Oil, Marubeni Corp., and Mitsui will hold the remaining 6%.
Patrick Pouyanne, President of Total SA's Refining & Chemical segment said that "This project is a new step in the long history of partnerships between Total and the State of Qatar throughout the full value chain, from upstream exploration activity down through the petrochemical industry. A key link in this chain is the downstream activity of the refining of Qatar's condensates, the world's largest condensate producer". Although Total SA possesses a minority stake in the refinery, I personally think history speaks for itself and if in fact Total SA can continue to play an intricate role in the downstream Oil & Gas operations of Qatar Petroleum, as it had with the first Laffan Refinery (LR1), this has the potential to be quite the rewarding venture.
Income Perspective: Although Total SA's dividend has fallen 59.17% over the last five years, the company is still offering investors a 5.84% yield, which is roughly 20 times that of your average savings account and investors have actually seen the company increase its distribution by 12.82% since June of last year.
TOT Dividend data by YCharts
(1-Year Dividend Change)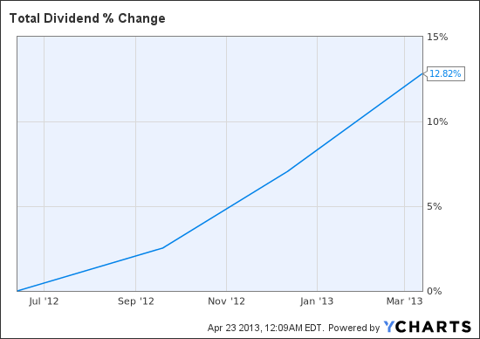 TOT Dividend data by YCharts
Conclusion: When it comes to those who may be looking to establish a position in Total SA, I'd continue keep a watchful eye on not only the company's dividend behavior over the next 12 months, but any key developments that may come out of its joint-venture with Qatar Petroleum or its ability to find oil faster as I had mentioned in my last article .
Disclosure: I am long TOT. I wrote this article myself, and it expresses my own opinions. I am not receiving compensation for it (other than from Seeking Alpha). I have no business relationship with any company whose stock is mentioned in this article.