Frontier Communications Inc. (NYSE:FTR) is now entering a critical phase of its operations. Its 2010 (announced in 2009, completed in 2010) acquisition of Verizon Communications (NYSE:VZ) wireline assets was accompanied by bold proclamations that have largely gone unmet. Among the superlatives mentioned in the announcement release were 7 million access lines and $6.5 billion in revenue. The reality is much grimmer, analyst average revenue for 2013 is a paltry $4.8 billion, declining by 4% to $4.6 billion in 2014. Every quarter, since the acquisition was completed, has posted lower revenue and fewer access lines than the previous quarter. Those 7 million access lines are now fewer than 5 million.
For years, the dividend was a consistent $0.25 per quarter. Then it was cut to $0.1875 at transaction close to give a 9.9% yield, which at the time, still offered a very nice yield. The announcement described it as a "sustainable payout ratio" that would "allow the company to invest in the acquired markets, offer new products and services, and extend and increase broadband capability to those markets over the next few years" It was indeed a sustainable policy, at least for 18 months when they cut the dividend again to just $0.10 per quarter.
A comic might look at this and declare victory since these dividend cuts are only keeping pace with the stock price declines. Once again, with a $4.03 closing price and a $0.40 per year dividend, FTR provides investors with an attractive 10% dividend yield.
Increasing Broadband Penetration is Good Unless...
The core of FTR's business is wireline rural telecom service. FTR also offers high speed internet (HSI) and video services as well. The hope during the acquisition was to leverage the large base of customers to increase penetration of its broadband services.
We are confident that we can dramatically accelerate the penetration of broadband in these new markets during the first 18 months. We know that broadband is a catalyst for a healthy local economy and job growth. - Maggie Wildrotter CEO
And it is true that broadband penetration is increasing. In comparing HSI subscribers to total customers, the percentage rose from 48.1% at the end of Q2 2010 (the last quarter before combined results) to the most recent figure of 56.3%. The problem is the bulk of increasing penetration is being driven more by losing total customers than by adding new HSI subscribers.
| | | | | |
| --- | --- | --- | --- | --- |
| Quarter | Year | Total Customers | HSI Subscribers | Penetration Rate |
| Q2 | 2010 | 1,345,127 | 647,487 | 48.1% |
| Q3 | 2010 | 3,892,328 | 1,692,858 | 43.5% |
| Q2 | 2012 | 3,275,354 | 1,781,295 | 54.4% |
| Q3 | 2012 | 3,223,557 | 1,782,278 | 55.3% |
| Q4 | 2012 | 3,173,200 | 1,787,561 | 56.3% |
Source: FTR SEC Filings, Author calculations. Q2 2010 reflects legacy Frontier and Q3 2010 reflects the combined entity.
So yes, the penetration rate has climbed, but since the acquisition closed, FTR has added less than 100,000 new HSI subscribers. More worrisome, should be the addition of approximately 6,000 in the past 6 months. I would not consider this a dramatic acceleration.
Declining Value of an Access Line
I've tracked and followed this company for a while. The acquisition of the VZ assets effectively valued each access line at about $1,800 each. ($8.6 billion for 4.8 million access lines). Today this ratio for company is around $2,400 per access line.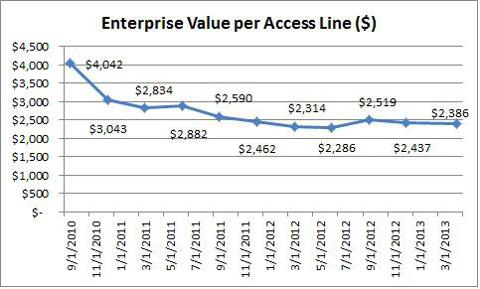 Source: FTR SEC Filings, Yahoo!Finance, Author calculations.
So, it appears reasonably good. Buy something at a lower price than the market will pay you for it. But there are two problems. First, that value is declining as shown in the above chart. The second is that one needs to adjust for the percent of access lines that are tied to higher value services like HSI. Initially almost half of legacy FTR customers had HSI. However, the VZ access line subscribers only had HSI at a rate around 40% and possibly even lower - perhaps 25%. Therefore these customers were less valuable. Furthermore, as noted earlier, the ability to sell them HSI appears to have been overstated.
Looking Forward Past This Inflection Point
While FTR's history should be disconcerting to investors, the reality is the stock price is driven by future events. In concept, FTR has now completed its integration efforts and is ready to realize cost savings to drive future profits and perhaps restore its dividend. The good news is that revenue per average customer is slowly creeping up, but not quite fast enough to offset customer losses. Average quarterly revenue per customer has risen from $354 in Q4 2010 to $385 in Q4 2012. Furthermore, operating margins have also increased, hitting a recent high of 22% in Q3 2012, before dipping back to 19.1% in Q4. However, I'm more concerned about the cost side of equation. Operating costs per average customer have also risen from $291 per quarter in Q4 2010 to $312 in Q4 2012. This means per customer quarterly operating income has grown from $63 to $73, a gain of just 16%. However, customer losses total 17%, completely wiping out the gains from efficiency. In essence, all the integration savings appear to have been to stay in place. Perhaps when the Q1 2013 results are released on May 6, 2013 after market close, we'll see evidence of more progress and perhaps a few HSI subscribers.
For an investor looking at FTR, I think you have to view it strictly as a harvest play which is contrary to, I think, the management's approach to the acquisition - a growth play. I don't see hoards of customers coming back to FTR, rather one has to bet that the cost savings occur at a pace fast enough to more than offset the customer losses. FTR management needs to deliver more savings and find greater efficiencies. Their success in ratcheting up broadband penetration so far has been disappointing, but perhaps there will be some good news in the coming announcement that will defy the recent trends.
Disclosure: I have no positions in any stocks mentioned, and no plans to initiate any positions within the next 72 hours. I wrote this article myself, and it expresses my own opinions. I am not receiving compensation for it (other than from Seeking Alpha). I have no business relationship with any company whose stock is mentioned in this article.
Additional disclosure: Disclaimer: This article is for informational and educational purposes only and shall not be construed to constitute investment advice. Nothing contained herein shall constitute a solicitation, recommendation or endorsement to buy or sell any security.