Silver is a special story. Without a doubt it's a supply-and-demand tightrope act. There's a limited supply, and it's tied up in markets where demand could suddenly soar. As such, it's a wild ride that tends to scare investors who don't understand the whole story.
It's not difficult to visualize how silver could go parabolic. Fundamentally, it's a thin, small, emotionally charged market. The holders of silver tend to be true believers, who invest in a physical market dominated by paper futures contracts handled by bullion banksters, such HSBC and JP Morgan. The banksters lean (sell short) on the market to the tune of 125 days of silver production. As such, it's the ultimate bet on trouble for the sistema and the demise of TBTF banks.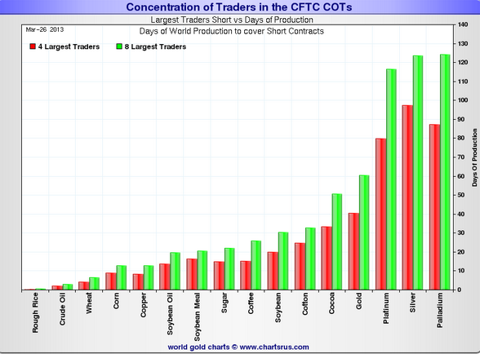 For those who believe in the eventual triumph of classical economics, silver is a compelling asset to hold. Due to shorting and manipulation, it's also one of the ultimate assets in the world for which price discovery has been completely destroyed. Without price discovery, distortions occur, and things become increasingly imbalanced.
One of those imbalances from false price signals causes silver not to be mined in sufficient quantity. Mining supply in silver is shockingly modest, at about 800 million ounces a year -- or a mere $18 billion a year, which is chump change alongside bullion banksters and hedge funds.
There are currently 153,000 silver contracts of open interest on the Comex. That's 765 million ounces, or about a year's silver production. This lends special meaning to Charles Kindleberger's theory of "overtrading." There was confirmed volume last Thursday of 84,526 contracts: 422.6 million ounces or 60.2% of annual silver production. Against this trading, there is 39.74 million ounces of registered silver in Comex warehouses. There's no other commodity quite like this in Paper Futures Land.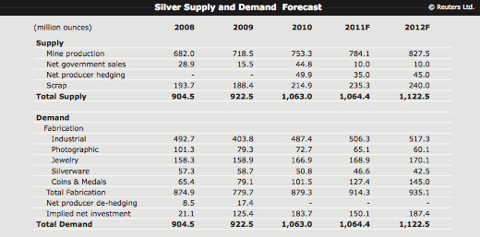 The all-in cost for mining silver is on average about $22. If silver dips lower than its current level, you will likely see production slip away. Silver is often produced as a byproduct of porphyry deposits, but those projects involve capex in the several billions and are currently in the penalty box. Big gold (18.5 million oz.) and silver (526 million oz.) projects with considerable promise, like Metates in Mexico owned by Chesapeake (OTCQX:CHPGF), sit neglected in the market. Mr. "Market" values this company at $212 million market cap and only $170 million enterprise value when working capital is subtracted. Any value investor even modestly interested in silver should consider this name.
There's little if any government stockpiles left in the world. China and the U.S. simply have none left. In 2001, China exported 100 million ounces, and in 2011, imported 100,000 ounces. Scrap prices are elastic, and some materialized in China when prices spiked two years ago. But there's little scrap incentive at $23. Other than solar panels, industrial use gets consumed. There's one gram of silver in laptops, 75 cents worth is hardly worth the trouble.

Investment demand for silver began to pick up during the big silver run-up of 2011, and Chinese investors did some bargain hunting in 2012. There are numerous reports, both anecdotal and in the news, that precious metal demand has spiked as a result of the April silver swoon. However, 20 million ounces shown on the China retail chart below is modest compared to U.S. Mint sales. In 2012, 33.74 million ounces were sold from the Mint. Year-to-date sales in are running almost 60% higher still, with huge sales in April. Since the Mint reports sales regularly, it should be a good tell on physical takedown.

Chart source: U.S. Mint
The estimate of commercial-grade investment silver that is above ground is about 2 billion ounces. In dollar terms, that is only $46 billion -- a modest amount should an investment spike in silver occur. In the SLV ETF, 336 million ounces are held, and another 49.3 million ounces are at the Sprott Silver Trust (NYSEARCA:PSLV). The latter has been trading at a rare, slight discount, and represents a good opportunity. The drawdown in the SLV was 13.3 million ounces during the swoon. Given the so-called "panic," it's in relatively strong hands.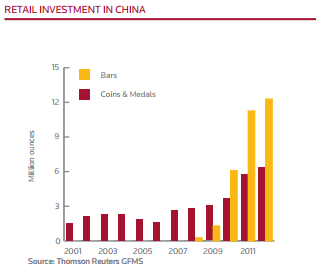 In terms of mining supply and demand, there has been about 300 million ounces of silver available in excess of fabrication, minus coins and medals. Again, that's only $7 billion, and it illustrates how little investment and speculative demand it would take to launch a bull market.
On the industrial demand side, it's critical to recognize that silver is an antimicrobial and antibacterial cleansing agent. There has been spin about the commodity super-cycle ending because of a slowdown in Chinese demand. I do believe a major slowdown is getting underway in China and that some commodities will be affected.
But China is also an environmental hot spot, with extreme air pollution, thousands of animal carcasses floating in its waterways and a recent outbreak of deadly avian flu. Silver is one of the best antimicrobial protectors on the market. It's also used in telephone receivers, door handles, bed rails, toilet seats, counter tops, children's toys, socks, underwear, bed linen, towels, makeup, antibacterial soaps, water purification and autocatalysts. China is facing a national environmental and health emergency that is greatly underestimated and for which silver prices will not be elastic. This is one of the untold stories of silver.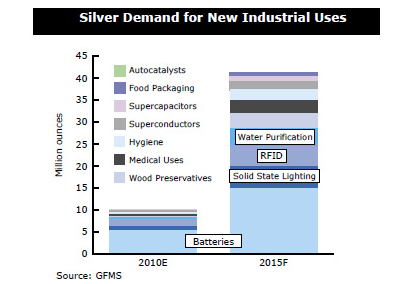 In the same vein, China is committed to clean-energy photovoltaics [PV]. One thick film (91% of installations) PV panel uses two-thirds of an ounce of silver. Reuters reports that China aims to add 10 gigawatts [GW] of installed solar power capacity this year, up from 7 GW at the end of last year, according to a Chinese government website (gov.cn). Its PV goals for 2013 will put China within easy reach of its stated target of 21 GW of installed solar power capacity by 2015.
The pause on solar panel growth shown on the next chart came from the end subsidies in the U.S. and Germany. However, Japan recently announced it's offering 20-year, 53-cent-kwh power purchase agreements for solar developers, an amount that's nearly three times higher than the cost of conventional fossil-fueled electricity production. Therefore, I expect silver demand from China and Japan for PV systems to double over the next few years. Combined with an antimicrobial offense in China, the 200-300 million ounces left over for investment will be eliminated, leaving 2 billion ounces of investment grade silver to fight over.
On the question of whether a big elephant might jump in to juice the thin market and suddenly snatch up 100 million ounces (a couple billion dollars worth): Warren Buffet has done so in silver before and is one of the usual suspects. Buffet is secretive, but it suffices to say he is bullish enough on PV that he's investing in the largest solar PV project in the world in California. Given his historical interest in silver, I wouldn't be surprised if even he doesn't connect all the dots.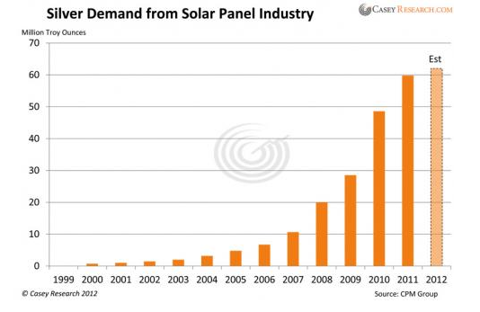 Disclosure: I am long OTCQX:CHPGF, PSLV. I wrote this article myself, and it expresses my own opinions. I am not receiving compensation for it. I have no business relationship with any company whose stock is mentioned in this article.