In my latest Seeking Alpha article on Boeing's (NYSE:BA) battery fire incident, I said:
Chances are regulators will pronounce positively much sooner than expected, although there are also some voices talking about a middle-way solution: A permit renewal to fly with restrictions, which may be catastrophic for Boeing.
As predicted, according to a recent Reuters report, the U.S. Federal Aviation Administration (FAA) approved on Friday Boeing's design changes allowing the company to proceed to making repairs to the 50 planes grounded around the world since January. It has also been known that "the jet retained permission to fly up to 180 minutes over remote areas and oceans."
This paves the way for Boeing's fleet to return to service in the following weeks, putting an end to the crisis the airplane manufacturer faced over the last four months or so which placed a serious threat to its permanence in the commercial aircraft industry.
The FAA approval has other implications as well. First, it leaves Airbus, Boeing's archrival, in a really bad shape after its hasty February announcement that it was dispensing with Li-ion batteries for its new A350 model to be launched later this year. In Figure 1, we can see the evolution of the share prices of Boeing and EADS (OTCPK:EADSF), Airbus's parent company, over the last three months. It is quite surprising that beginning March 20th, 2013, Boeing started a run in the market again in spite of the battery fire incident. Under these new circumstances, I even foresee Airbus's reconsideration of its controversial decision in due course.
Figure 1
Boeing Vs. EADS
(January 22 - April 19, 2013)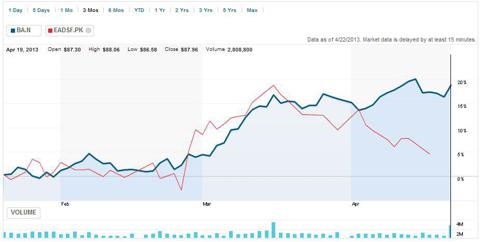 Click to enlarge Source: Reuters
Second, it opens a window of opportunity for use of this kind of batteries in the aircraft industry at large which may eventually accelerate the transition to electric propulsion in commercial air transportation throughout the world. In this context, I anticipate the emergence of a new source of demand for lithium in the years to come.
Nevertheless, the near future is not completely rosy for Li-ion batteries in general and for GS Yuasa (OTC:GYUAF), the Japanese company in charge of manufacturing Boeing's advanced energy storage systems, in particular.
In terms of Li-ion batteries, the solution just adopted for the Dreamliner still constitutes an ad hoc and temporary way out of Boeing's recent crisis. More work is therefore needed to be done to improve performance without affecting safety as a definitive and long-term answer to this problem.
In this connection, the above-mentioned Reuters report states that before the planes can fly, they must comply with two requirements. For one thing, they must use "a stainless-steel enclosure to prevent heat, fumes or fire from spreading if a battery overheats in flight" which will no doubt increase safety - albeit in detriment of performance - because the above-mentioned enclosure is likely to increase the weight of the battery. Here we should remember that one of the advantages of utilizing Li-ion batteries over other types of advanced energy storage systems is precisely their implicit reduction in weight since this has the virtue of improving energy density and therefore energy efficiency. Hence Boeing's challenge is to overcome possible overheating difficulties without increasing the weight of the energy storage devices it uses for braking, pressurization, and air-conditioning systems in its 787 planes.
For another, Boeing's "batteries and battery chargers must also be replaced with different components". Here I wonder whether this simply means substituting the current components of all the 787 planes' batteries (anodes, cathodes, electrolytes and separators) with brand new ones while possibly upgrading the engineering around them, or changing the chemistry of the batteries altogether. In either case, to develop a long-term solution to the problem, I would advise Boeing to consult with Elon Musk, Space X and Tesla's (NASDAQ:TSLA) CEO, who can be regarded an expert in both fields.
Regarding GS Yuasa, in my previous piece I already suggested that:
By outsourcing a crucial innovation of the Dreamliner, through GS Yuasa, Boeing put its whole business at great risk, mainly because the Li-ion battery supplier was apparently not chosen on the basis of competence.
The question remains as to which company could eventually replace GS Yuasa to produce the Li-ion batteries the new 787 plane requires. Prior to February 15, the obvious option might have been Saft (OTC:SGPEY), the French battery manufacturer in charge of producing the batteries for Airbus's new A350 model. However, on that date, this company announced it supported Airbus's decision not to use Li-ion batteries in its forthcoming A350 model.
As shown in Figure 2, EADS's share prices did grow until March 14 but fell considerably thereafter. Apparently, the market captured the information that Saft was not interested in pursuing the manufacturing of Li-ion batteries for Airbus's new model and penalized the company.
Figure 2
GS Yuasa vs. Saft
October 24, 2012 - April 22, 2013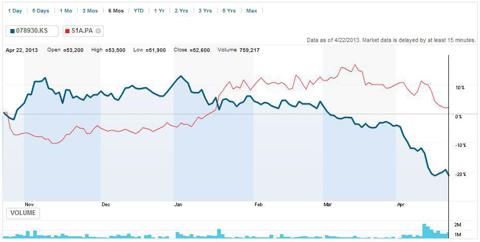 Click to enlargeSource: Reuters
What next? Well, in my article mentioned above, I said that "neither Tesla nor Nissan (OTCPK:NSANF) has thus far had any problems with their completely electric vehicles insofar as their Li-ion batteries is concerned." So either Tesla's or Nissan's batteries could be an option to replace GS Yuasa. But who makes their Li-ion batteries? Even though Tesla has in fact signed an agreement with Panasonic to jointly develop more advanced Li-ion batteries, based on its extensive experience with electric cars and batteries, I will assume here that Tesla makes its own Li-ion batteries.
As for Nissan's Leaf batteries, it is well known that they are manufactured by NEC (OTC:NIPNF) from Japan. In Figure 3, we compare the evolution of share prices of GS Yuasa, Saft, Tesla and NEC over the last 6 months. We find that in effect both Tesla and NEC outperformed both GS Yuasa and Saft, a result that ratifies not only my original argument that innovation does indeed pay off, but also Boeing's failure to select the right outsourcing battery company for its new 787 jet. What is now left to be done is a detailed study to see the economic feasibility of actually replacing GS Yuasa with either Tesla or NEC in the upcoming Dreamliners.
Figure 3
GS Yuasa, Saft, Tesla and NEC
October 24, 2012 - April 22, 2013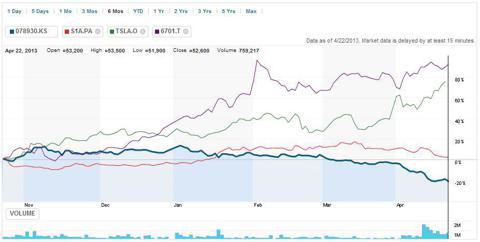 Click to enlarge
Source: Reuters
In sum, Boeing was able to handle well one of the most difficult times in the history of the company. Right from the moment the problem arose, it not only did all it could to reverse the whole situation but it seemed to the general public like it was working hard to change as soon as possible the course of events. This explains why investors never turned their backs on Boeing as reflected by the almost continuous growth of its shares even at the height of its crisis. This kind of behavior on the part of Boeing's management contrasts sharply with the way Apple (NASDAQ:AAPL) handled a similar problem, leading to a virtual collapse of its shares in a matter of months. In this context, Boeing remains at present a strong investment option both in the short run as well as in the medium- and long-terms. It goes without saying that Boeing's rebound will only contribute to making things worse for EADS, Airbus's parent company, which has already begun to be penalized by the market for its lack of innovativeness.
Lastly, this work also provides some advisement to investors on how to proceed with respect to GS Yuasa and Saft, the two main suppliers of batteries for the commercial aircraft industry nowadays, leaving them as rather weak investment options while projecting Tesla and NEC as their possible substitutes.
Disclosure: I have no positions in any stocks mentioned, and no plans to initiate any positions within the next 72 hours. I wrote this article myself, and it expresses my own opinions. I am not receiving compensation for it (other than from Seeking Alpha). I have no business relationship with any company whose stock is mentioned in this article.