I enjoy finding growth stocks out there in the stock market universe. Sometimes when hunting for stocks you run into a stock that really kind of catches you off-guard with the great numbers. Well, today, that stock was A-Power Energy Generation (NASDAQ:APWR). As I was scanning for new longs this Energy-other stock popped up and what I discovered about it was very pleasing.
A-Power Energy Generation is a Chinese provider of distributed power generation systems to factories and users in the People's Republic of China. Business is good as just as recently as April 21st the company received two contracts from a Anhui Wenergy unit totaling $75.3 mil to build two micro-grid generation systems. Contracts like this explain why growth is so strong.
EPS growth the past seven quarters has been a very strong at 200%, 117%, 67%, 80%, 11%, 115%, and 200%. Sales growth, during that same time, has been just as impressive with sales up 119%, 57%, 71%, 85%, 21%, 120%, and 93%. The result of this growth is EPS coming it at .30 the most recent quarter compared to .05 during the March 2007 quarterly report. Revenue has gone from a total of 17.5mil to 81.4mil in the most recent reporting quarters. Estimates for full year 2009 and 2010 are for gains of 6% and 52%. So there are more good times to come.
Besides that great growth, debt is at 0%, return on equity was a whopping 71% back in 2007, the EPS growth rate is a solid 86%, and the P/E ratio is only 12 which is in the lower end of the 5-year 3-61 range. The lower end of the P/E should make this stock interesting for even value investors.
Sadly, it doesn't appear that mutual fund investors wanted it the past year as fund ownership went from 3% in June of 2008 to 11% in September of 2008 back down to 8% in December 2008 and all the way back down to 5% by March 2009. I think that is a little worrisome that it had so many funds invested and now they are all gone almost. However, I think common sense and just our simple eyes tell us, by looking at the chart, that from late March to early May, so far, some fund or a couple to a few are definitely getting active in re-accumulating shares. Even if mutual funds are not increasing their stake, it's all right with management as they own 36% of the total shares outstanding.
To make sure that my fundamental data is in-line with a top publication, I look at Investor's Business Daily Complete Equity Package that has Daily Graphs to see how the stock measures up to the rest of the market. The EPS rating is the best it can get at 99, the Relative Strength line is a strong 96, the group RS rating is 74, the SMR (sales-profit margin-return on equity) rating is an A, the Acc/Dis rating is A+, the Composite rating is a best 99, the Timeliness rating is an average C, Earnings Stability is a strong 9 (1 is best on this rating), and the only bad rating an E comes from the Sponsorship rating. But we aren't surprised about that after looking at the mutual fund ownership. Right?
You might have your own way of going long APWR if you like it. If you are like me though, you want to see some basing action or low volume pullbacks before going long. The old 52-week highs are around 30, the stocks is at 11. That means for my extremely large accumulation to come about I will need to have the stock get around the 25 area on strong volume and green to max-green BOP. Then, of course, I would love to see it base and make a handle pattern or even create a base on base pattern. Then a breakout or bounce off key support on strong volume would be a screaming buy.
For now, the stock has moved up too much from the gap breakout in April. If it can pullback on low volume to the 200 day moving average or the 50 day moving average, you could take a swing position in it. However my "real" purchase would not be made until the 50 DMA is above the 200 DMA. Then I can get any well-formed base I want, buy on the breakout, and be happy. All of my biggest and greatest winning stocks have come with the 50 DMA over the 200 DMA so we will not be buying it late if we wait for that to happen. APWR might be great now for a LOT of investors and even better on a pullback but my methodology tells me to wait. However, you don't have to if you do not want to.
click to enlarge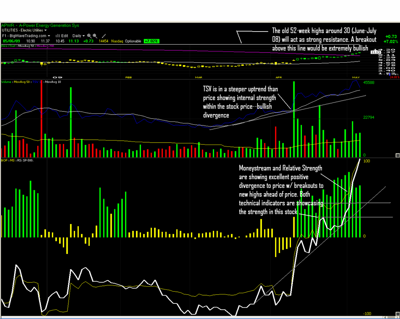 Disclosure: at the time of publication, author did not have any positions in APWR.