In a high level meeting last week in Washington, the G20 finance chiefs pledged to stay alert to any fallout from easy monetary policies even as they backed the Bank of Japan's plan to buy more than 7 trillion yen ($70 billion) a month in bonds.
Bank of Japan (BoJ) governor Haruhiko Kuroda was encouraged by the show of support as he presses ahead with his campaign to defeat 15 years of deflation. "Winning international understanding gives me more confidence to conduct monetary policy appropriately," Kuroda told reporters after the meeting. "We will continue our qualitative and quantitative easing for the next two years."
On Monday's opening, Japanese equities jumped the most in a week while gold advanced for a fifth day. The yen came within a few pips of breaking the 100 barrier, the weakest level in 4 years. The Nikkei 225 rose 1.9% as the yen slide buoyed shares of exporters.
Although the G-20 reiterated a February vow to avoid "competitive devaluation," it didn't single Japan out for criticism and said the central bank's plan to double its monetary base is "intended to stop deflation and support domestic demand." It still advised Japan to craft a medium-term plan to restore fiscal order.
Elsewhere in the U.K., ratings agency Fitch has downgraded the U.K.'s foreign and local currency issuer default rating to AA+ from AAA, saying it reflects the country's weaker economic and fiscal outlook.
"Higher than previously projected budget deficits and debt primarily reflects the weak growth performance of the U.K. economy in recent years, partly due to headwinds of private and public sector deleveraging and the eurozone crisis," the agency said in a release announcing the downgrade.
Fitch revised its forecast for the country's economic growth to 0.8% in 2013 and 1.8% in 2014, down from the 1.5% and 2.0%. The move follows a similar downgrade by fellow ratings agency Moody's, which cut the U.K. from AAA to AA1.
Fitch said it expects Britain's general government gross debt to peak at 101% of GDP in 2014-15 and not decline until 2017-18.
Top News This Week
1) New Zealand: CPI q/q. Wednesday, 24th April, 5.am.
I expect figures to remain at 2.5%.
2) U.K.: Prelim GDP q/q. Thursday, 25th April, 4.30pm.
I expect figures to come in at 0.1% (previous figure was -0.3%).
Trade Call
Long USD/JPY at 100.00
On the 4-hourly chart, USD/JPY is hovering at the 100 mark. After dipping to a low of 95.78 on 16th April, the pair has successfully hit the top end of the range. The uptrend is set to continue, especially with BoJ Governor Kuroda winning international support for his fight against deflation.
An entry is taken when prices breach the round number of 100, as many orders will be triggered here. I expect the positive momentum to carry it at least another 100 pips. A stop loss of 50 pips is placed below the doji of the previous candle, as we do not expect prices to fall below that. We will have two targets on this trade, exiting the first position at 100.50 and the second position at 101.00.
Entry Price = 100.00
Stop Loss = 99.50
1st Profit = 100.50
2nd Profit = 101.00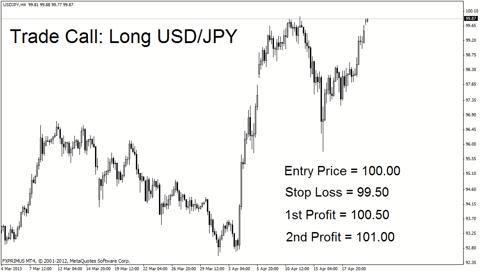 Disclosure: I have no positions in any stocks mentioned, and no plans to initiate any positions within the next 72 hours. I wrote this article myself, and it expresses my own opinions. I am not receiving compensation for it. I have no business relationship with any company whose stock is mentioned in this article.