The numbers out of China last night disappointed and we saw Asian markets react accordingly, however Europe is green this morning after their own economic data came out and it was not as bad as one might have imagined. It was not great, nor healthy, but the patient certainly has longer to live in the current state while doctors continue to work out a cure for what plagues the continent.
We think that the cure has been found with France and others indicating that they want to start spending again and crank up economic activity with the tried and true way with good old Keynesian Economics.
Charts of the Day:
We have the New Home Sales numbers due out and we wanted to bring these charts to readers' attention. Sales are creeping higher, but prices are increasing too. Demand has shot up and currently there is a bit of lag between supply and demand, so this is just another glimpse into the data we are looking at which is making us bullish of housing and the economy in general.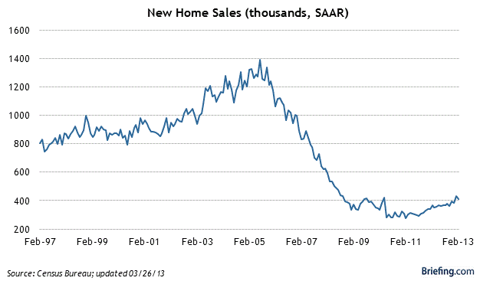 Click to enlarge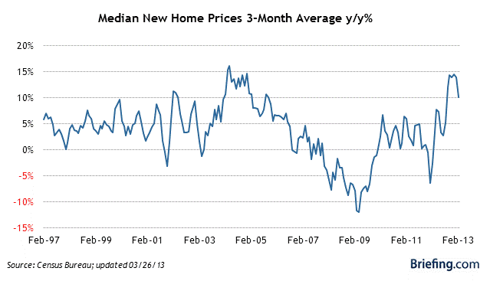 Click to enlarge
Charts courtesy of Briefing.com
We have economic news due out today, and it is as follows:
FHFA Housing Price Index (9:00 a.m. ET): N/A
New Home Sales (10:00 a.m. ET): 415k
Asian markets finished mixed today:
All Ordinaries -- up 0.95%
Shanghai Composite -- down 2.57%
Nikkei 225 -- down 0.29%
NZSE 50 -- up 0.73%
Seoul Composite -- down 0.40%
In Europe, markets are higher this morning:
CAC 40 -- up 2.23%
DAX -- up 0.92%
FTSE 100 -- up 1.03%
OSE -- up 0.28%
Technology
Yesterday's big tech story focused on one of yesterday's tech darlings who has since been passed over for more attractive beauties. Microsoft (NASDAQ:MSFT) is of course the name we are talking about and although the shares had a solid day rising $1.07 (3.58%) to close at $30.83/share on volume of 137.9 million shares, the reason for the move we think signals that the gains will be short lived. The spark was news that an activist investor had built up a $2 billion stake in the company, or roughly 1% of the shares outstanding. Now as a standalone stake, we cannot remember the last time that a 1% stake ever forced management to change - 1% teamed up with other shareholders, yes...but alone? That is a resounding no. If you found yourself lucky enough to get in on the gains beforehand, take profits. If you found yourself buying on that news, pack up and move on as there is nothing to see here.
The stock has gone no where for over a decade, some 1%er is not going to change that unless their name is Ballmer, Gates or Buffett. File that under 'True Facts'.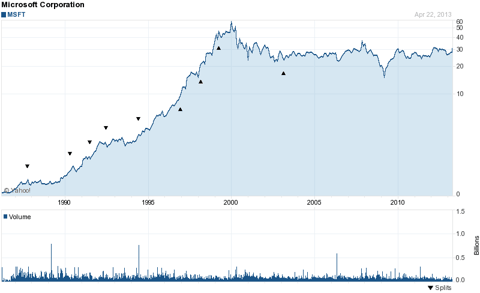 Click to enlarge
Chart courtesy of Yahoo Finance.
Now today's news will surely be Netflix (NASDAQ:NFLX), a company which we thought was surely dead and still think that the valuation is sky high, but that is for the market to decide and we shall resign to spectator status (a position we have been in for this whole rollercoaster ride). Although we are no fan of the shares, we must give credit where it is due and Reed Hastings, love him or hate him, seems to have turned the ship around with the original content generation. The latest quarter saw the company push revenues to $1 billion with 29.2 million subs in the US for their streaming service after having added 2 million in the first quarter. Global subs now stand at 36 million after having added 1 million in the first quarter. Guidance for the second quarter here in the US is calling for 880,000 new subs, per the company. The stock rose $11.00 (6.73%) to close at $174.37/share during yesterday's session with 12.1 million shares traded, but saw the real action in after hours as shares jumped $41.49 (23.79%) to close at $215/share. Look for a strong open today and a lot of chatter on the business networks as the price target raising has begun. Cantor Fitzgerald raised their target to $230 from $180 while RBC Capital moved from $210 to $250 after the latest quarterly results and the beat on EPS numbers ($0.31 Actual vs. $0.19 Estimate).
Might we see a testing of the old highs? Well stranger things have happened...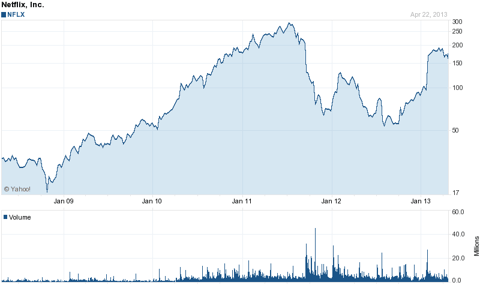 Click to enlarge
Chart courtesy of Yahoo Finance.
Biotechnology
What is powering the Nasdaq higher these days? Well it is not only tech, but also biotech and that is something which we have been talking about recently as we think that there is a sector bull market going on here which is a sea change happening before our eyes. We are witnessing the handing of the baton from the 'Big Pharma' names to the 'Big Biotech/BioPharma' names and the creation of the next generation of multibillion dollar companies which will lead the drive to cure the diseases which ail mankind. Look no further than Celgene (NASDAQ:CELG), a recent sell we might add after a great run, and Biogen Idec (NASDAQ:BIIB) which both hit fresh all-time highs yesterday. Celgene is dangerously close to taking out $130/share now and the steps higher continue, even though we thought that we were finished at $120...just goes to show that one must always ride your winners higher until it no longer works.
Behind the move at Biogen Idec was a note from an analyst stating that the company's new multiple sclerosis drug, Tecfidera, was off to a strong start. It will be another quarter before we get any results, unless the company provides some updates between now and then, but that is certainly welcome news for investors and only further proves that this management team is one of the best in the industry and continues to make moves to reward shareholders. We would recommend being buyers on pullbacks for both stocks in the 5-10% range, which has worked well in this market.
Solar
Boy do we hate solar, and do the solar bulls ever hate us! We received quite a few emails and messages yesterday from readers, friends, peers, etc regarding ABB's purchase of PowerOne (NASDAQ:PWER) for $1 billion in cash and some friendly jabbing about how that blew away our thesis. Well, to borrow a quote from ESPN's Lee Corso, "Not so FAST!" Our thesis has held up year after year and this purchase by ABB for a solar invert maker hardly changes the logic here, especially as the deal is so small we think of it more as a call option on the market and a far less riskier move than getting into the solar panel manufacturing business. At the end of the day though, we view this deal as one fool selling to an even greater one.
Disclosure: I have no positions in any stocks mentioned, and no plans to initiate any positions within the next 72 hours. I wrote this article myself, and it expresses my own opinions. I am not receiving compensation for it (other than from Seeking Alpha). I have no business relationship with any company whose stock is mentioned in this article.