On my last take on Alcatel-Lucent (ALU) I said I was "Pulling The Plug On Alcatel-Lucent". I was spooked by the fact that the French government might get involved in the company, because from my experience, when a European government gets involved with a company for whatever reason -- mainly to "protect it" -- then things don't really work out well for shareholders.
From the very beginning I have always viewed Alcatel-Lucent as a turnaround situation play with the potential for very big returns. However, while the company is progressing on many fronts, the sum of its parts do not seem to be able to add up to much in terms of after-tax profits. I am not that concerned about the company's debt, I think that's under control. I am more concerned that the company is not able to gain traction in any particular market to really make a difference to its bottom line.
One example is the lightRadio cube. From the looks of things this is probably a disruptive innovation technology. This technology can change the economics of building, maintaining and upgrading cellular networks and cell phone towers in the future.
But so far this very big idea has not really produced anything very concrete for the company. In fact in the company's last conference call, it did not even mention it. What is going on? Is this a disruptive innovation technology or isn't it?
A while ago, Canadian operator Shaw Communications (NYSE:SJR) using Alcatel-Lucent's 400 Gbps technology demonstrated the ability of an existing optical network carrying up to 17.6 Terabits-per-second (Tbps) equivalent to 266 million voice calls or the transmission of 88 Blu-ray Discs in a single second. This achievement shows the transmission of roughly double the previous level of data over an existing 100 Gbps coherent network. The trial ran over a 400 kilometer route between Calgary and Edmonton in Alberta, Canada, using Shaw's current high-capacity transport network, designed for speeds up to 100 Gbps.
Now is this groundbreaking or what? The question is, will this ever produce sales and profits that will ever make a difference? Or will some other company come along and make a similar product and make all the sales?
Just several days ago, Alcatel-Lucent replaced the connection cards on both sides of a Telefonica (NYSE:TEF) optical network line and boosted transmission speeds speed from 9 terabits per second to 23 terabits per second. And the real amazing thing is that Telefonica can upgrade and boost capacity at the blink of an eye. Neither Cisco (NASDAQ:CSCO) or Juniper (NYSE:JNPR) have anything similar along those speeds.
Recently Nuage Networks, a company funded 100% by Alcatel-Lucent, launched a 2nd generation SDN solution for data-center networks. SDN is just about the hottest thing there is currently. Oracle (NASDAQ:ORCL) just paid an undisclosed amount for Xsigo Systems because SDN is supposed to the best thing since sliced bread. The question is, is there any money to be made in SDN? There is a very big controversy these days if SDN is just a whole lot of hype or not.
Alcatel-Lucent no doubt has a big portfolio of very sound and promising technologies. And I am also sure there are many other things in the pipeline that we don't even know about. But the company has to execute on these technologies and has to produce results and profits. And unfortunately time is running out.
ALU Revenue Quarterly data by YCharts
Giving a second chance to Alcatel-Lucent has nothing to do with its exotic technology portfolio. Google (NASDAQ:GOOG) has more exotic technologies than anyone else, but Google also performs and makes a big pile of money. The questions is when will these products that Alcatel-Lucent has in the pipeline translate to profits?
On a positive note, the company has received many upgrades lately. The most prestigious upgrade is by Deutsche Bank, that recently upgraded Alcatel-Lucent to buy with a target of €1.80 (~$2,34) from a previous target of €1.00 (~$1,30).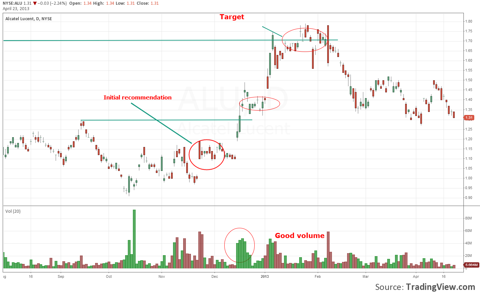 Click to enlarge
(Click to enlarge)
However the market is not that impressed. The chart above is telling us that the market is very very concerned about the longer term prospects of this company.
And returning to my initial worries about French government involvement, if the financial picture and performance of Alcatel-Lucent does not improve fast, then I am almost sure the French government will intervene in the matter to help out the company, something that is not a positive sign (as far as I'm concerned) to current shareholders.
My Initial recommendation for the shares of Alcatel-Lucent was back in November 26, 2012 when the stock was trading at about $1,15. While that gave everyone plenty of time to cash in (and soon if I my add), I am very disappointed that the stock has returned to these levels.
Finally, as to the question of whether the market should give the company a second chance or not, that remains to be answered but we will have more clues when the company presents its Q1 2013 report on April 26.
And while I still think that the stock offers the potential for very big returns, the company's upcoming presentation will tell us if we should give it a second chance, or pull the plug on the stock once and for all.
Disclosure: I have no positions in any stocks mentioned, and no plans to initiate any positions within the next 72 hours. I wrote this article myself, and it expresses my own opinions. I am not receiving compensation for it (other than from Seeking Alpha). I have no business relationship with any company whose stock is mentioned in this article.