Yesterday saw some strong movement in those names which have been winners over the past few months but losers recently. Having bought these names on the pullbacks and either already taken the quick money or still holding for bigger gains has us feeling good this morning, especially with Europe green and housing data due out which we suspect shall be positive. We are looking for oil to rebound and admittedly are a little too overweight in that sector via our portfolios, but that is where the opportunity was on the pullback so we had to go for the value.
Look for a 5% move higher in the next few weeks for the sector. That is what we are seeing via our research.
Commodity prices this morning are as follows:
Gold: $1421.40/ounce, up by $0.20/ounce
Silver: $22.945/ounce, down by $0.379/ounce
Oil: $88.55/barrel, down by $0.64/barrel
RBOB Gas: $2.7441/gallon, down by $0.0253/gallon
Natural Gas: $4.259/MMbtu, down by $0.008/MMbtu
Chart of the Day:
Well gold is trending back higher, but there really is no guide to where we must go or are going. The next few weeks we suspect will be spent venturing for support and building new trading points. Look for some bull v bear battles.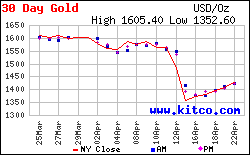 Chart courtesy of Kitco.com
Oil & Natural Gas
Magnum Hunter Resources (MHR) saw shares fall another 5% yesterday to close at $2.50/share after yet another downgrade. This time it was Deutsche Bank and although it is a different name the result and cause are the same. One must remember that it is not about how trivial the matters were over which the previous auditor was dismissed, it is the fact that they were dismissed and the circumstances. If so trivial, why not simply humor them and go forward with their recommendations? There have been accounting scandals in the past which were scandals and then there have been SCANDALS. This is more towards the 'kiddie' sandbox area rather than the white collar crime area but in the past we have seen analysts and others rally around those getting hit over nonmaterial accounting issues but that is not the case here. Love them or hate them there are some things which analysts are very good at, and providing guidance on matters such as these are one of them. We will stick with our gut on this one and if it becomes too cheap to ignore we might roll the dice, but right now there are other names we would rather own which are untainted right now.
Just to put the current price action in perspective this morning as it pertains to long-term price action...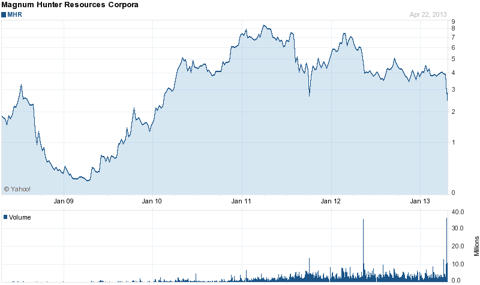 Click to enlarge
Chart courtesy of Yahoo Finance.
Coal
We received a question yesterday asking us if we had re-entered the coal trade and/or would or could recommend playing Alpha Natural Resources (ANR) around the $7/share level. The answer is no we are not involved in that trade and frankly are too scared to be as we feel we are lacking an understanding of the fundamentals driving the market's price discovery right now. Is it a buy right now? Geeee, that is a tough one there. With Peabody Energy (BTU) at $18.88/share and sub $19 once again it seems the better value, but it also indicates just how bad it is for the sector right now. We would rather stay on the sidelines for now and let the dust settle around these two and better gauge who the winners in the industry will be when a turnaround is in fact underway.
Diversified Miners
Freeport-McMoRan (NYSE:FCX) has been a big loser recently with the collapse in the gold market, but even with a rebound there we are worried about copper. As previously pointed out, we do believe the oil will be a welcomed addition to the product mix and shall help diversify revenue and profit streams but gold and copper could provide for a very real 'double whammy' which could result in a stagnant share price for the foreseeable future. If one cannot rally on the Kennecot news, then there are surely much bigger problems out there such as markets in oversupply of the resources you are trying to produce and sell. Copper is the big question here, not gold. I hope that offers some further insight for those who have been inquiring as to where our thoughts were on what plagues Freeport.
Down, down, down. We think a bottom is near, but sideways action might be in order...for quite some time.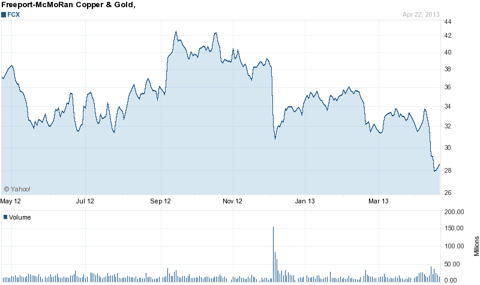 Click to enlarge
Chart courtesy of Yahoo Finance.
Refiners
We were right to go cautious on the refiners when we did, and right to call the price points to go bearish as well. The call regarding Valero (NYSE:VLO) was spot on, helped in part by the Environmental Protection Agency and other government regulations as well as the string of good news being broken. Shares are perking up once again, and for traders looking for those 5-15% near and medium-term opportunities this might very well be one which can be played on both sides (bullish and bearish). Long-term it appears that we will have abundant amounts of oil being produced in this country via the shales and Canada will continue to supply us as well, which means margins shall remain high. Yes there will be compression as better infrastructure is built, but we see many profitable years ahead and an industry better suited to benefit from the bounty to be had. Expect volatility to remain, and that is what we are recommending trading this morning, those $3-7/share price swings.
Disclosure: I have no positions in any stocks mentioned, and no plans to initiate any positions within the next 72 hours. I wrote this article myself, and it expresses my own opinions. I am not receiving compensation for it (other than from Seeking Alpha). I have no business relationship with any company whose stock is mentioned in this article.