The steep correction in gold in the last few months has triggered some panic selling, with many voices suggesting that the bull market for gold is over. I have maintained my view that gold is still a great long-term investment, and I discussed the reasons for this rationale in one of my earlier articles. At the same time, investors need to understand that steep correction can be an integral part of a bull market for any asset class. I did predict a sharp gold correction in another of my articles. I am certainly not trying to market my correct projection here. The point I want to make is that investors need to have a balanced view and also understand that asset classes can exhibit volatility. However, the key is to get the long-term trend right. That is where most of the money is generally made.
Coming back to the correction in gold from its peak, the chart below gives the major corrections in the precious metal over the last 13 years. In general, a steep correction over a relatively short time frame has been considered.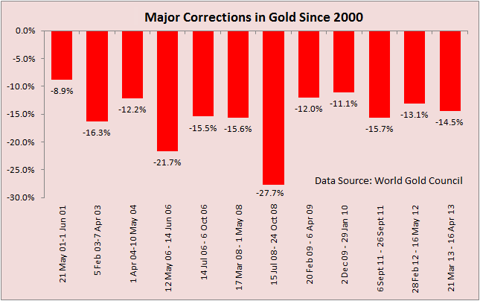 Click to enlarge
Clearly, gold has witnessed even sharper declines over the last 13 years. Amidst these sharp corrections, gold has also trended higher and is one of the best performing asset classes over the last decade.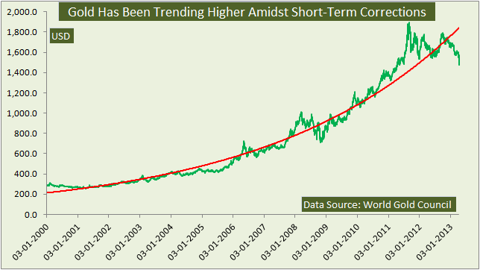 Click to enlarge
This is a typical characteristic of a bull market. If I had to identify similar corrections in the S&P 500, the result will be the same. Almost all asset classes have witnessed sharp declines in the middle of a secular bull market. It therefore amazes me as to why gold is making so much of news for the wrong reasons. A 22% decline in 2006 and a 28% decline in 2008 did not result in an end to the bull market for gold. Why now?
On the contrary, I have discussed the reasons to be bullish on gold in the article mentioned above. I still don't have a convincing answer for believing that the bull market for gold is over. If deflation is the answer, investors need to get out of all risky asset classes, and equities might witness a crash. I am of the opinion that we might be heading for a short-term deflation trade associated with a weakening global economy, rather than a long-term deflation.
As mentioned before, it is more important to get the long-term trend right than to get the short-term volatility right. I can still say with conviction that the long-term trend for gold is higher. The World Gold Council did cite speculative selling as one of the major reasons for a decline in the precious metal. Surely, if speculation is the reason for the decline, this is more of a buying opportunity than to panic sell gold. The same is evident from the gold buying trend in the recent past discussed in my last article.
Investors therefore need to consider the current decline as a good buying opportunity. I must mention here that investors need to remain highly diversified. In general, no asset class is safe from short to medium-term volatility. It is therefore best to remain diversified in terms of asset classes and also in terms of regions.
Specifically for gold, investors should prefer physical gold over gold ETFs. However, investors can also consider these ETFs:
SPDR Gold Shares (NYSEARCA:GLD) ETF. The investment seeks to replicate the performance, net of expenses, of the price of gold bullion.
The Market Vectors Gold Miners ETF (NYSEARCA:GDX) is another good investment option for long-term. The ETF seeks to replicate as closely as possible, before fees and expenses, the price and yield performance of the NYSE Arca Gold Miners Index.
Disclosure: I have no positions in any stocks mentioned, and no plans to initiate any positions within the next 72 hours. I wrote this article myself, and it expresses my own opinions. I am not receiving compensation for it (other than from Seeking Alpha). I have no business relationship with any company whose stock is mentioned in this article.