Since the credit crisis companies have focused a lot of time on cutting costs and strengthening balance sheets. The start of year saw a number of them put this strength to use through mergers and acquisitions such as Warren Buffett and Heinz. As the cost of borrowing remains low, we should expect to see much more going forward.
One sector that has seen a lot of M&A over the past few years is the oil and services sector. For the large-cap companies it has become more cost effective to purchase barrels of oil than explore for it themselves and as such we could see further developments going forward.
Let's look at Exxon Mobil (NYSE:XOM), since 2009 it has purchased assets totaling over $50bn compared with exploration costs of less than $7bn over the same period.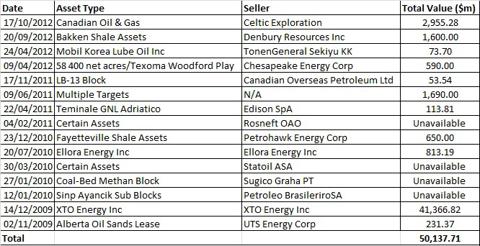 Click to enlarge
This is not just isolated to Exxon, companies globally have been doing the same as exploration is more costly and time consuming. The average cost to produce a barrel of oil developing it through from the exploration stage is approximately $25 (top-end estimate), whereas currently, upstream companies (those that have already found oil and are in the process of extraction) trade at around $11 a barrel. From this it seems like a no brainer for these larger companies.
Whilst this makes the small exploration and production companies particularly attractive it highlights the worrying trend for the larger ones. Exxon continues to spend a large sum through acquisitions and exploration. Around 83% of existing wells globally are past peak production and this points out the worrying trend for many of the larger oil producers. This snippet below from Exxon's Chief Executive Rex Tillerson shows the magnitude of this deployment in capital.
This year, Exxon said it expects to spend $41 billion, a figure that includes its $3 billion purchase of Celtic Exploration. The bulk of that budget is earmarked for exploration and production, the company said. "I never would have dreamed we'd be spending at this level," Exxon Chief Executive Officer Rex Tillerson told the company's annual analyst meeting in New York.

Reuters: 6/03/2013
Whilst this sum may seem vast, it equates to less than 10% of 2012 total revenue, which was $482.3bn and is just shy of 2012 net profit at $44.9bn. However as existing reserves decrease, this sum may have to increase much more to sustain revenue and profits. Exxon posted near record profits for 2012 despite production declining 6% from the year before as refining margins increased. It plans to spend a further $190bn on exploration and development over the next five years. Watch out for some more takeovers!
In order to capitalize on this, you can position yourself in a number of quality companies that are prime targets for takeovers.
Noble Energy (NYSE:NBL) is a great example as the attractively valued company has seen strong growth from its U.S. and overseas assets. The company operates in five core areas; the DJ Basin (onshore U.S.), Marcellus Shale (onshore U.S.), deep water Gulf of Mexico, offshore West Africa and onshore Eastern Mediterranean. These areas provide most of existing oil and gas production, with both growth from existing developments and exploration opportunities.

Click to enlarge
Source: Google Finance
So why would Exxon buy Noble Energy?
Noble Energy has an already established production line, allowing Exxon immediate access to a range of oil reserves. Furthermore the company is engaged in both oil and gas providing flexible growth through both markets. Although Exxon plans to divert more attention to oil growth I would not count it out of investing more into natural gas given the opportunity. The global spread of operations diversifies crude types and existing exploration operations will allow Exxon added firepower to find more reserves. The company is valued at just under $20bn, well within Exxon's target range.
For those looking to invest in oil and gas, I would recommend the mid-cap sized companies as they generally have an already established collection of live wells combined with continuing exploration opportunities. As you can never pinpoint a M&A target exactly (without prior knowledge) you should select companies based on their own merit, such as Noble Energy, to ensure growth can be established without the added bonus of a takeover.
Look out, your mid- to small-cap oil stocks may be in for a takeover soon.
Disclosure: I have no positions in any stocks mentioned, and no plans to initiate any positions within the next 72 hours. I wrote this article myself, and it expresses my own opinions. I am not receiving compensation for it (other than from Seeking Alpha). I have no business relationship with any company whose stock is mentioned in this article.