In the 1987 movie "Wall Street," lead character Gordon Gekko made a now famous statement:
Ever wonder why fund managers can't beat the S&P 500? 'Cause they're sheep, and sheep get slaughtered.
No quote could be more relevant to investors in Deckers Outdoor (NASDAQ:DECK), a company built around a fad fashion product made of sheepskin. The company executives have made a fundamental Strategy 101 mistake in trying to build a long-term business model around their fad product: UGGs footwear. An investor in Deckers Outdoor should consider the following points: This product/brand is beginning to decline, the company is persisting with a capital-intensive store buildout and marketing plan around the product, and history shows these fad consumer product companies usually result in a predictably poor end for investors.
There are three factors that point to the end of the UGGs fashion fad: the rejection of UGGs across style blogs and fashion shows, the decline in UGGs brand revenue, and the buildup of inventory at the company. UGGs were a hot item over the last few years, but have since been rejected by fashion bloggers, fashion journalists, and fashion television shows. For example, the Daily Mail reported they are more likely to be worn by reality TV stars than A-list celebrities. The Guardian Fashion blog reported the fashion world was rejoicing at their decline. Fashion TV constantly rips on UGGs as a fashion faux pas. Further contributing to the decline in the fad is a PETA campaign that asks users to pledge not to wear UGGs for socially consciousness reasons. There is even a line of shirts by UGG haters, proclaiming that "Friends don't let friends wear UGGs." Even Bloomberg picked up the fashion story in September, which must be long forgotten, since the stock has continued to rise from its then price of $37 a share.
If you look at Google search traffic, it shows that searches for UGGs have declined drastically, reaching 2008 levels (see Chart 1). In addition to the decline in interest in the UGGs boot category, there has been a tremendous proliferation of generic or knockoff competitors. The company has staked a lot of its growth on China, which is now in an economic slowdown and is the land of the knockoff goods. Most of the UGGs you actually see in the market are these cheaper alternatives. If sales decline to even 2009 levels, it is a 40% drop in UGGs revenue, but the analyst consensus is for a 2.4% rise in earnings this quarter and 6.9% rise for the year.
Click to enlarge images.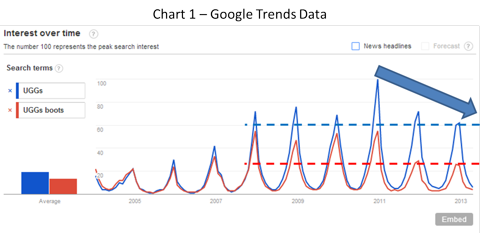 The company is basically a one-trick pony since UGGs make up 86% of 2012 sales despite the firm's recent acquisitions. In 2012, UGGs wholesale sales declined 10% and retail/stores sales fell 2% (see Chart 2) despite the fact that the company opened 30 new stores, bringing their total to 77. Same-store sales for the company fell 3.4% in 2012. The majority ~75% of the company's products are sold through this wholesale channel through the likes of Amazon.com (NASDAQ:AMZN), Nordstrom (NYSE:JWN), Dillard's (NYSE:DDS), and Dick's Sporting Goods (NYSE:DKS). The company's backlog of orders dropped from $387 million in at the end of 2011 to $323 million at the end of 2012. (Note: All financial data in this article is from 2011 and 2012 10-K reports unless otherwise noted/linked.)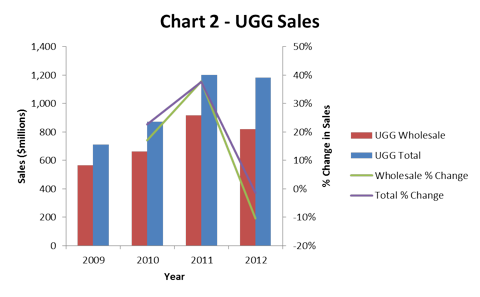 The company's inventory continues to rise and inventory turnover continues to drop (see Chart 3). This suggests the management team is either slow in adjusting to the trends in the business, or in denial about the new realities of the business.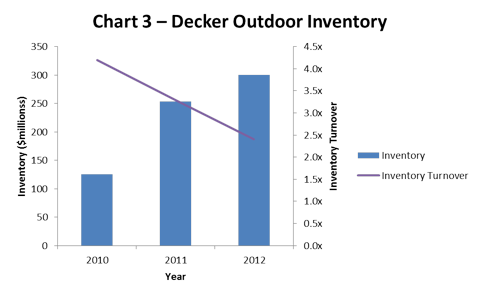 The aforementioned trends have not deterred the company's management from pursing a the strategy of long-term product company. They have ramped up investment in building out new stores and spending on marketing like the product is here to stay. The company had cash expenditures on investing activities (mostly for new retail stores) of $75 million in 2012 and $185 million in 2011, with 2013 expected to be $85-$90 million. In addition, the company committed to operating leases of over $221 million. These new stores have greatly expanded the company's cost base, adding 1,300 addition workers (more than doubling the company's workforce). The 30 new stores opened in 2012 added $36 million in SG&A costs ($1.0 per share in additional cost).
UGG sales are vary seasonal in nature, but the company will have to maintain these stores year round. Each retail store generates an average of $3.2 million; with gross margins of 45% that is only $1.4 million in addition gross margin to cover $1.2 million in additional SG&A. This analysis is even generous considering these 30 new stores may have been open only half the year, so SG&A on an annual basis could actually be considerably higher. The company included the following disclaimer in their 10-K highlighting plans to continue this capital-intensive and high-risk expansion strategy:
Our retail segment has grown substantially in both net sales and total assets during the past year, and we intend to rapidly expand this segment in the future. We have entered into significant long-term leases for many of our retail locations. Global store openings involve substantial investments, including constructing leasehold improvements, furniture and fixtures, equipment, information systems, inventory, and personnel. In addition, since certain of our retail store costs are fixed, if we have insufficient sales, we may be unable to reduce expenses in order to avoid losses or negative cash flows. Due to the high fixed cost structure associated with the retail segment, negative cash flows or the closure of a store could result in significant write-downs of inventory, severance costs, lease termination costs, impairment losses on long-lived assets, or loss of our working capital, which could adversely impact our financial position, results of operations, or cash flows.
In addition, the company continues to ramp marketing spending. Increasing marketing spend by $14 million in 2012. They have spent a tremendous amount of money trying to expand their brand to men, most notably using ads featuring New England Patriots quarterback Tom Brady. This campaign has been an abysmal failure. Can you think of one man you know who wears UGGs?
So what will become of Deckers Outdoors as the fad of UGGs fades? For that we have to turn to examples of fad consumer product companies from the past. The perfect analogy is Crocs (NASDAQ:CROX), which has lost half its value over the last couple years as its shoe fad has faded (see Chart 4). The stock gapped down three times as the reality of revenue and earnings slowdowns shown by quarterly data eventually took their course. Despite that overlying trend, investors seem to have had an inability to let go of past glory and bought back into the stock after virtually every drop. The one false positive report was from the holiday season of 2011, which bares interesting parallels to some of the positive buzz and stock movement coming out of this last holiday season and the Q4 earnings report for Deckers Outdoor .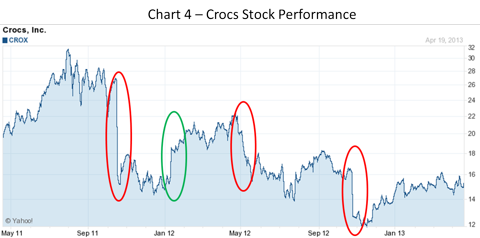 Another example of a footwear company that had a short life was Heelys, the maker of sneakers with built-in wheels that where hugely popular among kids, teens, and young adults. The company went public in December 2006, jumped to $40 a share, closed at $6 a share one year later, and fell to $1 a share by 2009. In early 2013 it was acquired by Sequential Brands Group for $2.25 a share.
Another example is Skullcandy (NASDAQ:SKUL) -- the hot, marketing-driven headphone company that went public in 2011. The company has seen a consistent decay in its stock price as its brand loses its luster and competition erodes margins.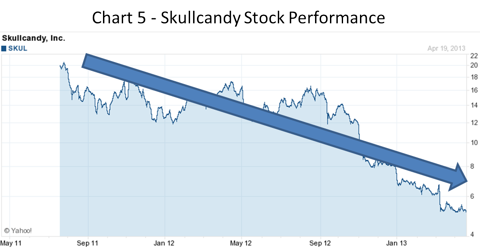 The fad consumer product category has a long history of destroying shareholder value, and Deckers Outdoor and its UGGs will be no exception. This analysis could be wrong and the company could have succeeded at that virtually unattainable holy grail of consumer products -- creating a sustainable new product category. However, the company will still succumb to pressure from generic competition, which will deteriorate volumes and margins just as we have seen recently with Apple (NASDAQ:AAPL) and the smartphone industry.
The sentiment of Oscar Wilde certainly applies here:
Fashion is a form of ugliness so intolerable that we have to alter it every six months.
Disclosure: I have no positions in any stocks mentioned, but may initiate a short position in DECK over the next 72 hours. I wrote this article myself, and it expresses my own opinions. I am not receiving compensation for it (other than from Seeking Alpha). I have no business relationship with any company whose stock is mentioned in this article.