Introduction to Google Fiber
Behind the scenes these last few years, Google (NASDAQ:GOOG) has been developing what could potentially be their secret weapon. No, not the glasses that people are abuzz about; something else. Something that could be way bigger.
Something a bit peculiar happened to me a couple of days ago. I was in the midst of trying not to scream at the top of my lungs at my internet service provider (I'm paying for 3mps and getting about 0.6mps), when a small YouTube video popped up on my Facebook account. As if it was planned, the video had a demonstration of Google's new Fiber internet service at work, showing SpeedTest.net running on a computer that was getting download speeds of a gigabit per second (1,024 mbps). That's more than 100 times faster than what I'm paying for and (more importantly) way faster than the speeds I'm actually getting.
Google's site doesn't have a lengthy description of Fiber, so as much as I loathe Wikipedia as a reference, here's a description from Wikipedia:
Google Fiber is a project to build an experimental broadband internet network infrastructure using fiber-optic communication[1] in Austin, Texas; Kansas City, Kansas; Kansas City, Missouri; North Kansas City, Missouri and Provo, Utah. The location was chosen following a competitive selection process.[2]Over 1,100 communities applied to be the first recipient of the technology.[3] On March 30, 2011, Google announced that Kansas City, Kansas will be the first community where the new network would be deployed.[4]

After building an infrastructure of the network, in July 2012, Google announced pricing for Google Fiber. The service will offer three options. These include a free broadband internet option, a 1 Gbps internet option for $70 per month and a version that includes television service for $120 per month. The internet service includes 1 terabyte of Google Drive service and the television service includes a 2 terabyte DVR recorder in addition to the Google Drive service. The DVR will record up to eight live television shows simultaneously. The television options also includes a Nexus 7 tablet that will act as a remote control for the system. In addition, television service will also stream live program content on iPad and Android tablet computers. Neighborhoods that receive the service will be selected through demand from Kansas City area residents and Google has set up a website to pre-register for the service.[5]
If Google can actually provide the speeds that they're providing at a competitive price (the prices that they're currently offering), Fiber has a real chance to not only be a paradigm shifter for cable companies and ISPs, but a major revenue center for Google.
Fiber, as a service, provides a Nexus 7 as its remote control and comes with an additional 1TB of cloud storage. Google claims the DVR and hi-def capabilities that come with the streaming cable are second to none.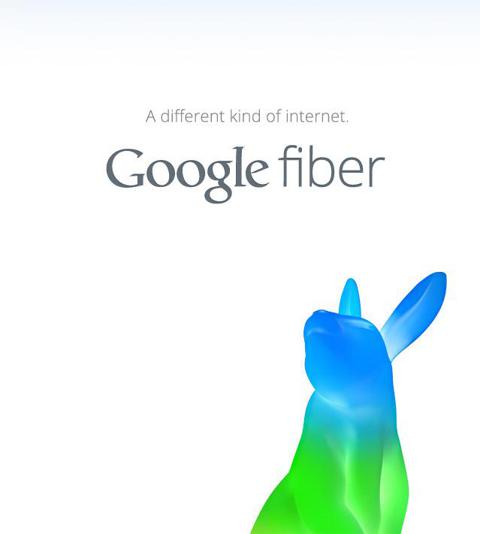 Click to enlarge
Why Fundamentally This Could Be a Success
This is a forward-thinking move by Google and forward-thinking is what yields serious success. Absolutely everything is going to be streaming in the future, which is going to require massive amounts of bandwidth. Your cable is basically going to be streaming internet cable with a hard drive used for DVRing and recording programs. Your TV, internet, music, Blu-Ray, and all media will all link back to one controller. If you download it on your computer, it's going to be available in HD on your TV.
This is one reason I'm convinced that Apple (NASDAQ:AAPL) is going to put out a TV. When they started down the "i" path (iTools, iMac, iPad, iLife), the ultimate goal was 100% media integration with computing. This is why your iPhoto works seamlessly with iMovie and iTunes, and they all work with your Apple TV. Soon, everything will be based from one master controller, which is going to make ordering channels, programming and movies on demand extremely easy.
It's also going to require a ton of bandwidth. One dedicated stream usually requires about 5mbps to go on without interruption. If you're going to be streaming and downloading music in one room, while a family member watches a movie in another room, and another family member plays Xbox live in another room, you're going to need super fast internet. 1 gbps solves any potential bandwidth problem with the streaming media centers of the near future.
If Google continues down the path that they, and other companies, have alluded to in the past, city-wide WiFi is not going to be out of the question either. They'll assuredly get major pushback from companies like Time Warner (TWC) and Comcast (NASDAQ:CMCSA), but Google is the only kind of company that has the resources and cash to compete with the major cable companies, many of whom people are fed up with and use because its their only option in their area.
Speeds like this could ensure that municipalities and cities will be able to provide the massive bandwidth needed to supply a city with WiFi. Google, if they execute correctly, could be positioning themselves to land massive citywide contracts if their "test cities" work out successfully.
What This Could Eventually Mean to Investors
Eventually, if executed correctly, this program could be of massive benefit to shareholders of Google. Does it even need to be said what effectively tapping into the cable and internet realm could do for Google? It is a multi-billion dollar industry.
If Google can move slowly and execute without spreading themselves thin, they could be able to pull in potentially billions more in revenue years down the road. Ultimately, this could translate into a massive addition in shareholder value, which is why this investor is paying attention to every word reported and move made for Google's Fiber; it has the potential to be Google's next secret weapon.
Disclosure: I have no positions in any stocks mentioned, and no plans to initiate any positions within the next 72 hours. I wrote this article myself, and it expresses my own opinions. I am not receiving compensation for it (other than from Seeking Alpha). I have no business relationship with any company whose stock is mentioned in this article.