We've had quite a recovery in the market from the lows reached in March, and many semiconductor stocks have followed suit.
While AuthenTec Inc. (NASDAQ: AUTH), a maker of fingerprint sensors, is no different, even with a recovery in its stock price from the absolute abyss, AuthenTec is still trading at a close-out price.
Quite literally, AuthenTec is trading at a significant discount to its cash on hand, as well as its liquidation value taking into account all variables.
I have a special treat as I'll be previewing AuthenTec's earnings and we will be joined by guest columnist Jae Jun of Old School Value with a short write-up at the end of this post breaking down AuthenTec's current valuation and liquidation value.
In essence, we are getting the company for free at today's prices assuming nothing changes and conditions don't improve at all!
So what does this mean for our investment in AuthenTec as they look to report earnings on Tuesday, May 12th after the market closes?
In this post I'll go over the important aspects that we need to be aware of before AuthenTec announces earnings and then break them down into the following parameters:
What went right in the quarter: What were some of the positive developments that occurred within the company in the last 3 months.
What went wrong in the quarter: What were some of the negative developments that occurred within the company in the last 3 months.
What I want to see: All things considered, what I realistically want to see from the company as it relates to their business.
Jae's analysis of AuthenTec's deep net-net value territory
Bottom Line: What it all means, and what you should do.
New to the AuthenTec story?
AuthenTec, Inc. is a fabless mixed-signal semiconductor company that provides fingerprint authentication sensors and solutions to the high-volume personal computer (PC), wireless device, and access control markets.

AuthenTec offers a range of fingerprint sensors that enable users to access and control multiple functions on an electronic device by touching or sliding their finger across the sensor.
The company's fingerprint sensors utilize unique information in fingerprints to verify the identity of the individual, as well as the unique, individual fingers on the same person.
With more than 45 million sensors sold worldwide, AuthenTec's award-winning sensors take full advantage of The Power of Touch by utilizing the company's patented TruePrint technology to deliver the most convenient, reliable and cost-effective means available for enabling touch-powered features that extend beyond user authentication.
These sensors are used in various applications related to security, password replacement, financial transaction authentication, and personalization applications.
The company's products are used in a range of PC products and related peripherals, including laptops, desktops, memory keys, hard drives, keyboards, mice, and other devices.
In addition, AuthenTec's products also integrate into various wireless devices, such as mobile phones, and personal digital assistants and personal navigation device, as well as access control devices comprising door locks, time and attendance devices, and remote wireless entry keys.
AuthenTec primarily offers its products to original equipment manufacturers, original design manufacturers, and contract manufacturers and sells its products through a direct sales force, a network of independent sales representatives, and distributors.
What's Going On At AuthenTec?
Going Out of Business or Take-Over Target?
This is a damn good question, and one that I've been waiting around to find out the answer to.
AuthenTec has been hard at work developing newer technologies and lower cost chips so that they can increase their market share and penetration, especially in the new netbook category of laptops.
You'll recall a while back, AuthenTec lost one of their largest customers, accounting for a huge drop in expected sales going forward, and the stock suffered mightily as a result.
What we didn't see coming however, aside from this grim news, was the absolute collapse in the PC and consumer marketplace and AuthenTec's demand absolutely cratering in conjunction.
Let's review the quarter that was, and turn our attention to what will be discussed on the conference call.
What went right in the quarter: There were a few things in the quarter as far as news went for AuthenTec that was positive.
The most important piece of news in the quarter was concerning AuthenTec's patent infringement update vs. one of their rivals, Atrua.
Essentially, AuthenTec won a judgment that denied Atrua's motion to add a claim of misappropriation of trade secrets as a counterclaim to AuthenTec's patent infringement claims against Atrua, and further denied its motion for a preliminary injunction against AuthenTec.
The court had already denied a previous motion for a temporary restraining order and also ruled that Atrua violated a previous court order in the case.
In that same press release, AuthenTec also stated that they added several key patents to their intellectual property (IP) portfolio, including patents for fingerprint reading and verification that are among the foundational IP created for the biometrics industry.
AuthenTec continues to own more fingerprint sensor-related patents than any sensor supplier in the world with 75 filed and pending U.S. patents (as well as additional foreign patents).
You can read more about that update here.
There were a couple product announcements to discuss such as:
a deal with Motion Computing to incorporate AuthenTec's biometric fingerprint sensor into the new J3400 rugged tablet personal computer in order to protect the device, its stored data and the networks to which it connects
a deal with ASUS that incorporated AuthenTec's fingerprint sensors as a standard feature in the world's first netbook computer to use a fingerprint sensor.
Other than that, it was status quo for AuthenTec.
What went wrong in the quarter: Well, if you don't count a flagging stock price, and disastrous industry trends, nothing really went "wrong" in the quarter that was of particular note.
I will comment however that this ongoing litigation with Atrua has been a drag on AuthenTec's earnings and will continue to be for the foreseeable future.
Other lawsuits that I haven't heard any updates about, where the ones filed against AuthenTecc when the company's stock price plummeted as a result of the shocker that they had essentially lost their largest customer.
These types of suits are standard procedure when a company announces some really bad unexpected news and people's shares get wiped out.
We'll see how all of these play out.
What I want to see: Wall Street is projecting sales of about $5.4 million for Q1/09, a decline of almost 60% from the same quarter a year ago.
Along with that, analysts see AuthenTec's earnings per share coming in at about a -$.14 per share loss for Q1/09 down from a profit of $.02 a year earlier.
Amazingly, AuthenTec has met or beaten analyst's estimates every single quarter as a public company (7 quarters), while lowering those expectations due to bad news intra-quarter.
I want to see AuthenTec's business trends stabilizing at the very least, and not getting any worse.
I know that AuthenTec will massage the numbers to at least meet expectations, that's not what matters.
What matters to me is their outlook, forward guidance, and industry trends.
This includes their use of cash flow, which had been increasing lately, even in the face of lower overall sales and reduced profits.
I know that AuthenTec was going to be dipping into the cash flow well here over the next couple of quarters, but I want to make sure they are still on a very low cash burn rate, and that things are not getting worse for my investment thesis to still hold water and for me to recommend maintaining shares in the company.
Jae Jun's analysis of AuthenTec's deep net-net value territory
Authentec in Deep Value Net Net Territory
I'm sure readers of Peakstocks.com are well aware of what has been going on with AuthenTec.
Chris has been providing excellent coverage on the company but I wanted to highlight some numbers and put a simple valuation on the company for you all to ponder.
If you are unfamiliar with deep value investing and searching for net net's, it is a formula Ben Graham came up with and what Buffett calls cigar butt investing.
Net Net Definition
Basically, a net net is a company that is selling below liquidation value. That is, if the company was sold this instant, what would all of its assets minus its liabilities be worth.
The formula, known as Net Net Working Capital or Net Current Asset Value is:

Net Net Working Capital = Cash and short-term investments + (0.75 * accounts receivable) + (0.5 * inventory) - total liabilities
You can get more detailed explanation as well as a free automated investment spreadsheet that calculates this for you from Old School Value.
Net Net Calculation
Let's take a look at the latest financial statements for AUTH.
From their latest filing on March 18 AuthenTec had:
$45.2 million in cash
$18.1 million in short term investments
$4 million in accounts receivables
$5.8 million in inventories
$9.4 million in total liabilities
28.62 million shares outstanding
If these numbers are then plugged in to the formula above, the liquidation price for AUTH comes out to $2.09. This is a discount of 9% to the price of $1.91 as of May 5th. Depending on how you feel about the company's capability to collect payments and turn over its inventory, the discounted percentage for accounts receivables and inventories can be adjusted.
So what does this mean? Well, it means that AuthenTec is currently trading very close to what you would expect to receive if the company was to liquidate. However, if you believe the company has a future as a going concern, this price can also be a floor to the downside.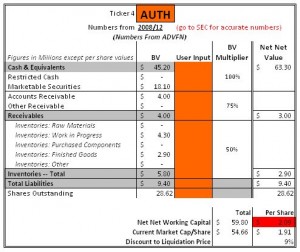 If you enjoyed this post and would like more information on deep value stocks, stock analysis, and a collection of simple to use free investing spreadsheets, visit Old School Value.
Bottom Line: AuthenTec is one of those recovery/takeover stocks that is trading so cheap, and is such a small part of my (Chris here) current allocation and portfolio, that the risk/reward favors us right now.
As we can see from Jae's careful and very conservative analysis, AuthenTec is trading below its net net value, and more than that, significantly below cash value of $2.21 per share (a 15.6% discount!), and below tangible book value of $2.58 per share (a 35% discount!).
AuthenTec is ripe for the pickings…
The question is, will anyone want to rummage through the scrap heap that is AuthenTec and purchase the company on the cheap to secure its intellectual property, even with declining business trends?
AuthenTec's earnings call will give us further insight into whether or not business has stabilized, and whether AuthenTec has a future as a going concern.
If it does, I can't see why a larger competitor wouldn't want to order up some nice incorporated patents, and ready-made branding on the cheap.
Want More?
Read: my last quarterly earnings and conference call breakdown here.