Introduction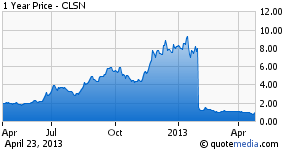 I've been covering Celsion (NASDAQ:CLSN) since the beginning of January 2012, where it was anticipating its Phase III results for ThermoDox with RFA. ThermoDox was a unique liposomal delivery method of getting doxorubicin to the site of cancer tumors being treated. Preliminary trials looked great and the idea behind ThermoDox was one that made sense: delivering a concentration of an often-used cancer drug to the site of the tumor by its Liposomal transport system, and using heat to activate it en masse.
Celsion is evaluating ThermoDox in a Phase III clinical trial for primary liver cancer, as well as Phase II clinical trial for colorectal liver metastasis and a Phase II clinical trial for recurrent chest wall breast cancer.
There was monstrous confidence going into the end of the Phase III results due to the preliminary results that were promising. The stock was trading upwards of $8, but the news came in that ThermoDox did not meet its primary end point and the executives, as stunned as the shareholders, conceded defeat on a conference call that following morning. The stock made a beeline for $1.
What's New Since Then
Despite the 90% price drop in the stock, after the subsequent conference call, I argued on March 18th that ThermoDox could possibly still have a chance. I stated:
What does this mean? It means its preliminary results are showing that people with smaller lesions were having some clinical benefit. This is a huge difference from the massive disappointment of its conference call earlier this year, where the sentiment was basically, "it doesn't work, it didn't come close, we have no idea what the hell just happened."

As I've stated and as it said in its previous conference call to discuss the HEAT results, the delivery method worked. Now, it's up to the company to find a subgroup and combination of usage for the delivery to be successful. I see this as promising news for Celsion investors.

I went on to state in my conclusion, why I thought Celsion was a great speculative buy:

I am reaffirming my speculative buy recommendation on the heels of the fact that I still believe the company to be undervalued after its recent 85% plummet. What I heard today touched on a lot of points that I was looking for. The facts are:

·ThermoDox delivery method appears effective

·Hisun is not out of the game as a partner

·There seems to be reasonable belief that certain subgroups responded well enough to the HEAT trial for there to be "clinical" use

·Celsion still has a strong balance sheet

·Dr. Borys made some "almost bullish" comments about ThermoDox working better in some cancers than in others. As I previously pointed out, liver cancer has traditionally been one of the toughest to fight. Should Celsion find steady results in another form of cancer, we could be looking at a significant investing gain.
What We Found Out Today
This morning, Celsion released a business update PR with some extremely telling information. In addition to what we've heard about ThermoDox possibly showing better results in smaller lesions, today's PR stated:
The Company has conducted a comprehensive analysis of the data from the Phase III HEAT Study with key principal investigators, data experts and liver cancer experts. This follows the announcement on January 31, 2013, that ThermoDox® in combination with radiofrequency ablation (RFA) did not meet the study's primary endpoint. Emerging data from the HEAT Study post analysis demonstrates that ThermoDox® markedly improves progression free survival (PFS) and overall survival (OS) in patients who had optimal RFA. The analysis indicates that if patients' lesions undergo RFA for 45 minutes or more, they clearly benefitted from ThermoDox®. These findings apply to HCC lesions from both size cohorts of the HEAT Study (3-5 cm and 5-7 cm) and represent a sizable subgroup of patients. This data is subject to further verification and review by the HEAT Study Steering Committee.

"We have completed a thorough review of the HEAT Study and there is clear evidence that ThermoDox® can benefit patients when RFA is optimized," said Dr. Nicholas Borys, Celsion's Vice President and Chief Medical Officer. "These data are very exciting and consistent with the mechanism of ThermoDox® activity."
That, to me, is extremely interesting and telling information. It was so dumbfounding to have all of this promising data going into the study only to be blindsided with the bad news that it did not meet its primary endpoint. However, it seems that patients that had RFA for 45 minutes or more showed enough benefit for them to make a big deal out of it.
This explains a bit. In the conference call the day of the results, Michael Tardugno said that there was no issue in the delivery of the drug. This caused me to write off that it wasn't the liposomal delivery, it was the drug itself. I was convinced they'd find a use for the delivery method. Now, it looks like it all has to do with the amount of time the RFA is applied to the tumor. If this 45 minutes turns out to be the missing link in the success of the method, this company is poised to do a full 180. It's a big "if", but it's worth noting.
It's also nice to see that Celsion is managing its costs in this rough time for the company:
The Company implemented a restructuring program to lower its operating costs to conserve capital. The program includes elimination of approximately one-third of Celsion's workforce and the deferral of expenses associated with the Company's Phase II study of ThermoDox® in combination with RFA for the treatment of colorectal liver metastases (The ABLATE Study). Celsion expects these measures to remain in effect until such time as it finalizes its plans for the continuation of its development program with ThermoDox® in HCC. Celsion ended the first quarter of 2013 with approximately $46 million in cash and investments. Ongoing salary costs, net of restructuring costs, are expected to reduce overall operating expenses during the current fiscal year.
It is also worth noting that two directors were buying on the open market towards the end of March. In a situation like this, it's nice to see a vote of confidence from the directors.
What This Could Mean for Celsion & Investors
Always unamused Adam Feuerstein was quick to label this a "spin job" this morning, but, with so little concrete data in the PR I'm thinking he's trying to reaffirm how "right" he was about Celsion using his Feuerstein-Ratain method. It'd be something else if Celsion was the exception to his rule, especially if it came back from the dead. He doesn't really offer up any specific reasoning why the RFA exception couldn't work. He mostly just pawns it off as a con job by Celsion's executives. Here I was just starting to get on the same page as Adam with Amarin, but I think he's way off base here.
Just playing devils advocate here for a minute, but say increasing the RFA to over 45 minutes in each patient turns out to be the only thing that ThermoDox is missing to hold it back from success. This company and its stock, even with the new dilution, could have massive live breathed back into it.
Read this one line from Celsion's press release today (emphasis is mine):
ThermoDox® markedly improves progression free survival and overall survival (OS) in patients who had optimal RFA.
That's a tough one to just turn your back on and ignore.
My friend mentioned that if it was big news, they would have had a conference call. I contend that they're waiting to get this news validated by the HEAT Study Steering Committee before really making a big deal about these "unaudited" findings.
Not only that, but Celsion's entire ThermoDox based pipeline (which has shown similar success in preliminary trials) may also have new life. I'm going to be watching Celsion closely from here on out.
Disclosure: I am long CLSN. I wrote this article myself, and it expresses my own opinions. I am not receiving compensation for it (other than from Seeking Alpha). I have no business relationship with any company whose stock is mentioned in this article.