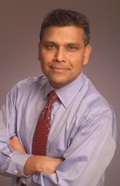 Satya Pradhuman founded Cirrus Research in 2007 after more than 20 years on Wall Street as a respected and often-quoted executive in the equity research departments of E.F. Hutton, Lehman Brothers, and Merrill Lynch.
Harlan Levy: Rising jobless benefit claims, worsening future economic activity measures, low numbers of new jobs - do these reports indicate weakening economic growth after the first quarter's impressive start?
Satya Pradhuman: Yes and no. We have seen some slippage in the momentum we saw in the first quarter. However, the recent set of data seems to be very consistent with the kind of recovery we've been witnessing over the last two to three years. Overall, we think this recovery, however anemic, is likely to continue.
There are several key points that support healthier times. One of the most important elements we focus on in the equity markets has to do with capital markets' financing. What we are witnessing and continue to witness are record levels of high-yield issuance. In other words, the high-yield market represents lower quality firms, and what we've seen is that over $300 billion of high-yield issuances occurred in the last year.
If you go back to the mid-1990s, on average from that point on the numbers ranged into the $50 billion to $70 billion level. With the current number north of $300 billion, that tells us that capital market access is quite easy.
So if we step back and look at the economic data, we continue to see that jobs are soft, and we continue to witness improving real estate data. Taken altogether, the capital markets, the job side, and the housing side do support that the U.S. economy continues to grow, albeit at a slower rate.
H.L.: What do you predict for the economy next year?
S.P.: Overall, we think Gross Domestic Product will continue to grow, probably at a moderate pace.
H.L.: What's your biggest fear about the economy?
S.P.: I would say that slowing global growth will remain a dampener on U.S. economic activity.
H.L.: How concerned are you about the Federal Reserve artificially propping up equity prices and the economy with its purchases of Treasury bonds with no change until the jobless rate hits 6.5 percent?
S.P.: The credit cycle is continuing to heal, and at some point the market will likely dictate that the Fed discontinue its easy-money policies. To date, however, the risk has to be disinflation and deflation, certainly not inflation.
If the environment is very robust with easy money, we would likely see Treasurys go back up. That correction in bond prices would probably dictate that the Fed has gone too far. But the mixed economic data continues to lend support for what the Fed has enacted.
H.L.: Is housing on a solid path upward?
S.P.: The evidence is mixed. We don't know. We believe that we've got somewhat of a recovery and stabilization, but the housing recovery is still very murky. We've still got challenges on the municipal and local levels which will continue to act as a dampener on home prices.
We've also got marginally improving jobs data with higher rental prices. Cyclically, we should see more supportive comparisons, but it may not dictate five years from now how healthy the market is for housing.
H.L.: What do you think of corporate earnings so far?
S.P.: Sales growth for several quarters now have been slowing. In the recent quarter we have seen some stabilization in revenue growth. Looking forward into this earnings season, the forecast for earnings remain benign, suggesting lower earnings hurdle rates. The profits reports should be quite constructive.
In our most recent report out Thursday we did observe that the forecasts for two sectors are notably aggressive, the financial and business services sectors, and are where we saw earnings growth that was really aggressive.
H.L.: What sectors of the economy are healthiest?
S.P.: We continue to see solid consumer results. Potentially on the weaker side in comparisons, we see segments like the materials and technology sectors having lackluster growth. In addition, areas such as housing -- specifically home builders and construction - in those pockets we see fairly nice rebounds in revenue growth.
H.L.: Where do you see the stock market going this year?
S.P.: Overall, the start of the year had very strong equity returns, and we think we have a pretty constructive equity backdrop. The profit picture looks constructive, and valuation on equities remain positive. The short-term concern relates to the very sharp run-up in equity prices from the start of the year.
The research we recently published cautioned that in a two- or three-month period when you get such a strong move you're more likely to see a short-term reversal and increased volatility.
H.L.: Do you expect a significant correction in a few months?
S.P.: We think the recent weakness may simply be a symptom of a very robust start of the year. The volatility of the last few weeks is pretty representative of what you can expect. When you're up in double digits, 10 to 12 percent, in a few months you should see a 2 or 3 percent pullback, which is pretty much in line with what you expect.
Looking forward, you do have constructive valuations, and you do have a decent credit cycle which should support the profit cycle. Net-net, through the next six to 12 months the equity markets will likely remain quite constructive.
We also continue to prefer the smaller-cap market relative to the overall markets. Part of the reasoning for our preference for the Russell 2000 small cap market relates to the improving credit cycle. As credit get easier, smaller stocks tend to outperform large stocks.
H.L.: We haven't heard much about Europe and the sovereign debt problems seem to be troubling again. Are they still a toxic threat?
S.P.: Europe will remain a wet blanket for investors overall and the U.S. economy. The crisis in the banking system will continue to play a key role in the investment picture over the next several years.
Disclosure: I am long AAPL. I wrote this article myself, and it expresses my own opinions. I am not receiving compensation for it (other than from Seeking Alpha). I have no business relationship with any company whose stock is mentioned in this article.