By: Brendan Gilmartin, VP REsearch And Content
3M (NYSE:MMM) is scheduled to report 1Q 2013 earnings before the opening bell on Thursday, April 25. The actual results are typically reported at 7:30 a.m. Eastern and will follow with a conference call at 8:00 a.m. 3M is likely to garner close scrutiny after recently hitting all-time highs, thanks in part to recent dollar weakness. 3M is also a member of the Dow Jones Industrial Average and widely considered an economic bellwether with broad influence and could therefore impact the broader indices.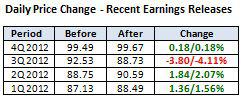 Outliers And Strategy
The current consensus for EPS is $1.65, the mid-point of the projected range ($1.60 to $1.70) (Source: Yahoo Finance). Given the recent run-up toward all-time highs over the past several months, look for a figure at the upper end of the Street's guidance to push the shares higher. A tepid earnings release could drag the shares sharply lower.
Revenues for the 1Q 2013 period are seen rising 4.3% to $7.81 billion (Source: Yahoo Finance), with high forecasts on the Street running as high as $7.90 bln. Last October, 3M reported a revenue figure for the 3Q period that fell about 3.7% shy of consensus, triggered a steep move lower in the equity and the index futures (S&P E-Minis and Dow E-Minis).
Keep an eye out for any changes to the outlook for 2013. Back in January, 3M indicated it anticipates 2013 earnings to be in the range of $6.70 to $6.95 per share. Given the recent run-up, look for 3M to possibly boost this guidance. Anything less could be seen as a disappointment.
3M shares are up more than 23% off the mid-November lows and now trade for 16.8x trailing earnings, a premium to the 5-year average of 14.8x and 2.5x sales, also above historical multiples.
The options market is currently pricing in a 3% move off earnings. Based on the current price, that would imply a post earnings price of about $102.50 to $109 (coinciding with the recent all-time high).
Recent News
03/21: Goldman Sachs resumed coverage on 3M with a Neutral rating according to StreetInsider.com. The firm noted that while 3M boasts solid innovation, a cautious near-term outlook and defensive nature of 3M's businesses warrant a defensive stance.
03/18: Morgan Stanley raised its price target on 3M from $110 to $113, according to a report on Benzinga.com, based on valuation, strong balance sheet and earnings.
02/05: 3M raised the quarterly dividend 8% to $0.635 per share for the first quarter of 2013 and authorized the repurchase of up to $7.5 billion in outstanding common stock. The shares are currently yielding 2.40%.
Technical Review
3M shares have been breaking out over recent months, climbing more than 23% off the November lows, en route to a fresh all-time high of $108.72 on April 11. Since then, however, the enthusiasm has tapered off, with the shares retreating toward the $105-level, nearly coinciding with the 50-Day SMA. From here, there is downside risk to $104, followed by $102 should earnings miss consensus estimates. Conversely, resistance is at the aforementioned high near $109. (Chart courtesy of StockCharts.com)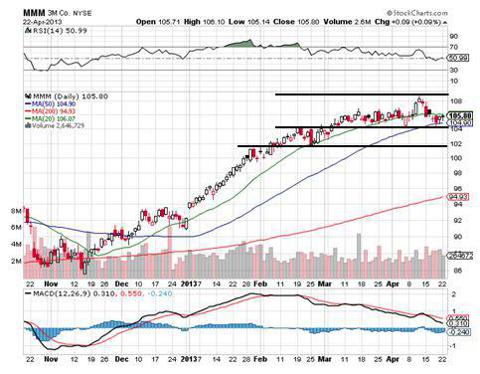 Summary
3M shares have been breaking out over recent months, benefiting from an improving global economic backdrop, a rich dividend yield, share repurchases, expanding product lines and a strong balance sheet. But with few catalysts in sight, evidence of weakness in China, and currency headwinds, the shares have leveled off in recent sessions. With a strong quarter largely priced in, much of the focus will center on the outlook for the balance of the year. Should 3M reaffirm this outlook, it could prove to be a "sell-the-news" scenario with the shares at all-time highs.
DISCLAIMER: By using this report, you acknowledge that Selerity, Inc. is in no way liable for losses or gains arising out of commentary, analysis, and or data in this report. Your investment decisions and recommendations are made entirely at your discretion. Selerity does not own securities in companies that they write about, is not an investment adviser, and the content contained herein is not an endorsement to buy or sell any securities. No content published as part of this report constitutes a recommendation that any particular investment, security, portfolio of securities, transaction or investment strategy is suitable for any specific person.
Disclosure: I have no positions in any stocks mentioned, and no plans to initiate any positions within the next 72 hours. I wrote this article myself, and it expresses my own opinions. I am not receiving compensation for it (other than from Seeking Alpha). I have no business relationship with any company whose stock is mentioned in this article.