I was first exposed to Apple's (NASDAQ:AAPL) culture in 1997 when I did some consulting work for the company and I was able to see the impact of Steve Jobs' return. I've often compared the level of enthusiasm among Apple employees at the time to that of Chicago Bulls fans when Michael Jordan returned from his hiatus. When Steve Jobs returned, he did more than bring it back to profitability and help lead to new innovations. He brought back the Apple culture that was lost after his departure.
Steve Jobs passed away in October 2011 and when we previewed Apple's results in January of 2012, we called it "Steve Jobs' last quarter". Since then, a lot has changed at Apple and the market is still trying to figure out just how much. One of the biggest changes investors are trying to adjust to is the company's new guidance practice.
For years, Apple was the poster child for companies that under-promise with their guidance and over-deliver with their actual results. For example, the first complete quarter after Steve Jobs passed away, Apple beat its revenue guidance by 20.6% and its earnings guidance by 44.7%. This was basically right in-line with the three-year average of reporting revenue results that were 16.5% above the high-end of its guidance range and earnings that were 46.2% above the high-end of its guidance range.
Then, however, things started to change. That next quarter, the company only beat its revenue guidance by 2.9% and its earnings guidance by 7.4%. On our chart below, you can see that release marked the very peak in earnings estimates. It took a while for the market to notice the change as the stock went on to new all-time highs, but the winds had changed and the trend in earnings estimates has continued lower since. As of the close on Friday, Apple was trading at a new trough forward multiple (at least in our 15 years) but it will continue to be a value trap until estimates stop going lower and as of right now, there isn't any evidence that has happened.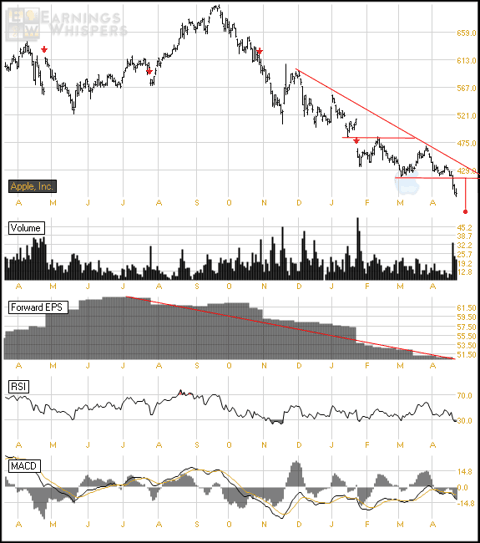 Click to enlarge
Last quarter was the third earnings release in a row that failed to beat guidance like it did under Jobs' helm bringing the three-month average beat of the company's guidance on the top line to an average of 4.5% and the bottom line to 12.7%, Apple's CFO Peter Oppenheimer then said:
...to further increase transparency into our business we're changing our approach to how we provide guidance. In recent years our guidance reflected a conservative point estimate of results every quarter that we have reasonable confidence in achieving. Going forward we plan to provide a range of guidance that reflects our belief of what we're likely to achieve.
This not only confirms that things have changed at Apple since Steve Jobs passed away, but it also implies that the company may not beat its guidance this quarter for the first time since January 2003. Now, there are basically two schools of thought going into this quarter's earnings release. Either the company has truly given a guidance range for the second quarter that it expects results to be within and there are some downside risks to those numbers based on recent supply chain checks... or the company still provides conservative guidance, but just not as conservative as before with limited upside to margins.
So the first thing we have to look at going into the company's fiscal second quarter results is the company's guidance. The company didn't exactly provide earnings per share guidance last quarter, but the company gave a revenue guidance range of $41.0 billion to $43.0 billion. The company also gave gross margin guidance of 37.5% to 38.5%, operating expense of $3.8 billion to $3.9 billion, other income of $350 million, and a 26% tax rate. By our math, this comes to an earnings per share range of $9.24 to $10.24 per share assuming no change to the share count. The consensus earnings estimate is at the high-end of this range of $10.18 per share for the first earnings release to be in-line with the company's guidance in more than 10 years.
Outside of the sell-side analysts, most of the expectations are also for results to be within this range with downside risk to guidance, which we'll get to shortly. The Earnings Whisper ® number takes the minority view that assumes the culture has not completely changed (yet) at Apple and the company still under promised and will over deliver. For one reason, to back into the company's revenue guidance, iPhone sales have to have a surprisingly sharp fall when data checks still show modest unit growth - only an unfavorable mix. iPad sales also appear to be holding up better than feared and the company's guidance reflects. After some downward revisions following some of the supply chain checks, the Earnings Whisper ® number is $10.55 per share based on revenue of $44.0 billion with gross margins of 38.5%. Probably, though, there is greater upside risk to revenue with some downside risk to margins.
One reason for some of the optimism, especially on the revenue side, is the consensus estimate assumes flat year-over-year iPhone unit sales with some expecting an alarming drop. We've already heard from Verizon (NYSE:VZ) and even though they only represent roughly 10% of Apple's sales, the results included a 25% year-over-year increase in iPhone sales. The consensus has come down recently to 35 million iPhone unit sales with some expecting a 20 handle, while the whisper is for 38.5 million units. The problem for the revenue number is the average selling price probably has downside risk to estimates of approximately $614 down to $600 due to the mix of greater-than-expected iPhone 4/4S sales compared to the iPhone 5 sales, but this still puts upside to iPhone revenue estimates of $23.1 million over the consensus of approximately $21.5 million.
We probably can't get an upside surprise without positive iPhone growth, but one area that is expected to see upside is iPads. The consensus estimate is for iPad unit sales of less than 18.5 million, but whispered expectations are for a number around 21 million units where ASPs are also expected to hold up relatively well. Katy Huberty at Morgan Stanley said their checks for iPad sales were above previous expectations.
We also have expectations of 4.1 million Mac sales at an average selling price of $1,300, and 6.2 million iPod units, which brings revenue to be just north of $44 million if you include iTunes, software, services, and accessories. Using the low-end of the company's guidance for operating expenses and a slight reduction in share count, it calculate to $10.55 per share on the bottom line.
This represents a 14.2% year-over-year decline in earnings and we really can't see a reason to be long the stock until there are signs of earnings growth. In addition, the whispers are also just 2.3% above the high-end of the company's revenue guidance and 3.0% above the earnings guidance, which is even worse than we saw last July. However, we think this is important because the checks have been very weak for the company's guidance for the third quarter. If the stock is going to go higher ahead of earnings in July, we probably need to have hope that the company will beat its guidance. Therefore, the most important numbers are $10.24 per share on the bottom line and $43.0 billion on the top line because 1) it will be the first failure to beat its guidance in 10 years, 2) it will confirm the culture has truly changed, and 3) it means investors will lean towards the downside going into the next earnings release unless either a new product is announced or a significant improvement in the supply chain checks.
... and it is the fiscal third quarter guidance where expectations have really deteriorated, especially following Cirrus Logic's (NASDAQ:CRUS) guidance last week. The consensus earnings estimate is currently at $9.08 per share with revenue of $40.2 billion, but that number assumes an acceleration in revenue growth and probably improved margins over the fiscal second quarter. The whispered expectations have come down to revenue closer to $38 billion with earnings south of $9 per share.
Outside of earnings and revenue above the company's guidance and better-than-expected quarterly guidance, the best hope for estimates to move higher following the report and for expectations of positive year-over-year growth in the quarters ahead of renewed expectations of the iTV and a refreshed iPhone and iPad.
Apple is scheduled to report earnings after the market closes on Tuesday, April 23, 2013 with a conference call at 5:00 PM ET.
Disclosure: I have no positions in any stocks mentioned, and no plans to initiate any positions within the next 72 hours. I wrote this article myself, and it expresses my own opinions. I am not receiving compensation for it. I have no business relationship with any company whose stock is mentioned in this article.