By Kyle Coker
Revolution Lighting (NASDAQ:RVLT) was up 68% from The Focused Stock Trader's first recommendation written on March 26th. The excitement of this company has been driven by their all-star management team and investors' acceptance of their ambitious plans. The massive changes RVLT has undergone in the past six months makes their previous earnings reports irrelevant and only indicative of the past. The Focused Stock Trader's position, which we have stood by over the past month, is that RVLT is both a near term and long term buy. The growth of the LED lighting industry is reflected in the price of CREE (NASDAQ:CREE), which hit a 52-week high today.

Letter to Shareholders and Potential Market Predictions

Recently the company filed their 10-K on April 16th. The most important information of the 10-K was the future expectations of the company, the executive team, the board of directors, and the explanation of the LED lighting industry future. The following day, RVLT released a letter to shareholders.
Robert LaPenta, CEO and Chairman of RVLT in his letter to shareholders explained that 2012 was simply a transitional year for RVLT. LaPenta states that the investment by his private investment group in September of $6 million was made to eliminate the debt issues in the predecessor company had so that RVLT may have a fresh start. In 2013, LaPenta's group made an additional $5 million investment. Most recently, in March, Great American Insurance Group made a $5 million investment in RVLT. Great American Insurance Group historically has been very conservative in their investments.
The focus of the company in 2013 has moved:
away from the consumer retail market, to the larger and rapidly growing commercial, industrial, and municipal segments" of the LED market, which are experiencing universally promising growth.
LaPenta states that RVLT needs a
broad, state of the art, quality product portfolio, as well as a large, well trained distribution network.
These requirements, that facilitate their overall expansion, were partially fulfilled with their acquisition of Seesmart Technologies on December 20th. Equity investments from Aston Capital and Great American Insurance Group as well as their Seesmart Technologies acquisition has placed RVLT in perfect position to meet LaPenta's goals.
LaPenta described the LED market as having a projected 30% to 50% increase in size over the next 5-7 years. He explained that LED lighting has only begun its evolution, currently holding a 15% share of the available lighting market. This share of the market, he expects to grow 75% by 2020 according to RVLT's sources, with the LED market reaching more than $100 billion. According to LED's Magazine, the market may actually exceed LaPenta's projections. Another key point in the letter was on the legislation that is facilitating LED expansion.
Specifically, the Energy Independence and Security Act of 2007 in the US encourages more energy efficient lighting, and is scheduled to be followed up in 2014 with additional legislation that pressures consumers to transition away from non-efficient lighting. LED lighting is the obvious benefactor to this, as LED lighting is over 80% more efficient than traditional lighting. Also, over 40% of building energy usage costs come from lighting, allowing LED lighting to be a money saving alternative. Since LED lighting is 100% recyclable, it has also attracted many environmentally conscious consumers to transition.
Finally, LaPenta expressed that RVLT's long-term goals include investing in new partnerships and continual innovation in order to expand the company's product diversity. In all, LaPenta predicts:
significant gains in topline growth and profitability for the year.
Evaluation of the Seesmart Acquisition
Seesmart immediately proved its value, coming out with a 15-watt LED tube lamp recently that is the most efficient four foot T8 lamp on the market. It boasts the highest light output using the lowest wattage in its class. T8 tube lamps are used universally throughout the world in virtually every building, making them the most popular commercial lighting product, however legislation has banned T8 fluorescent bulbs.
On January 24th, RVLT announced a contract for Seesmart that could be worth $10 million. The immediate effect that Seesmart is having on RVLT's business is just the beginning, as Seesmart brought with them a pipeline of $1 billion in potential contracts. As expressed by RVLT in their December 24th press release, Seesmart was a key acquisition, satisfying their distribution and innovation needs.
RVLT Management
As mentioned earlier, CEO Robert LaPenta brought with him experience and an impressive track record. In 1997, LaPenta co-founded L-3 Communications Holdings(NYSE:LLL) which is now worth $7.34 billion, has over 51,000 employees, and boasts $13 billion in sales. In 2005, LaPenta founded L-1 Identity Solutions which he sold for $1.6 billion six years later.
Joining LaPenta is Charles Schafer, President and CFO of RVLT, who also has extensive experience. He worked with LaPenta at Loral Corporation, Lockheed Martin (NYSE:LMT), and L-3. Schafer was President of Tactical Defense Systems at Lockheed Martin, and Senior Vice President at L-3. He was President and COO of the products group for 13 of his 23 years at L-3. His division of L-3 was the highest profit-performing group with $1.5 billion in annual sales. He previously served as President of both Loral Corporation and Lockheed Martin.

Besides Schafer, LaPenta brought with him partners from his private investment group, Aston Capital. Robert Basil and James DePalma who have joined the board, have a long history with LaPenta dating back to their work on the boards of L-1 and L-3. Finally, William Ingram, a director on RVLT's board, works alongside LaPenta on the board of Leap Wireless (LEAP) currently.
Technical Breakdown by Harry Boxer (TheTechTrader.com)
The following technical analysis of the Company's shares is by the renowned Harry Boxer, who has published The Tech Trader for 25 years.
RVLT's rising 45-degree channel is intact and now appears to be extending. Friday's breakout of the 3 week bull coil with dramatically increasing volume of 2.2 million shares tagged a new 18 month high at $2.57. Several of its underlying technical indicators also surged on Friday, confirming that a new leg up may have begun. Next technical target is near the $3.90-$4.00 level followed by a secondary target at $4.75-$5.00 zone.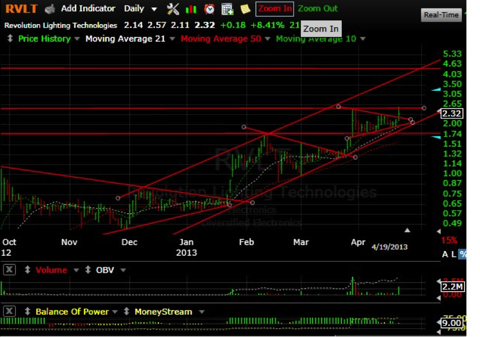 Click to enlarge
-- Harry Boxe r(TheTechTrader.com)
Conclusion
Robert LaPenta started transitioning RVLT midway through 2012, and the future looks promising. RVLT's all-star management team's expansion focus, recent equity investments, and acquisition of Seesmart, indicate that RVLT is moving in the right direction. In order to be successful in the LED market as a major player, Robert LaPenta has embraced the demand for continual innovation and future acquisitions. We believe RVLT could become a major factor in the LED lighting industry. With their debt eliminated, significant capital available, and the explosive growth of the LED lighting industry, we expect Revolution Lighting Technologies to be an outstanding growth company.
Disclosure: I have no positions in any stocks mentioned, but may initiate a long position in RVLT over the next 72 hours. I wrote this article myself, and it expresses my own opinions. I am not receiving compensation for it (other than from Seeking Alpha). I have no business relationship with any company whose stock is mentioned in this article.
Business relationship disclosure: The Focused Stock Trader is a team of investment researchers focusing on the production of TheFocusedStockTrader.com newsletter which is currently under construction. This article was written by Kyle Coker, our Associate Editor. We did not receive compensation for this article (other than from Seeking Alpha), and we have no business relationship with any company whose stock is mentioned in this article.