In previous articles, I've laid out my general investing philosophy. Namely, that I search for contrarian value plays which give my principle an initial margin of safety. My rule of thumb is that I like to buy great companies experiencing 8+% price dips. This situation arises more often than you might think, due to fear in the marketplace. Patience is key, but with it, I enable myself to deploy leveraged capital with confidence into advantageous situations.
International Business Machines Corp (NYSE:IBM) is currently trading at a bargain price. After releasing its Q1 earnings last Friday, the company's stock price has fallen nearly 10%. The company missed analyst EPS estimations by $0.05. This news became bleak when investors realized that this miss would have been much greater if it were not for a lower tax rate. The Q1 revenue was $23.4 billion, down 5 percent (-3% adjusted for currency). Free cash flow was also down $0.2 billion. Net income ($3 billion) fell 1% YoY. The big miss was in the systems and technology division, down 17% YoY. Company management stressed a lack of execution for this hardware misfortune, promising better results in the future.
But all is not lost for this diversified company with the grandiose goal of "building a smarter planet." While EPS did not meet analyst estimations, it did come in at $2.70 ($3.00 non-GAAP), up 3% YoY. IBM's service backlog is $141 billion, up 1% (5% adjusting for currency). The company "closed 22 deals of more than $100 million in the quarter," and several other divisions experienced noticeable growth, namely, business analytics (7%), the smarter planet initiative (25%), and cloud revenue, which was up 70%.
What's more, is despite the bad news, IBM maintains its full year EPS expectation of at least $16.70, showing confidence in its outlook and in its ability to bounce back from this Q1 mishap. So, why not buy into this 10% dip?
This company is ever-expanding and morphing itself into a profitable business with a resilient willingness to adapt. The very nature of technology is volatile; it changes faster than we can imagine sometimes, and it takes incredible foresight and business savvy for companies to keep up. Many large players in the tech industry become docile, dormant, or even die off. Historically, IBM is one of the few who have kept pace with the times. It takes massive confidence and savvy to take the risks necessary to maintain a proper position against the future's changing tides.
The company has transformed itself from a primarily hardware producer to a global leader in integrated services and software. Since 2000, IBM 's capital expenditures have amounted to more than $55 billion. Big Blue has taken change by the horns, attempting to revolutionize computing as we know it with its "Smarter Computing" model. This model is focused on big data, the integration of enterprise, and an open fluidity of information making the world more predicable, which makes life more efficient and profitable for its partners. This, in short, is why I feel that the recent pullback represents notable value for potential IBM investors.
It's as if IBM management has already seen the writing on the wall in regards to its hardware division. In the year 2000, this systems and technology portion of the company accounted for roughly 35% its pre-tax income. In 2012, this figure was down to 14% with the services division nearly tripling its income output and the software division better than quadrupling its decade old performance. With its smarter planet initiative, IBM views big data as "the planet's new natural resource." This is an interesting viewpoint and undoubtedly true. The world requires businesses to support this data, and IBM is stepping to the plate with integrative ideas and plans for the world over.
For some time now, I've been looking to give big data storage and cloud computing exposure to my portfolio. I've considered Carbonite (NASDAQ:CARB) for its impressive sales growth and EPS numbers, but due to its negative margins, high P/Sales, and worrisome management effectiveness numbers (-91.19% ROE and -52.07% ROI), I've decided to stay away from this speculative growth story. I've also considered Microsoft (NASDAQ:MSFT) for its Azure platform, but can't get past several other roadblocks: my personal distaste for Windows 8 and belief that while Xbox is a wonderful gaming system with a bright future, it doesn't have the muscle to move this lagging behemoth along.
IBM is dedicated to its data storage and SmartCloud services. I especially like the company's willingness to expand through acquisitions; since 2000, IBM has acquired more than 140 companies with a focus on building and improving its analytics, cloud, security, and Smarter Commerce divisions. Yesterday, Big Blue added to this list, acquiring UrbanCode, saying in a press release:
Mobile, social, big data and cloud technologies are driving demand for new, faster and more frequent approaches to software delivery. Waiting days or even months to get an update to clients is no longer acceptable. With UrbanCode's technology, businesses can reduce the cycle time it takes to get updates or new applications into market, from months to minutes.
Investors shouldn't expect this trend to end any time soon; to support growth, IBM expects to spend $20 billion on further acquisitions as a part of its 2015 Road Map.
While on the subject of IBM's 2015 Road Map, I think it's a good idea to mention that returning $70 billion to shareholders is a part of this plan as well ($50 billion through gross share repurchases and $20 billion in dividends). The company boasts that since 2000 it has:
returned almost $150 billion to shareholders-paying $26 billion in dividends and reducing the outstanding share count by over 35 percent.
For the sake of examining IBM's historical dividend, I have created an information table which shows the 20 year performance of a $1000 initial investment using the F.A.S.T. Graphs tool. The past is gone now, never to come again; however, I still believe this information should be acknowledged when thinking about buying shares of IBM in the present.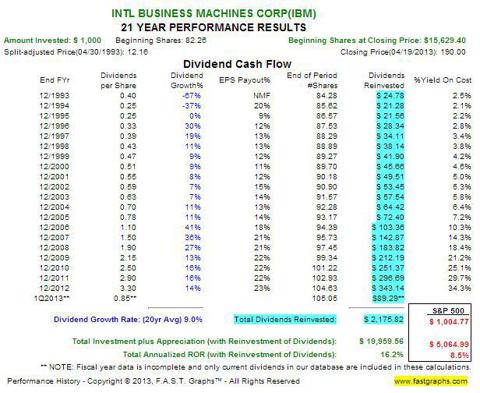 Fundamentally, I think this one is a no-brainer. Big Blue currently trades at a 13.1x P/E ratio. With its $16.70 EPS estimate the company is trading at roughly 11x forward earnings. Its P/Sales is 2.0 (admittedly, these sales have been weak: 1.13% 5 year growth average). The company's gross profit margin was up 0.6 bps on the quarter at 45.6%. IBM's ttm net profit margin is 16.05%. In 2012, IBM's net income was $16.6 billion with revenue of $104.5 billion. Two things impress me most about this company: its ROE (83.28%) and its 5 year average dividend growth rate (17.08%). IBM's 20 year average dividend growth rate is 9% and its current dividend yield is 1.79%.
As you can see in the chart above, the company's 20 year annualized shareholder rate of return is 16.2% (nearly doubling that of the S&P 500 over the same period of time).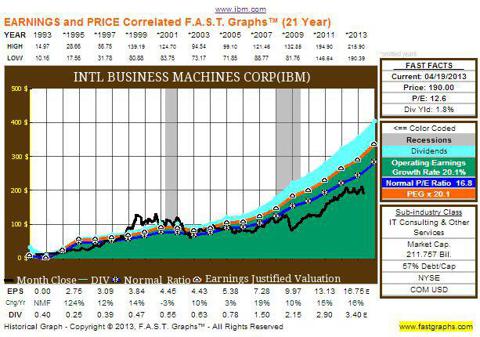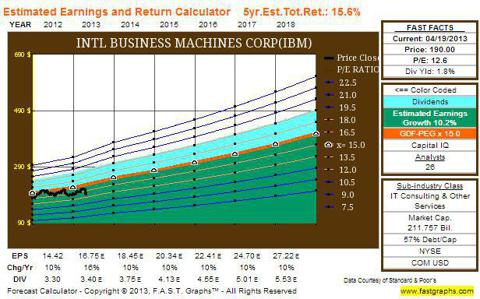 So, what does this recent downward move represent? In my mind: market overreaction. This is a top notch company with an innovative mindset, which leads me to believe that it will continue its pass successes far into the future. IBM is focusing on the right things technologically moving forward. The company also puts shareholders in the forefront of its consciousness, adding a cherry to this already delicious opportunity. This pullback gives investors a healthy upside, with a mean analyst target price of $228.47 (isn't it ironic that it was the analyst estimate that caused this drop in price in the first place?)
For those who follow my experimental portfolio, please take note that I purchased 26 shares at $190.26 on Friday.
All research performed for this article game from IBM's Q1 results press release and the company's 2012 shareholder report. Analyst target was taken from Yahoo Finance.
Disclosure: I have no positions in any stocks mentioned, but may initiate a long position in IBM over the next 72 hours. I wrote this article myself, and it expresses my own opinions. I am not receiving compensation for it (other than from Seeking Alpha). I have no business relationship with any company whose stock is mentioned in this article.