I've assembled a portfolio focused on unconventional tight oil producers that sit on billions of barrels of oil in the ground. I have focused on these types of companies for two reasons:
1) I believe that we are going to have oil prices of at least $80 on average for the next 25 years.
2) More and more of the vast amounts of oil in the ground that these unconventional producers sit on is going to become recoverable over time as oil prices rise, and technologies/techniques improve. That means current reserve figures for these companies likely greatly underestimate the true value of the oil they control
I've been quite happy with where the price of oil has been over the past three years, as the price has not dipped below $80 per barrel for anything longer than a blink of an eye: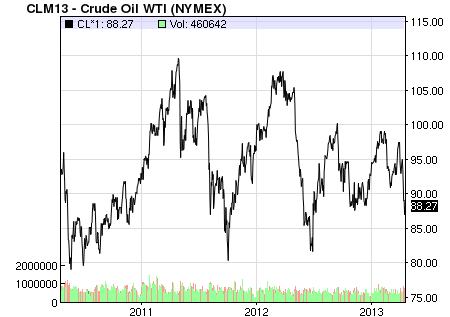 Last month I wrote an article in which I concluded that the expected increase in oil demand from China, India and the emerging economies would basically offset the oil supply growth from North America. While North America will add about a million barrels a day of production, the rest of the world will need about that amount to satisfy its increased demand.
I concluded that would make for continued strong oil prices in 2013.
The recent steep drop in oil prices has sent me in search of the opinions of industry experts to try and determine if I have missed anything or if something has changed in terms of the supply and demand fundamentals.
My first stop was oil service firm Core Laboratories (NYSE:CLB), which provided insight on the price of oil that unconventional North American oil production requires to retain momentum. Outside of the core of the Bakken and Eagle Ford plays, Core Laboratories thinks $90 per barrel WTI is going to be required for producers to make a decent return from unconventional wells.
That tells us the price of oil under which the boom in North American oil production slows.
What Does Oil Services Giant Schlumberger See?
My next stop in my survey of oil industry experts is giant international oil services firm Schlumberger (NYSE:SLB).
In its Q1 conference call (transcript linked above and provided by Seeking Alpha), Schlumberger had this question and answer exchange detailing what to expect for oil prices for the remainder of 2013:
Ole Slorer - Morgan Stanley

Thank you. Just certainly a higher level question, on your press release, there you've mentioned that growth in North America oil production has been offset by other non-OPEC producers seeing declining production limits expect spare capacity to remain around current levels. Could you elaborate a little bit on this statement, try to put some numbers around it if you feel confident about that?

Paal Kibsgaard - Chief Executive Officer, Director

Well, if you look at spare capacity now, I believe it's ticking around 4 million barrels, right? So, we expect it to be around this level in the near-term barring any major macro events. If you look at the balance of supply and demand, the overall demand growth projected for this year is about just short of 1% or 800,000 to 900,000 barrels a day.

Offsetting that demand growth is mainly the continued growth in North American production, and we don't expect any significant growth in the non-OPEC production outside of North America. That leads to core in OPEC and more or less unchanged. That is the main balancing that we are looking at this is stage which is similar to what we talked about in January.

Ole Slorer - Morgan Stanley

In a historic context, so would you say that this is a constructive backdrop or is this a backdrop which could lead to some other business?

Paal Kibsgaard - Chief Executive Officer, Director

Well, if you look at 4 million barrel of spare capacity on about 90 million barrels of production, it is around 4% and it is still about 1 million barrels below where we stood prior to the Libya conflict, right. So I don't think this is an excessive spare capacity. I think its, if anything, probably relatively tight.
Right or wrong, the Schlumberger opinion on what is going on in the oil market is pretty close to mine. That is that we have demand growth of almost a million barrels per day, which is almost exactly matched by supply growth from North America.
OPEC remains the only player in the game with spare capacity and therefore, has full control of prices.
That should keep the oil market pretty tight for all of 2013 and oil prices in the range that we have had for the past couple of years.
Look North Of The Border For Your Oil Investments
If like me, you believe in continued high oil prices and are interested in owning oil producers, I'd encourage you to look to Canada. Our stock market has been extremely weak over the past year, and there are bargains aplenty.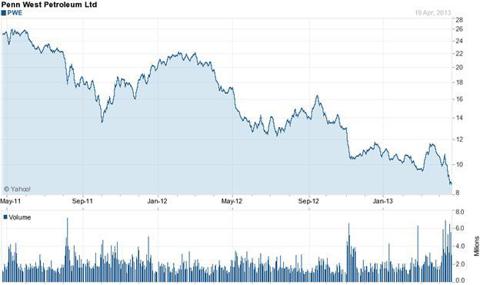 The chart above shows the stock price for Penn West Energy (NYSE:PWE), which has fallen steadily for the past year.
I think this sell-off presents a really nice opportunity to buy shares in a company that has a very large and unique asset base built for long-term success.
Transactions in the oil patch over the past year involving oil weighted producers such as Penn West have seen a floor of $100,000 per flowing barrel over the past year.
If I apply that metric to Penn West, the company looks quite attractive.
Expected Penn West 2013 Production (midpoint) - 140,000 boe/day
Multiply by $100,000 per flowing barrel
Estimate of value - $140,000 x $100,000 = $14 billion
Less Debt Outstanding - $2.7 billion
Estimate of Value Net of debt - $14 billion - $2.7 billion = $11.3 billion
Shares outstanding - 479 million
Estimate of value per share - $11.3 billion / 479 million = $23.59 per share
That compares pretty favorably to the current stock price under $9 per share.
At the current share price, Penn West yields over 12%. The company has recently deleveraged its balance sheet through some non-core asset sales and has an acreage position in every unconventional oil play in Canada other than the Bakken.
I'm not expecting any short-term miracles, but over the next 10 years, I think buying and holding Penn West should be rewarding.
Disclosure: I am long PWE. I wrote this article myself, and it expresses my own opinions. I am not receiving compensation for it (other than from Seeking Alpha). I have no business relationship with any company whose stock is mentioned in this article.