Alliance Resource (ARLP) is a Master Limited Partnership (MLP) which produces and markets coal to utilities and industrial users. It operates 11 underground mining complexes at the moment, leases land and also operates a coal loading terminal. In this article, I will talk about how Alliance Resource will prove as a great "alliance", with fast growth, the strong fundamentals and also the yield, which is the one thing many investors (especially dividend investors like me) are after in this low interest environment.
The company has approximately 919.5 million tons of proven coal reserves as of the end of fiscal 2012. In addition, the company provides several other mine products and services like designing and installing underground mine hoists for transporting employees and minerals and also scrubber sludge removal. All these products and services are crucial when it comes to mining.
Before I continue on the article, here is a snapshot of the company's fundamental and valuation figures:
Price (23.04.2013)
$66.56
Market Cap
$2.46B
Income (Trailing 12-mths)

$226.64M (P/E: 10.88)
(Forward P/E: 10.37)

Sales (Trailing 12-mths)
$2.03B (P/S: 1.21)
Book Value Per Share (BVPS)
$18.18 (P/B: 3.48)
Long Term Debt/Equity Ratio
1.12
EPS Growth Past 5 Years
10.43%
Dividend
$4.43 (6.66%)
Dividend Growth Rate (5-yrs)
19.1% per annum
Payout Ratio
67.72%
Beta
0.77
Here are some points why Alliance looks like a great buy to me:
1. Creating Shareholder Value Through Dividends
Alliance pays a sky-high, consistently increasing dividend. At the moment, this dividend of $4.43 equates to a yield of 6.66% at the moment. This is extremely high for an income-generating stock and is considerably higher than most stocks in the S&P 500 and Dow. The best part is, this dividend had been increased for 11 consecutive years, and more recently, 19 consecutive quarters after paying a $1.1075 dividend last quarter.
In terms of dividend growth, the company paid $1.05 in dividends in 2003 as compared to a $4.43 dividend today. This equates to a fabulous 15.5% 10-year dividend growth, which quite obviously outpaces inflation by a great margin.
Here is a chart showing the company's past dividend payments: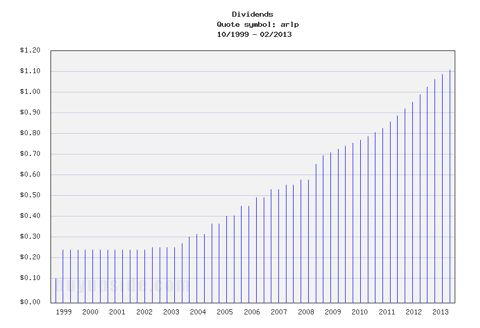 In addition, the company is diluting shares at a slow pace as compared to its competitors. MLPs normally dilute or issue more shares to raise funds for its operations, but Alliance has only increased its float from 36.61M in 2008 to 36.87M in 2012, representing a meager 0.7% dilution rate over the past 5 years. This information was found here. Similar sized MLPs in its industry (Industrial Metals & Minerals), such as Natural Resource Partners (NRP) and PVR Partners (PVR) now have 63.4% and 148% more shares than it has in 2008, respectively. This shows that Alliance does not have any difficulty in trying to operate, even though it is in a capital-intensive business.
2. Growth In EPU (Earnings per Unit)
Even though coal is a relatively unloved sector with many investors rather pessimistic about the industry's future prospects, Alliance has proven its resilience in a few ways.
First, it has maintained strong EPU growth over the past 10 years. Even after making distributions totaling to $4.43 to unitholders, its EPU figure still looks impressive at $6.20. This represents an impressive EPU increase of 16.8% in 10 years, with EPU rising from merely $1.31 in 2003 to $6.20 in 2012. Although this is the case, some of this growth could have been attributed to the tax benefits that the company receives as a MLP.
It must also be noted that EPU dropped over 30% from 2011 to 2012, from $8.13 to $6.20. I will elaborate more about this later in the article, under the heading Key Risks and Flaws.
| | |
| --- | --- |
| Year | EPU ($) |
| 2003 | 1.31 |
| 2004 | 1.99 |
| 2005 | 3.99 |
| 2006 | 4.03 |
| 2007 | 3.78 |
| 2008 | 2.39 |
| 2009 | 3.56 |
| 2010 | 6.68 |
| 2011 | 8.13 |
| 2012 | 6.20 |
3. Favorable Future Prospects
-Recent Sales & Future Coal Delivery Commitments
Firstly, Alliance's marketing team sold 35.2 Million tons of coal in 2012, a record amount for the company, and at a high average price of $56.28 per ton. This is extremely favorable for investors, considering coal's dull prospects at the moment.
Alliance also has strong future coal delivery contracts. As shown in their Q4 2012 conference call which can be found here, management me
(We have) substantially all of our estimated 2013 production (which is approx. 38.5M tons of coal), contractually committed and priced and a solid contract book for 2014 and beyond.
In addition, ARLP's coal sales commitments for the future also look healthy. The number of tons of coal that have been contractually committed for the next few years are shown in the table below.
| | |
| --- | --- |
| Year | Coal Sales Commitments (tons) |
| 2014 | 30.7 Million |
| 2015 | 23.4 Million |
| 2016 | 18.7 Million |
-Lots Of Reserves, with New Mines Being Constructed
The company currently has 11 mining complexes, with most of the complexes in Illinois, or Central and Northern Appalachia.
If one accesses this page about the company's mines in the state Illinois, it can be seen that there are still many mines which still very active, with high annual production levels, and lots of reserves. For example, the company's Warrior Coal Mine contains approximately 119.5 Million tons of coal, and produces around 5.4 Million tons annually. Another active mine, the River View mine contains 128.9 Million tons of coal, and produces around 7.6 Million tons annually.
But besides this, the company is also constructing new mines. One example of such a mine is the Gibson South Mine, which is expected to contain 48.4 Million tons of coal and is to begin production in the third quarter of 2014.
The company is also investing in the White Oak development project (owned by another company), which I believe, will be beneficial to the company once the mine begins production. The mine's reserve estimates are about 205 Million tons. More information about this can be found at the bottom of this page.
-Best Performing As Compared To Its Competitors
While many similar sized competitors, such as Peabody (BTU), Alpha Natural (ANR), Arch Coal (ACI), Walter Energy (NYSE:WLT) and Yanzhou Coal (NYSE:YZC) are dropping rapidly in stock price, some even to the extent of having large losses, Alliance has performed considerably better, both in stock price performance and earnings growth as compared to them. As shown in the chart below, only Natural Resource Partners (NYSE:NRP) has returns comparable to Alliance's over the past few months. The rest of Alliance's competitors have seen plunging stock prices.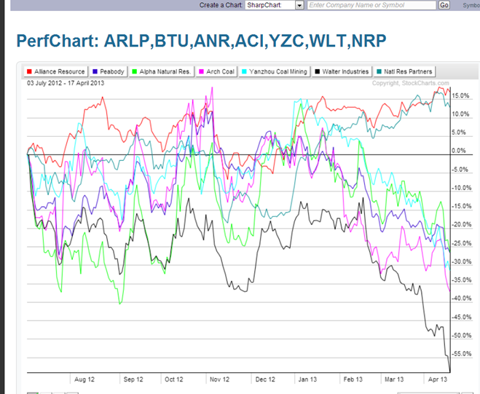 Courtesy Of stockcharts.com, the line in red is Alliance's performance over the past few months
4. Strong Financials
a. Fundamentals
I also like how some of the company's key fundamental metrics have fared. For example, the company's book value per share [BVPS] has increased astronomically over the past 10 years, increasing from $0.55 in 2003 to $19.13 today, representing an impressive 42.6% increase per annum over the past 10 years. The BVPS value is calculated by subtracting all liabilities from all assets (shown as total equity on the balance sheet), then dividing it by the total number of outstanding shares. A growing BVPS number ensures that the company is increasingly worth more over the years. Even so, Alliance's rapid growth in book value is definitely unreasonable going forward, especially since Alliance is growing larger in size as a company. I believe that it would be more reasonable to expect a 10% growth in BVPS going forward. The chart below shows Alliance's BVPS numbers over the past 10 years.
| | | | |
| --- | --- | --- | --- |
| Year | BVPS ($) | Year | BVPS ($) |
| 2003 | 0.55 | 2008 | 7.90 |
| 2004 | 1.54 | 2009 | 8.73 |
| 2005 | 4.29 | 2010 | 12.41 |
| 2006 | 6.82 | 2011 | 16.96 |
| 2007 | 8.68 | 2012 | 19.13 |
Besides having impressive BVPS growth, the company also has a high ROE, with the figure currently standing at 24.8%. A high ROE indicates that a company's management is using shareholders' investments more effectively, and not wasting them away. This is a good sign, both for the company and its shareholders. The definition of ROE is the amount of net income returned as a percentage of shareholders' investments and measures a corporation's profitability by revealing how much profit a company generates with the money shareholders have invested.
b. Balance Sheet
Firstly, Alliance's total assets grew much faster than its liabilities over the past three years, as shown in the table below. From fiscal year 2008 to fiscal year 2012, the company's total assets had increased from $1.031B to $1.956B, an increase of $925M, or 90% over five years. On the other hand, its total liabilities had increased from $741M to $1.25B, an increase of merely $509M, or 69% over the past 5 years.
Fiscal Year
Assets ($)
Liabilities ($)
2008
1.031B
741.4M
2009
1.051B
731.6M
2010
1.501B
1.046B
2011
1.732B
1.108B
2012
1.956B
1.250B
Growth Over 5 Years

$925M
(90% Increase)

$509M
(69% Increase)
Secondly, the company has more current assets than current liabilities. As of the end of fiscal year 2012, the company had $281.31M in current assets and a mere $208.33M in current liabilities. This is a good sign as the company is able to pay off its short-term liabilities if it is obliged to pay all of them off at one time. The table below shows the company's current assets and current liabilities, based on the 2012 fiscal year reports.
Fiscal Year
Current Assets
Current Liabilities
2012
$281.31M
$208.33M
Current Ratio (Current Assets/Current Liabilities)
1.35
Thirdly, Alliance has no preferred stock, which is a good sign for the company and its shareholders - it does not need to pay extra special dividends, which would only drain its cash reserves, which can be used for other operations. A company that has preferred stock also shows how cash-strapped it is to have to borrow money from its shareholders, technically, at higher interests than normal (being obliged to pay special dividends to shareholders).
In addition, this question, posed to Alliance management in the recent ARLP Q4 2012 conference call, further shows the favorable financial situation in the company at the moment:
(...) given the strong cash flow that you guys are seeing and solid distribution coverage, it looks like you guys paid down a substantial amount of debt in the quarter. With your excess cash going forward, are you looking to continue to pay down debt, maybe some other M&A opportunities. I know you guys kind of got your hands full; or would you potentially return capital to shareholders more quickly.
5. Valuations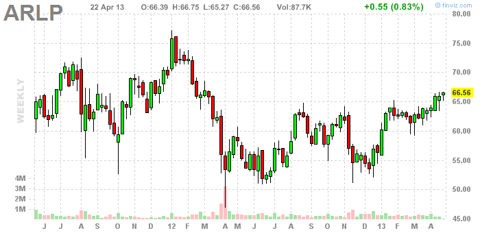 In terms of valuation, the company's shares are currently trading at merely 10.8X trailing 12-month earnings and at 10.3X forward earnings. This is mainly due to selling pressure for investors who are scared away by coal's prospects at the moment. As shown in the chart above, the company's share price has remained within the $50-$80 range over the past 2 years.
Even so, Alliance is recovering well from its recent lows and may just be set to hit new highs soon, with increased prices of natural gas. Natural Gas prices, as shown below, is hitting new highs and has already nearly doubled from its Mid-April lows. As such, utility companies look like they might be more keen on using coal going forward. For example, one of my favorite utility companies, Wisconsin Energy (WEC) has stated that it would burn more coal this year, as shown here. Last year it burned less coal, and more natural gas, due to its cheaper pricing.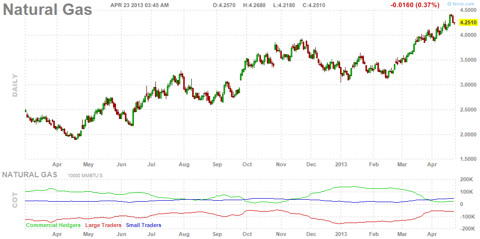 Key Risks & Flaws
1. EPU Impacted Largely By Natural Gas Prices
As stated above, low natural gas prices has impacted Alliance's earnings by a great deal, even causing it to post a lower EPU number this year as compared to the year before, as shown above in the EPU column. Alliance's 2012 EPU was $6.20 per unit, as compared to its 2011 EPU of $8.13, which represents its first EPU decrease since 2008.
Although natural gas prices have increased a great deal over the past year as shown in the chart above, the company still expects a difficult environment and slightly lower coal prices this year as shown in the quote below from Alliance's 2012 Q4 conference call:
We expect the coal markets for the first half of 2013 to be challenging. We are hopeful however; we will see improvement during the back half of the year as the industry continues to reduce supply to balance demand.
Therefore, natural gas prices are undoubtedly a very big factor when it comes to coal mining companies like Alliance.
2. Affected By Weather Conditions
Like all utility companies, milder winters or summers can also adversely impact the company's earnings. Although the demand for coal (to produce electricity) is higher than usual during unexpectedly harsh winters or summers, winters like the mild 2012 winter have impacted Alliance's earnings negatively.
3. High Amount Of Debt
Secondly, Alliance's long term debt/equity ratio is at a considerably high 1.12, which equates to about $791.61M in debt. This is a high number to me, as I normally would like a company's debt to be much lower than its equity (my limit for the ratio at 0.5). This ratio shows the proportion of equity and debt the company is using to finance its assets, and the higher the ratio, the more debt, rather than equity is financing the company. A high level of debt compared to equity may also result in volatile earnings and large interest expenses.
Although this is the case, I think that Alliance's debt consists mostly of what is called "Good debt," which is money borrowed to expand the company further, with the many projects that the company has going on. All these projects all need lots of financing. "Bad debt," on the other hand, is debt that is used to maintain the company and fund internal operations that should be funded by earnings.
Conclusion
Alliance, still with the potential for more earnings and dividend growth, it is, in my opinion, one of the best coal picks in the market at the moment. Performing much better than its competitors, its other qualities, including its strong fundamentals and its high dividends, make the stock a suitable dividend pick for me, as a person looking for continued income growth in my portfolio over the long term. Although it has also some flaws, I believe that its many qualities make up for these flaws and make it a good dividend pick for the long term.
Disclosure: I am long ARLP. I wrote this article myself, and it expresses my own opinions. I am not receiving compensation for it (other than from Seeking Alpha). I have no business relationship with any company whose stock is mentioned in this article.