By Todd McDonald, Analyst
Overview
Akamai Technologies (NASDAQ:AKAM) is slated to report 1Q 2013 earnings after the close of trading on Wednesday, April 24. Results are typically available just after 4:01 p.m. EST. A conference call will follow at 4:30 p.m. EST. Akamai is a leading provider of enterprise cloud infrastructure services for storing and delivering content through the internet.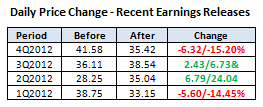 Outliers & Strategy
Adjusted Earnings Per Share: Consensus estimates are for adjusted earnings per share of $0.46, the low end of the range of $0.45 to $0.50. (Source: Yahoo Finance) Akamai has beaten estimates 7 of the last 8 quarters.
Revenues: The Street estimate is for revenues of $357.58 mln, with a range of $352.30 mln to $362 mln.
Sympathy Plays: Juniper Networks (NYSE:JNPR), Level Three Technologies (NASDAQ:LVLT), Riverbed Technology (NASDAQ:RVBD)
Implied Volatility: Over the past eight quarters, Akamai has had an average move of approximately 15% after earnings are released. Options premiums are pricing in about a 12% move after earnings, which implies an estimated price range of $30.91-$39.34. Akamai has a significant short interest of over 10%.
Recent News
04/23: Akamai released a 4Q2012, "State of the Internet," in which the company highlights usage metrics. The report indicates that 700 million unique IP addresses connected to the Akamai Intelligent Platform, a 13% increase from 4Q2011.
03/26: Akamai and KT, a leading telecommunications company in Korea, announced plans to expand their existing strategic partnership. The partnership will allow KT to use Akamai's technology to provide content delivery network (CDN) services.
03/25: Oppenheimer lowered its price target to $43 from $45, according to a post on StreetInsider.com. The firm believes that 2013 will be a transition year for Akamai, due to gross margin pressures stemming from increased costs to improve security and latency performance for the company's wireless device offerings. Oppenheimer reiterated its Outperform rating.
03/12: According to a post on StreetInsider.com, Goldman Sachs reiterated a Neutral rating with a price target of $40 following Akamai's annual investor summit. Analyst Heather Bellini noted the expectation of a long period of reinvestment in the company that hurts near-term profitability.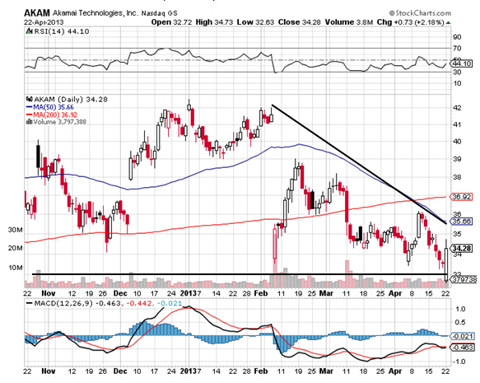 Technical Review
Akamai has been a substantial underperformer in 2013, declining about 16% YTD. If earnings results disappoint, look for major support near $33, an important, longer-term level that was just successfully held. If results surprise to the upside, look for initial resistance at the 200-day SMA near $37, followed by the beginning of February's gap near $41. (Chart courtesy of StockCharts.com)
Summary
Akamai has had a tough year thus far, thanks in part to a disappointing earnings release last quarter and a need for the company to significantly increase capital expenditures to remain competitive in the cloud computing industry. At current levels, it seems as though much of the bear-case is priced in. Therefore, even a marginally positive report should be enough to propel Akamai shares higher.
Disclaimer: By using this report, you acknowledge that Selerity, Inc. is in no way liable for losses or gains arising out of commentary, analysis, and or data in this report. Your investment decisions and recommendations are made entirely at your discretion. Selerity does not own securities in companies that they write about, is not an investment adviser, and the content contained herein is not an endorsement to buy or sell any securities. No content published as part of this report constitutes a recommendation that any particular investment, security, portfolio of securities, transaction or investment strategy is suitable for any specific person.
Disclosure: I have no positions in any stocks mentioned, and no plans to initiate any positions within the next 72 hours. I wrote this article myself, and it expresses my own opinions. I am not receiving compensation for it (other than from Seeking Alpha). I have no business relationship with any company whose stock is mentioned in this article.