By Cagdas Ozcan
Barrick Gold (NYSE:ABX) may be one of the largest gold producers in the world, but that could not save the shareholders from losing 50% since January. The company is slowing down along with the downbeat trend of gold. There are mounting pressures from many sides which suggests signs of deep financial trouble. Barrick is faced with mounting debts while incurring losses.
Recently, the firm's Pascua Lama project was ordered by the Chilean government to stop pending environmental and social issues. The Pascua Lama project is dubbed as one of the largest gold reserves of the firm. With this project out of operation in the next few years, Barrick's gold output will be reduced. This will further hurt the company's finances and projections.
The Recent Gold Market
Gold has been in an upbeat trend and the price of gold has tripled in the past 10 years. Although there were minor falls along the path, they were generally insignificant compared to the surges. The last three years saw the sharpest increase. Gold was trading a little below the $1200 price level at the start of 2010. It peaked to an all-time high at $1889 sometime in 2011. In 2012, prices stayed within the range of $1600 to $1800.
While the year over year increase in gold prices were partly triggered by optimism, some feared for looming correction. True enough, the correction happened starting 2013. Gold was trading for $1693 at the beginning of this year. Since then gold price started to fall and hit bottom on April 16 at $1380. Instantly, the SPDR gold (NYSEARCA:GLD) also collapsed to $138.
Gold succumbed to various pressures from all sides. On April 15, gold prices plummeted back to the price level two years ago. The sudden freefall of gold prices was the largest so far in a single day since the early eighties.
The price ended at $1534.40 on Friday, April 12. By Monday, the price took a plunge to a two-year low at $1396; a disappointing 9.15% loss in one day. But gold eventually stabilized to end the week at $1405.50. In a week's time, the price of gold lost $130 per ounce with a -8.47% growth.
The recent gold crush was triggered by several factors. One of them is the Cyprus financial crisis. Accordingly, Cyprus is selling millions of euros of gold reserves in order to further support its deteriorating financials. As a result, some are selling their positions in gold fearing upcoming excess supply versus the demand.
Another significant trigger is China's below-expectation GDP growth for the 1st quarter of fiscal 2013. It estimated to have a GDP growth rate of 7.7%, just 0.3% shy of the Reuters' estimates at 8%. Despite the minimal miss from its target, it was taken seriously to raise doubts on the global economy. The U.S. and other markets heavily rely on China. A slowdown in China's economy caused some to fear an impending slowing down of the U.S. economy as well. This greatly affected not only the gold market, but also the market of other precious metals like silver and platinum.
However, hardly hit are the gold stocks like Barrick, SPDR Gold Shares and NovaGold Resources (NYSEMKT:NG). Barrick lost 12.55% in a single day on April 15 from $22.62 to $19.78 per share. ABX prices further slid throughout the week and hit bottom in 52 weeks on April 17 at $17.51. It eventually settled to end the week at $18.17 with a week loss of 19.67%
NovaGold Resources also suffered a slump. NG share price was down 7.03% from $2.56 to 2.38 on April 15. It lost further towards $2.28 on April 17 and bounced back to end the week at $2.37. In a week's time, it lost 7.42%.
SPDR Gold Shares, on the other hand, plummeted by 9% from $143.43 to $130.51. But unlike its peers, the prices gradually increased towards the end of the week and closed at $135.47 on Friday. In one week, GLD lost only 5.55%.
The current gold slump is only a reflection of the volatility of the market. While the market was upbeat year over year, it is now heading towards correction. Some analysts believed that last week's gold crush is just the start. The correction stage may last for several months or a few years.
Barrick's Financials
Not only did Barrick lose on the trading floor, it is also financially losing. For the first time in three years, Barrick incurred losses amounting to $677 million. This is a very disappointing finish coming from a net income of $4.537 billion in 2011. The fiscal 2010 was also profitable with a net income of $3.630 billion.
To make matters worse, total liabilities remained at the same high level of $25 billion. Cash and cash equivalents are in negative figures. Total liabilities ballooned from only $15.165 billion in 2010 to $25.521 billion in 2011. The company only made slight principal payment in 2012 to end the year with $25.437 billion in debts.
However, the company plans to reduce its debt exposure through sale of assets. According to a report, Barrick is already having discussions with Bank of America (NYSE:BAC) for the sale. The company is eyeing the sale of three gold mines in Western Australia. These mines are the Lawlers mine, the Darlot mine, and the Granny Smith mine. All three mines reportedly produced about 452,000 ounces of gold in 2012. The cost of production was pegged at $768 per ounce.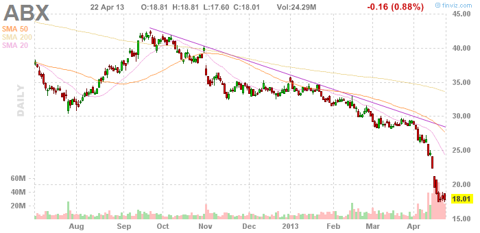 Final Notes:
In spite of the net loss in 2012 and the declining share prices, there is still hope for the future of Barrick. In fact, it is fighting for its survival. It will install a former Goldman Sachs executive, John Thornton, to the chief executive position. Thornton will be a co-CEO starting June along with Peter Munk, the founder of Barrick. However, Munk is believed to eventually relinquish the position to Thornton with hopes of making a major turnaround.
Furthermore, Barrick considers the Pascua Lama project as one of its main focuses, considering the vast potential of the site. Once the issues are resolved, Barrick will be able to get back on its feet. This will hopefully turn the tides in favor of Barrick and twist the correction back to upward trend.
Disclosure: I have no positions in any stocks mentioned, and no plans to initiate any positions within the next 72 hours.
Business relationship disclosure: Efsinvestment is a team of analysts. This article was written by one of our equity analysts. We did not receive compensation for this article (other than from Seeking Alpha), and we have no business relationship with any company whose stock is mentioned in this article.