The past year has been a terrible time for Coach, Inc. (NYSE:COH) investors. The stock was trading slightly above $77 per share last May before a long slide to near $46 in February 2013. Many analysts and investors gave up on the luxury handbag maker in favor of other thriving brands such as Michael Kors (NYSE:KORS) and others. Heading into the quarter, some analysts said Coach may miss estimates and post a comparable-sales drop. However, Coach proved all skeptics wrong with high single-digit sales growth in both the U.S. and internationally. The stock is set to soar higher as Coach can trade back into the $60s price range in coming months.
Coach announced sales of $1.19 billion for its third fiscal quarter ended March 30, 2013, compared with $1.11 billion reported in the same period of the prior year, an increase of 7%. On a constant currency basis sales rose 10% for the quarter. Net income for the quarter totaled $239 million, with earnings per diluted share of $0.84. This compared to net income of $225 million and earnings per diluted share of $0.77, in the prior year's third quarter, increases of 6% and 10%, respectively. Analysts expected a profit of $0.80 per share on sales of $1.18 billion, according to Thomson Reuters.
For the nine months ended March 30, 2013, net sales were $3.85 billion, up 7% from the $3.61 billion reported in the first nine months of fiscal 2012. On a constant currency basis sales rose 8% for the period. Net income totaled $813 million, up 3% from the $787 million reported a year ago, while earnings per share rose 6% to $2.84 from $2.67.
Total North American sales increased 7% to $792 million from $738 million last year. International sales increased 6% to $382 million from $359 million last year. On a constant currency basis sales rose 14% for the quarter. China results continued very strong, with total sales growing 40% and comparable-store sales rising at a double-digit rate.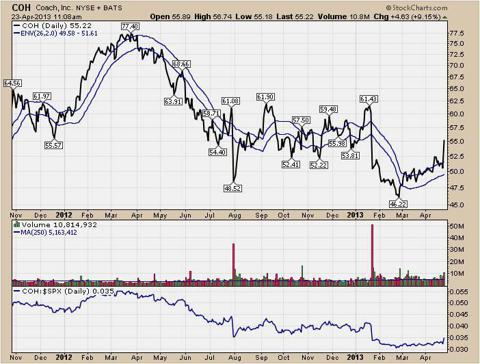 Coach is a leading American marketer of fine accessories and gifts for women and men, including handbags, men's bags, women's and men's small leather goods, weekend and travel accessories, footwear, watches, outerwear, scarves, sun wear, fragrance, jewelry and related accessories.
The Men's business, which remains on track to double to over $600 million this year, is up about 50%. Given the success of Men's, Coach now has a broader Men's offering in over 600 locations globally and across all channels.
The company also announced that its Board of Directors has voted to increase its cash dividend by $0.15 annually, raising it to an annual rate of $1.35 per share starting with the dividend to be paid to stockholders in July 2013. Coach has a current dividend yield of 2.37%. Coach has a one-year dividend growth rate of 33% with a 30% payout ratio.
Coach trades at a current price/earnings ((P/E)) ratio of 14 compared with the industry average of 17.8. First Call analyst consensus has a buy recommendation with a 2.3 rating. First Call analyst consensus has projected 2014 earnings per share at $4.12. Based on a P/E of 15, Coach can trade at 61.80 in the next 12 months.
Disclosure: I have no positions in any stocks mentioned, and no plans to initiate any positions within the next 72 hours. I wrote this article myself, and it expresses my own opinions. I am not receiving compensation for it (other than from Seeking Alpha). I have no business relationship with any company whose stock is mentioned in this article.