Last week was not a good one for General Electric (NYSE:GE). The stock was down about 6.4% for the week, giving back nearly all of its YTD gains. However, this price decline may be an opportunity to buy shares in this industrial juggernaut at a discount. General Electric currently offers a $0.19 quarterly dividend. At current prices, the stock yields about 3.6%.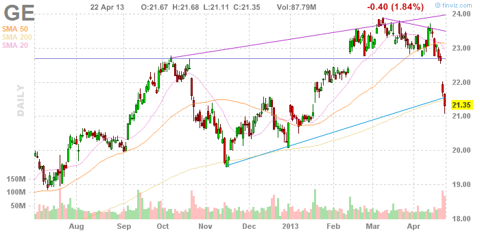 On April 19, General Electric reported its Q1 2013 results. Due to some clever financial engineering, the company reported inline numbers. Operating earnings came in at $4.1B, or $0.39 per share, up 14% and 15% respectively from the prior year. On a GAAP basis, General Electric reported earnings from continuing operations of $3.6B, or $0.35 per share, up 13% and 17% respectively.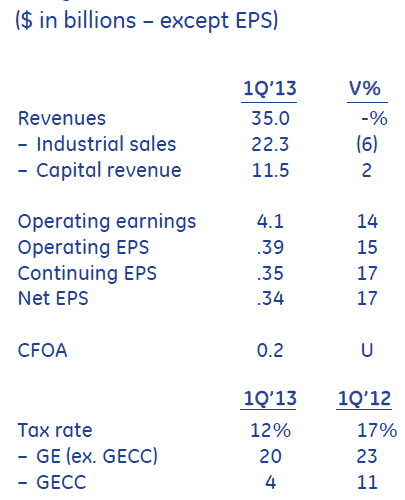 However, what really had the stock tanking was a sharp decline in industrial revenue. Total revenue was flat at $35B, while industrial revenue was $22.3B, down 6% versus Q1 2012. During the Q1 2013 conference call, CEO Jeff Immelt mentioned that weakness in Europe may have been a factor for the disappointing industrial revenue numbers:
So in summary, our industrial segment profits were about $200 million below our expectations, and that really was a function of Europe, which worsened during the quarter and some short cycle push outs from March into the second quarter. We were able to offset that gap by doing a good job on corporate costs and slightly better GE Capital performance. So that's really a summary of the first quarter.
Looking at revenues and profits by segment, we can see that the Power & Water segment was a real laggard. Power & Water saw revenue drop 26% to $4.8B, from $6.5B last year. Power & Water profits saw a ghastly 39% decline to $719M, from $1.2B last year. An area of growth for General Electric was the transportation segment. Revenues there increased 12%, to $1.4B, while profits in that segment grew 15%, to $267M. Aviation revenues grew 4% to $5.1B, while profits grew 9% to $936M.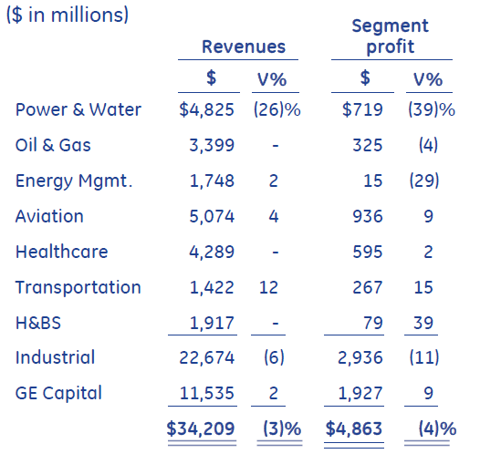 During the conference call, the CEO added some color about the Power & Water segment's poor performance:
The biggest driver of industrial segment profit is the power and water shipment profile that we've mentioned to you before. In the first quarter, their operating profit was down 39%, driven by significantly lower gas turbine, wind turbine, and aero-derivative unit shipments. In Europe, the service business was down about 22%, and was the primary cause of total service revenues being down.
Another area of growth for General Electric is its GE Capital segment. GE Capital saw its net interest margin remain flat at 5%, revenues increase 2% to $11.5B and net income surge 9%, to $1.9B. During the quarter, GE Capital's Tier 1 % increased 65 basis points to 11.1%.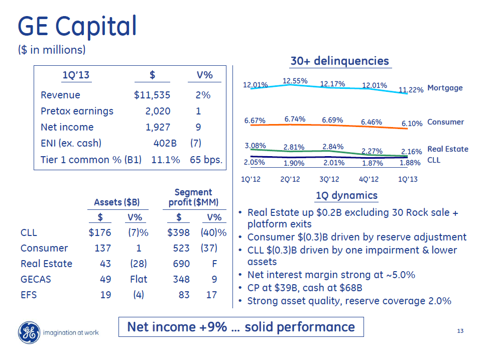 During the quarter, General Electric sold its remaining 49% stake in the NBC Universal joint venture, and related assets, to Comcast (NASDAQ:CMCSA) for $18.1B. General Electric plans to return this capital to shareholders in 2013 through dividends and buybacks. The sale also allowed General Electric to accelerate its restructuring plans and provided more momentum toward its margin goals.
On April 8, General Electric announced that it was acquiring Lufkin Industries (NASDAQ:LUFK) for $3.3B. Lufkin is a leading provider of artificial lift technologies for the oil and gas industry and a manufacturer of industrial gears. Some analysts suggest that Lufkin could immediately bolster General Electric's bottom line as global conditions improve.
Conclusion
The sale of the NBC assets was a good first step into making General Electric a pure-play industry company. However, my previous readers will know that I consider General Electric's reliance on GE Capital to be its weakest point. As long as General Electric owns GE Capital, it will trade at a discount to its pure-play industrial peers.
However, General Electric is currently cheap. Also, the cash from the NBC deal could provide a positive catalyst for General Electric, due to the likelihood of a dividend increase and share buybacks. I would buy General Electric if the stock were to ever reach $20 per share.
Disclaimer: The opinions in this article are for informational purposes only and should not be construed as a recommendation to buy or sell the stocks mentioned. Please do your own due diligence before making any investment decision.
Disclosure: I have no positions in any stocks mentioned, but may initiate a long position in GE over the next 72 hours. I wrote this article myself, and it expresses my own opinions. I am not receiving compensation for it (other than from Seeking Alpha). I have no business relationship with any company whose stock is mentioned in this article.