Content distributor Netflix (NASDAQ:NFLX) kicked off 2013 with strong growth in revenue, subscribers, and earnings per share. Revenue jumped 18% year-over-year to $1 billion, roughly in line with consensus estimates. On the other hand, earnings per share generously exceeded estimates, moving from $0 to $0.31 per share. Further, the company added 3.05 million new streaming subscribers while losing only 3% of domestic DVD subscribers.
Both domestic streaming and international streaming posted strong improvements in profitability and revenue. Domestic streaming revenue increased 26% year-over-year, while lower content costs drove a 630 basis point increase in operating margins to 20.6%. This resulted in an 82% increase in operating profit. In his candid letter to investors, CEO Reed Hastings cited strong reception from "House of Cards" as well as new content deals with Warner Bros. TV as some of the positive developments in the quarter. Some worried that original content would incentivize trial gaming, but Hastings refuted that idea, saying:
Some investors worried that the "House of Cards" fans would take advantage of our free trial, watch the show, and then cancel. However, there was very little free-trial gaming - less than 8,000 people did this - out of millions of free trials in the quarter.
We found it even more impressive that the firm was able to keep marketing expenses flat during the quarter; a trend we find sustainable. We believe Netflix's brand awareness is incredibly high, and it will only take modest marketing messages to inform consumers what content is available via streaming to win subscribers.
Additionally, Netflix could receive a powerful tailwind from growth in smartTVs. Consumers prefer consuming content on a TV rather than on a computer screen, in our view, and TV accessibility makes Netflix an even more attractive product. Although big screen streaming is available via Xbox, Apple TV, and Internet connected Blu-Rays, smartTVs will lower the path to resistance and expand the addressable market size.
On the international side, the firm added 1.02 million net new subscribers, and the segment has more than doubled its subscriber base over the past year. Subsequently, revenue more than tripled year-over-year to $142 million, though the segment still posted a loss of $77 million. The internationally segment remains largely in growth mode, but we believe the service will eventually turn profitable as subscriber growth hits critical mass. Hastings also teased that the company will launch its service to a new European market in the second half of 2013.
The domestic DVD business finally lost its status as Netflix's most profitable segment, as earnings declined 23% year-over-year to $113 million as customers migrate to the streaming platform. We assume Netflix sees no reason to cut off such a profitable business at this time, though the segment could come to an end if/when it becomes unprofitable. For now, we're content with it running the business for cash flow to allocate to the faster-growing segments.
Speaking of cash flow, it continues to be the crux of Netflix's existence. The firm posted negative free cash flow of $42 million during the quarter, and Netflix leads us to believe it will not be positive at all in 2013. When the company becomes free cash flow positive remains a mystery, and with potential competition arising as smartTVs take hold, we think content costs will remain elevated.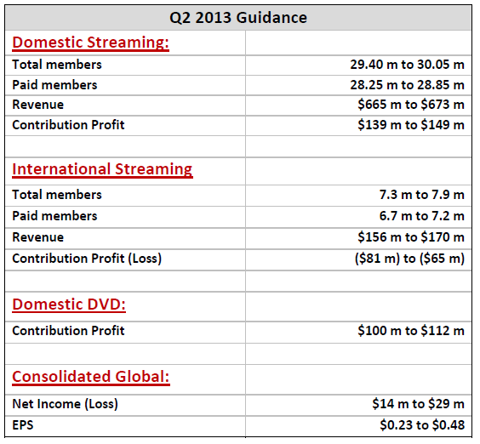 Looking ahead, Netflix provided relatively bullish guidance as streaming profitability improves with subscriber growth (shown above; source: NFLX Q1 2013 Shareholder Letter). We think the addition of a fourth season of "Arrested Development" could help boost subscriber additions during the quarter to an even greater extent than previous original content. The show has a rabid built-in fan base, and we believe many new subscribers could stay after trying the service.
Although we love Netflix's subscriber business model and believe the firm has room to raise prices, we simply aren't interested in shares at this time. At over $200, shares trade at a significant premium to our discounted cash flow valuation. This isn't the first time we've seen Netflix reach an astronomical valuation, and the stock may trade higher as long as the company outperforms expectations. Still, we could see a substantial move to the downside if business momentum slows, which was quite painful for shareholders the last time around.
Disclosure: I have no positions in any stocks mentioned, and no plans to initiate any positions within the next 72 hours. I wrote this article myself, and it expresses my own opinions. I am not receiving compensation for it (other than from Seeking Alpha). I have no business relationship with any company whose stock is mentioned in this article.