Industrial conglomerate General Electric (NYSE:GE) reported solid first quarter results marked by a record backlog of $216 billion. Revenue was flat year-over-year at $35 billion, which modestly exceeded consensus expectations. Earnings, excluding the positive impact of the sale of NBCUniversal, grew 17% year-over-year to $0.35 per share, slightly better than consensus estimates.
In spite of decent backlog growth, weakness in Power and Water and lackluster results in Oil and Gas weighed on performance. The Power and Water segment was particularly challenged, as revenue dropped 26% year-over-year to $4.8 billion driven by a 42% decline in equipment revenue. The firm focused on cost-cutting efforts in order to preserve margins, but segment profitability still fell 39% to $719 million. Light European demand received much of the blame, but shipments are expected to improve in the back-half of 2013. Still, we're not too positive on the demand for wind power in the near-term.
On the other hand, the firm experienced solid performance from GE Capital as the subsidiary focused on divesting its non-core assets. Revenue grew 2% to $11.5 billion, segment profits grew 9% to $1.9 billion, and, importantly, the segment reduced its non-core asset base by $17 billion. Although we believe the segment will eventually be a smaller profit driver in the future, we're happy to see the financing arm deliver solid dividends in the near-term. Still, we're a bit more comfortable with GE as a focused industrial firm rather than a financing conglomerate with its tentacles in too many areas.
Aviation was also strong in spite of revenue growth of just 4%. Orders surged 22% year-over-year to $6.6 billion. GE's Aviation backlog now stands at $103 billion, and a higher value helped drive an 80 basis point increase in segment operating margins.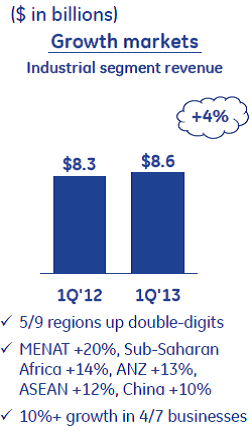 From a geographic perspective, GE Industrial posted strong results in several of its growth markets including China, Africa and Southeastern Asia (image source: GE Q12013 Investor Presentation). CEO Jeff Immelt added some positive commentary on China, saying:
"We had revenue up double digits last year, we had revenue up double digits in the quarter. And we had orders that were up 60% plus, almost 70%. So I always try to answer this that we are a composite of the businesses we're in, and not necessarily a reflection of everything. So if you think about our three biggest businesses, which are aviation, healthcare and power and water, all three of them are in a pretty good cycle right now. Healthcare continues to grow strong double digits."
A lot of negatively has swirled around Immelt's acknowledgement that the company will meet previous earnings targets through cost reduction rather than revenue growth. Europe will shoulder a lot of the blame, but it certainly does not speak well to global growth. Yet, reducing costs in order to boost earnings is essentially the industry standard at this time. We'd love to see top-line growth driving earnings expansion, but revenue growth at an industrial firm is hard to achieve at the moment. A leaner cost structure could leave the firm well-positioned to achieve greater operating leverage when global economic fortunes accelerate.
Overall, GE's revenue growth wasn't terrific, but we remain encouraged to see the company on track to bring SG&A down to 15% of sales. Shares have experienced some weakness, but we like the firm's long-term growth strategy and desire to return cash to shareholders. We continue to consider adding the name to the portfolio of our Dividend Growth Newsletter.
Disclosure: I have no positions in any stocks mentioned, and no plans to initiate any positions within the next 72 hours. I wrote this article myself, and it expresses my own opinions. I am not receiving compensation for it (other than from Seeking Alpha). I have no business relationship with any company whose stock is mentioned in this article.