Company Description: China Bio Products (NASDAQ:CBPO) is principally engaged in the research, development, production and manufacturing and sale of plasma-based biopharmaceutical products to hospitals and other health care facilities in China.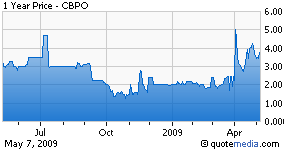 The Company's human albumin products are mainly used to increase blood volume and its immunoglobulin products are used for the treatment and prevention of diseases.

Price (5/06/09): $3.75
Trailing P/E: 6.94 a

Fiscal Year Ends In December

12 Months trailing Non-GAAP EPS (tax adjusted ): $0.54 a,b
Average Company Non-GAAP EPS Guidance for 2009
(tax adjusted): $0.81 a,b

a. All EPS numbers have been adjusted by the GeoTeam to reflect a United States standard tax rate.

b. The GeoTeam used the March 31, 2009 outstanding share count of 21,434,942 to calculate an implied 2009 EPS figure. However, The company did not issue EPS guidance. Thus, investors may infer that dilutive events are expected to occur in the near future. However, per the 10K page 45, it appears that the China Bio Products does not need to raise cash via a capital raise:
"With the bank credit facilities that are available to us and other financing activities, we expect that cash on hand, funds generated from our operations and funds generated from companies that we may acquire in the future will be sufficient to satisfy our current and future commitments for at least the next twelve months."
Reasons for optimism

1. The company meets nine out of ten GeoBargain categories.

NO Recent 52-week high-The stock has NOT recently attained a new 52-week high.

YES 30% EPS growth rate-Earnings per share grew 62.6% in 2008.

YES 10% revenue growth-2008 Revenues grew 44%.

Yes Strong balance sheet-The company meets two of three requirements. Debt to Equity Ratio is 16% (The GeoTeam prefers less than 20%). The company is Cash Flow Positive. Current Assets to Current Liabilities is a little light at 1.3 to 1 (The GeoTeam prefers less than 2 to 1)

Yes 15% ROE-Tax adjusted 2008 Return on Equity was at 30%.

Yes The company is seeking to ultimately achieve minimum pre-tax operating margins of 8%.
2008 adjusted (Non-GAAP) pre-tax margins were 45%.

Yes Under 50 million shares-The company currently has 21,434,942 shares outstanding.

Yes High insider ownership-All officers and directors as a group own 63.7% of company stock.

Yes Limited institutional ownership

Yes Peg Ratio (P/E / EPS Growth Rate) is less than 1-PEG Ratio based on 2008 tax adjusted EPS growth rate is 0.08.

2. The recent Acquisition of a 90% Controlling Interest in Chongqing Dalin Biologic Technologies Co., Ltd. makes China Biologic the largest non-state-owned producer of plasma- based biopharmaceutical products in China. This development strengthens their already solid competitive advantage, especially in light of the limited supply of plasma sources in China.

3. "The plasma-based industry has been immune from the impact of the ongoing global financial crisis as the demand for the products has out-paced supply."

4. Current regulatory requirements to participate in the China biopharmaceutical industry poses a barrier to entry, limiting the competitive landscape.

5. China Bio Prodcuts is forecasting revenue to increase between 93% and 114% ($90 million to $100 million), while adjusted net income is forecasted to rise between 35% and 65% ($18 million to $22 million). This guidance assumes the successful integration of the Chongqing Dalin Biologic Technologies transaction as well as the completion of one more pending acquisition.

Potential valuation scenarios if the company can achieve its EPS growth goals

Potential value based on fully taxed adjusted trailing EPS

o P/E 15* $0.54= $8.10
o P/E 20* $0.54= $10.80
o P/E 25* $0.54= $13.5

Potential value based on fully taxed adjusted 2010 EPS published analyst estimates

o P/E 10* $0.81 = $8.00
o P/E 15* $0.81= $12.15

These scenarios are not intended to be investment advice, but are scenarios based on some commonly used investment guidelines. They are provided to aid investors in making their own investment decisions.
Disclosure: Long CBPO.OB