International Absorbents (IAX): $2.85 on NYSE Amex on May 6, 2009
52 week price range: $4.98 – 1.66
Diluted shares: 6.5 million
Market cap: $18.5 million
Investment Perspective
International Absorbents has established a market leading position in a minor segment of the pet products industry. Their main product is small animal bedding made from cellulose fiber, which is sold under the brand name of CareFRESH. This is bedding for pets like rabbits, guinea pigs, hamsters, rats, mice, gerbils, ferrets, reptiles, and birds; and it is offered as a superior alternative in terms of odor control to traditional bedding material like wood shavings.
CareFRESH, is carried by 80% of the pet specialty stores in North America, and the company has about a 30% market share in the pet specialty channel for this product category. It is also sold in the major general merchandise channel through Wal-Mart (NYSE:
WMT
).
The brand is comprised of basic CareFRESH and two premium line extensions, CareFRESH Ultra and CareFRESH Colors. You can see the products prominently displayed at PetSmart (NASDAQ:
PETM
) and Petco, where they are given more shelf space than any of their competitors.
International Absorbents has been consistently profitable for many years, and the company generated record sales and earnings of $35.8 million and $.35 per share respectively for the fiscal year ended January 31, 2009. However, the recent stock price does not seem to reflect the company's good financial performance.
With a market cap of only $18.5 million there is very limited investor interest in International Absorbents, and this may partly account for the low valuation. Investors may also perceive the company as being quite risky.
The all-time high for the stock price was $6.90 per share in July 2007. However, due to the small market cap and limited liquidity in the stock very few shareholders could have sold their stock at anything close to that price.
My perspective is that the best way for all shareholders to be able to sell their stock at a fair value is for the company to be acquired by a strategic buyer. In this kind of transaction I think a fair value for the stock is around $5.80 per share.
Company Description
While International Absorbents is a Canadian company, the operating business is conducted by a U.S. subsidiary called Absorption Corp. The company has two manufacturing facilities. One is in Ferndale, Washington, and the other is in Jesup, Georgia. The main corporate office is in Vancouver, British Columbia.
The location of the manufacturing facilities assures their access to off-specification and reclaimed pulp waste, which is the company's main raw material. Absorption Corp. purchases this material from pulp and paper mills in British Columbia, Washington, Georgia, and Florida. The two locations also facilitate economical shipping costs of finished product throughout the U.S. Although management does not quantify it, they do indicate that with the two manufacturing facilities, the company has significant excess production capacity to accommodate future growth.
As indicated above the company has been successful with its CareFRESH brand of small animal bedding. However, management has recognized the limitations of being essentially a one product company and have tried to launch other products. These products include cat litter, dog litter, and some industrial cleanup products that use cellulose fiber. The company has also developed a marketing alliance with Supreme Petfoods, a privately held British company, whereby Absorption distributes the British company's small animal food products in North America. Unfortunately, none of these diversification initiatives have amounted to very much at present. Also, the company has recently started to make a private label small animal bedding product for Petco. While this initiative may solidify the company's relationship with this important customer, the private label product cannibalizes sales of CareFRESH.
For the fiscal year ended January 31, 2009 the company's three largest customers accounted for 59% of total sales. Sales to PetSmart, Petco, and Wal-Mart were 26%, 23%, and 10% of total sales respectively.
Financial Performance and Condition
For the fiscal year ended January 31, 2009 International Absorbents generated sales, net income, and EBITDA of $35.8 million, $2.2 million, and $6.2 million respectively, and earnings per share were $.35. This was a record year in terms of sales and profitability.
Based on guidance provided in the company's 10-K, I am estimating that sales and profitability for the current fiscal year, which ends January 31, 2010, will be similar to the prior year. The most notable difference in the current year from the prior year may be that higher SG&A expenses are offset by improvement in gross margin.
International Absorbents has a balance sheet that is adequate to support its current level of business. They have very ample liquidity, and only a moderate amount of financial leverage.
Valuation
The stock is currently trading at 8.1 times EPS for the year ended January 31, 2009. Also, the current stock price implies an enterprise value to EBITDA multiple of 3.4.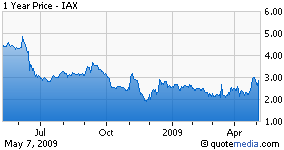 With a market cap of only $18.5 million there is very limited investor interest in International Absorbents, and this may partly account for the low valuation. Also, if an investor did take the time to carefully analyze the company, they might conclude that the risk associated with essentially a one product company along with relatively high customer concentration warrants a low valuation.
Unfortunately for the company's shareholders, the stock might continue to be valued cheaply in the stock market. Also, even if the price rises in the stock market, very few shareholders will be able to sell at the higher prices because of the limited liquidity. However, a sale of the company could result in all shareholders getting a much richer valuation.
For a strategic buyer, adding CareFRESH to their roster of brands could be a way for them to create incremental income, make better use of their existing distribution and administrative infrastructure, and reduce their business risk based on broader diversification. This kind of a buyer should be willing to pay a much richer valuation than how the company is valued in the stock market.
Depending on cost savings and synergies that might be realized by a buyer of the company, the appropriate enterprise value to EBITDA multiple might be in the range of 6.0 to 7.0. My best single point estimate of fair value in this kind of transaction uses a valuation multiple of 6.5, which would value the stock at about $5.80 per share.
Conclusion
CareFRESH is a successful and profitable brand, and a larger pet products company could benefit from adding CareFRESH to its brand portfolio. Since International Absorbents is essentially a one product company, an acquisition of the brand could be accomplished by an acquisition of the company.
For the maximum benefit of all shareholders, I believe that International Absorbents should be sold to a strategic buyer. It is doubtful that the company will grow enough in the next several years to where it will be worth significantly more in that time period, than it is now. Therefore, taking into consideration the time value of money, the company should pursue a sale sooner rather than later.
click charts to enlarge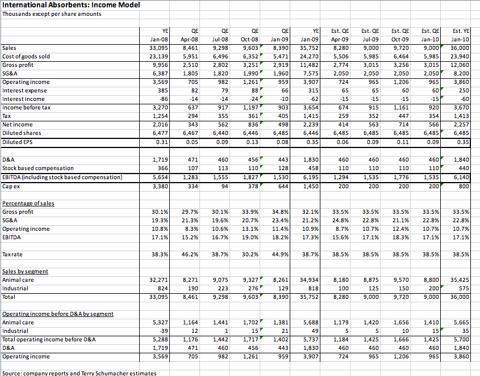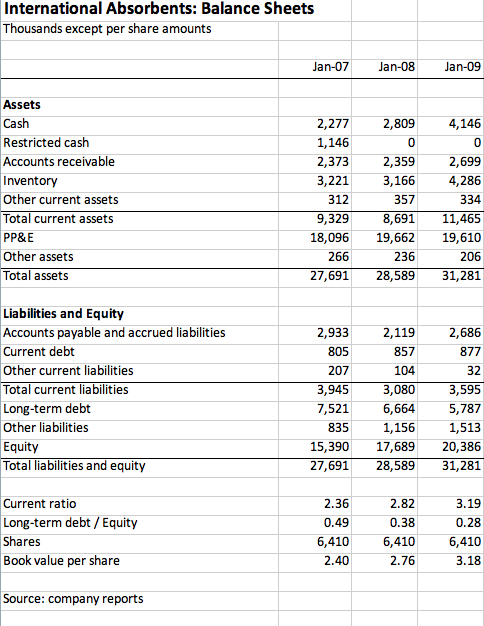 Disclosure: Terry Schumacher owns shares of International Absorbents.