While I admire and respect many of my fellow contributors (as well as my readers, of course), there is one man who repeatedly sticks his neck out with bold calls, backed by years of experience in the semiconductor industry. His name is Russ Fischer, and if you're not "following" his articles, then please put this down for a moment, head on over to his profile, and check the box that says "follow." You won't regret it. Anyway, so Mr. Fischer recently made an interesting observation that Intel (NASDAQ:INTC) may be building in a massive amount of capacity to perhaps get back into the memory business. It seems that there is now evidence to support Mr. Fischer's bold prediction.
Haswell GT3e: A Bold Move In Graphics
Intel has been rapidly advancing its integrated graphics technology ever since around 2010, when it became clear that good CPU performance alone isn't enough. People want high performance, low power graphics in increasingly more mobile devices. Intel's rival, Advanced Micro Devices (NYSE:AMD), spent $5.4B acquiring ATI Technologies for its graphics prowess, while Intel has built its own graphics team organically and has access to Nvidia's (NASDAQ:NVDA) graphics patents (but not, as is erroneously believed, Nvidia's designs). Intel's graphics in 2010 were...garbage, and in 2011 with the release of "Sandy Bridge" they were less garbage, but still pretty terrible. With "Ivy Bridge," Intel's graphics - in low power scenarios - performed much better, only losing to AMD's parts in a similar power envelope by about 20% or so on average: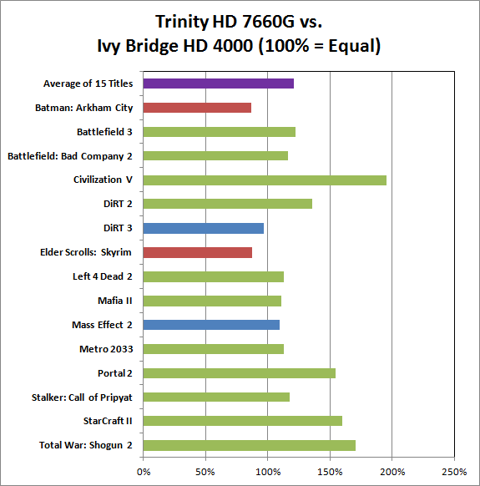 However, Intel is bringing out the big guns in graphics with "Haswell." The highest configuration version, "GT3e," not only more than doubles the compute resources over the highest performing "Ivy Bridge" part, but it also includes an on-package embedded DRAM cache, which basically gives the "Haswell" chip (both the graphics and the processor) access to an insane amount of memory bandwidth, which is critical for things such as 3D graphics.
I'm going to go on record now and say that I fully expect that Intel's highest end "Haswell" integrated GPU to fully capture the integrated graphics crown from rival Advanced Micro Devices at the highest end, and I further expect some pretty serious competition to both Advanced Micro Devices and Nvidia in the entry level discrete notebook and All-In-One desktop GPU space, depending on how aggressive Intel is with its pricing.
But this article promised you a "breakthrough innovation." Indeed, there is much innovation involved here.
This Isn't Your Ordinary DRAM
What many people (including myself) believed was that Intel was simply buying DRAM from Samsung (OTC:SSNLF) or Micron (NASDAQ:MU) and hooking it up. This is not the case. Intel actually designed its own custom DRAM according to excellent research from Real World Tech's David Kanter, and will be building it on its bleeding edge 22nm manufacturing process. This ultimately means that Intel will be utilizing more of its manufacturing capacity to take more of the bill of materials of the high end notebook/All-In-One PC. Pretty nifty, right?
Conclusion
Intel's next generation "Haswell" with GT3e graphics should represent a pretty bold technical step for the company, as this may be the first time that consumers may actually equate "Intel HD Graphics" with "good." These SKUs could very well help raise ASPs, as premium system vendors may opt for this ultra-high end eDRAM part instead of lower end discrete GPUs. While Nvidia and AMD still have better drivers than Intel does, especially for the latest games, Intel realizes that in order to remain relevant in the computing industry, it needs to invest heavily in graphics.
Disclosure: I am long INTC, NVDA, AMD. I wrote this article myself, and it expresses my own opinions. I am not receiving compensation for it (other than from Seeking Alpha). I have no business relationship with any company whose stock is mentioned in this article.