New crop corn is slow to get in the ground this year. That could mean higher prices, in my eyes.
US corn planting is only at 4% according to this week's crop progress report. This came in at the low end of expectations of 4-6%. It gets worse - the average planting progress from this time of year is 16%. Last year 26% had been planted by this time. Farmers are late to the game this year.
A weak 4% planting ties the record low, which came in 1993, a flood year. Following that supply crunch corn futures appreciated 50% between April and December 1993. I'll note this gain came off a lower starting price of about $2/bushel, so it cannot be directly compared to this year's $5-something corn. It's premature to make a bold call of another 50% move, but bullish trade at $5 is justified in my eyes.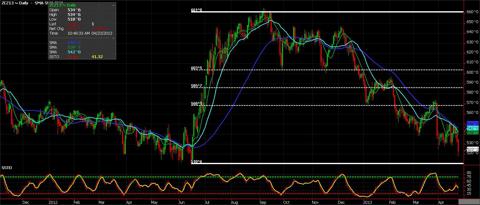 Short-term forecasts for drier weather, conducive to planting, have corn futures off recently. Prices are lower by 9% in the past two months, including a 5% drop in just the last four days.
Longer-term, it doesn't look like Mother Nature will cooperate. Wet weather and potential planting delays are predicted further out. Corn spreading was active with new crop getting hit more than old crop - something I like to see as I'm looking to establish a bullish trade in new crop.
I favor selling put options under the market in this situation. Instead of popping immediately higher, prices could linger as we potentially carve out a bottom here. We want to be short volatility and time premium, in my opinion.
My pick is to sell $5 puts, which are currently going 32.4 cents, or $1625 per contract. You collect this premium as you are opening the trade with a sale. Effectively, this is a long position with a "buy price" of $4.70/bushel ($5.00 strike minus 32.5 cents of premium). The lowest price December '13 corn has traded in the last two years is $5.11/bushel (on 6/15/12). See the table below for more strike prices to consider.
The danger is corn prices completely fall apart from here. But after a 21% drop over the last seven months... I think most of the damage has been done. Even if weather improves and planting progress catches up, I do not see an extended downside move in the cards.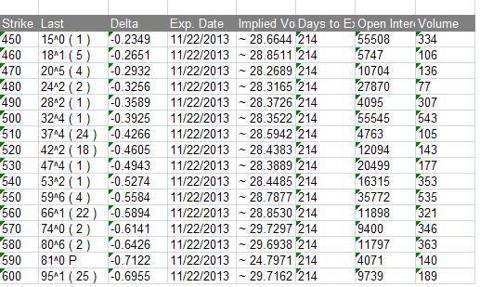 Risk Disclaimer: The opinions contained herein are for general information only and not tailored to any specific investor's needs or investment goals. Any opinions expressed in this article are as of the date indicated. Trading futures, options, and Forex involves substantial risk of loss and is not suitable for all investors. Past performance is not necessarily indicative of future results.
Disclosure: I have no positions in any stocks mentioned, and no plans to initiate any positions within the next 72 hours. I wrote this article myself, and it expresses my own opinions. I am not receiving compensation for it. I have no business relationship with any company whose stock is mentioned in this article.