Cablevision (NYSE:CVC) shares jumped sharply following the release of 1Q09 earnings. The upside is being driven by free cash flow and the announcement that CVC will consider spinning off its Madison Square Garden assets. I found the fundamental operating trends at the cable business to be slightly disappointing with revenue and EBITDA at the very low end of expectations and subscriber growth below consensus.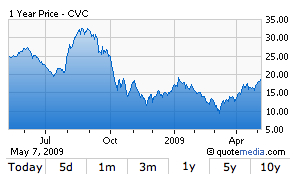 MSG assets include the arena, the MSG and Fuse TV networks, the Knicks, Rangers and WNBA Liberty, Radio City Music Hall, and the Beacon and Chicago Theaters. Plans are underway to build a new arena or dramatically upgrade the current arena at a very high cost.
It is understandable why investors would bid up CVC on the basis of FCF and an MSG spin. The company remains highly leveraged even though near-term refinancing risk has been dramatically reduced. Most importantly, the Dolan family has a poor history of acquisitions and capital allocation so eliminating one of the major capital consumers in MSG suggests that the core cable business is going to get all the attention it deserves and the shareholders will benefit from what looks to be a peak in capital spending and the long awaited free cash flow promise offered by the cable business model.
CVC reported 11% revenue growth and 14% EBITDA growth in 1Q. Both figures exceeded expectations. However, the upside came from MSG, the commercial telecom business, and the cable networks. Cable only revenue and EBITDA growth was 5% and 7%, respectively. These numbers are in line or slightly trail Comcast (NASDAQ:CMCSA) and Time Warner Cable (TWC) in 1Q09. CVC usually outperforms. CVC's lack of exposure to new subs that are losing their over the air broadcast signals may be a factor.
At the subscriber level, CVC lost 6,300 basic subs, below expectations for a slight gain. Digital TV subs fell well short of expectations at just 9,800 vs. consensus of 25,000. High speed internet subs came in at the low end of expectations while telephone was in line. Compared to expectations, this is the weakest subscriber performance for CVC in some time. It could be an indication that the NYC economy is finally decelerating, that Verizon's (NYSE:VZ) FiOS is having a greater competitive impact, or that CVC's incredibly high penetration ratios have finally created a ceiling.
Despite my disappointment on the fundamental trends this quarter, I cannot emphasize enough that the MSG spin is a major positive. It represents a significant change in approach by the Dolan family and could serve to dramatically reduce or eliminate the "Dolan discount" long present in the shares. That said, it is no sure thing the spin goes through given past missteps of this sort at CVC and market conditions. As a result, if you were fortunate enough to be long CVC recently I would take a little off the table on Thursday's strength.