Apple (NASDAQ:AAPL) has just reported its earnings for the March quarter. These were mostly in line with expectations at the EPS level and $1.1 billion above expectations in terms of revenues. However, much more relevant was Apple's guidance for the June quarter, which was as follows:
• revenue between $33.5 billion and $35.5 billion

• gross margin between 36 percent and 37 percent

• operating expenses between $3.85 billion and $3.95 billion

• other income/(expense) of $300 million

• tax rate of 26%
Revenue guidance
A range of $33.5 to $35.5 billion has a midpoint of $34.5 billion. Market consensus was for $39.34 billion, so any of these levels represents a significant miss. At $33.5 billion, revenues would be almost 15% below expectations; at the midpoint, they'd be 12.3% below expectations; and at the high of the range ($35.5 billion), they'd be 9.8% below expectations. Any of these implies quite a significant downward revision.
Not only that, but the June 2012 quarter saw revenues of $35 billion, so the midpoint of the range actually implies revenues will drop in this quarter. And in any case, this guidance means Apple won't see any revenue growth.
Earnings guidance
Obviously, such a revenue miss could not come without consequences. Taking into account the rest of the guidance items, this is what we can come up with for the top and bottom of the gross margin guidance at the 3 possible levels for revenues ($33.5 billion, $34.5 billion, $35.5 billion):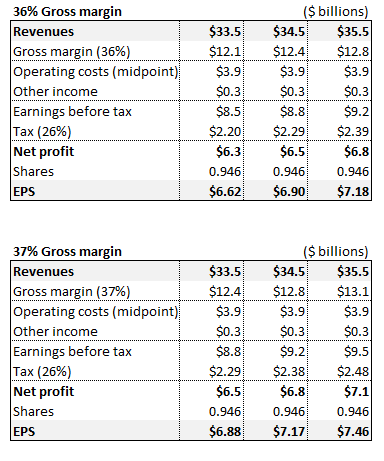 As we can see, the guidance implies EPS between $6.62 and $7.46. This compares to the existing consensus of $9.08. Apple is thus guiding down between 18% and 27%. There will have to be a flurry of downside revisions. Again, even the high point of guidance, $7.46, comes in below last year's $9.32 for the same quarter. This thus implies an earnings contraction of 20% to 29%.
Also relevant
Apple has a reputation for sandbagging guidance considerably. This could be an excuse for the seemingly horrid guidance given for the June quarter. However, there's something else that needs to be said here. In the past quarter's call, CFO Peter Oppenheimer had this to say:
"Going forward, we plan to provide a range of guidance that reflects our belief of what we are likely to achieve. We cannot forecast with complete accuracy, we believe we are likely to report within the range of guidance we provide."
What this seems to mean is that Apple is no longer sandbagging. It's trying to put out a realistic range for expectations. This means the guidance is to be believed, is realistic, and thus as bad as it first looks.
On the plus side
Three things stand as positive:
Apple is increasing the dividend 15% to $3.05 per share per quarter, so $12.20 per year or a 3% yield on the present quote, $406;
Apple is increasing the buyback authorization by a cool $50 billion;
And the company will be doing the buyback using debt issuance. This is at least partially due to Apple having its cash hoard abroad and not being able to repatriate it without incurring taxes. Now why is this positive? Because of a weird factor: there will be many investment banks salivating over doing that debt issuance and getting the associated commissions. This will probably mean there will be more of an incentive to see Apple in a more favorable light.

Conclusion
All in all, Apple's guidance was horrid and there continues to be a lack of any visible growth drivers. Still, Apple already trades as if it has no growth, so it's hard to be negative on its prospects.
There continues to be resistance to making a larger screen iPhone. I'd say that Apple has 3 easy ways to re-kindle growth at this point: A larger iPhone, a cheaper iPhone and an agreement with China Mobile (NYSE:CHL). Barring any of those, Apple desperately needs new products. And the guidance, horrid as it is, might well be followed by even worse quarters.
All in all, I cannot be but neutral on Apple's prospects.
Disclosure: I have no positions in any stocks mentioned, and no plans to initiate any positions within the next 72 hours. I wrote this article myself, and it expresses my own opinions. I am not receiving compensation for it (other than from Seeking Alpha). I have no business relationship with any company whose stock is mentioned in this article.