Apple (NASDAQ:AAPL) reported Q2 earnings after the bell today, and I'm impressed by the numbers, the tone of the conference call, and the shareholder value being unlocked. More so, I'm impressed with Tim Cook's sentiments and Apple continuing to recalibrate the market and continually politely remind us that a company with $140 billion in the bank is about as stable as you can get for the long term.
Despite that, Apple has had a really tough ride over the last 6 months, losing over $300 billion in market cap.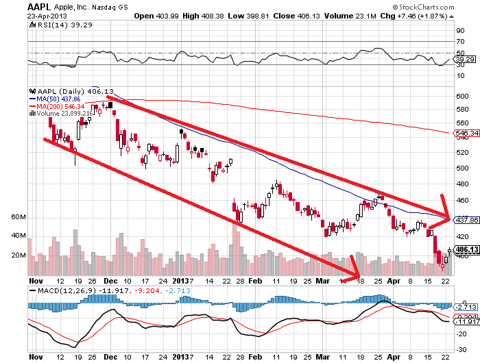 Click to enlarge
From CNBC.com's recap of earnings:
Apple reported fiscal second-quarter earnings of $10.09 a share on revenue of $43.60 billion versus $12.30 a share on $39.19 billion a year earlier. That was the first time Apple's profit declined in a decade.

Analysts had expected the tech giant to report earnings excluding items of $10.00 per share on revenue of $42.33 billion, according to a consensus estimate from Thomson Reuters.

Apple sold 37.4 million iPhones in the quarter, compared with 35.1 million in the year-ago quarter. The tech company sold 19.5 million iPads versus 11.9 million a year earlier.

But the company's gross margin shrank to 37.5 percent from 47.4 percent a year earlier.
I'm maintaining that there hasn't been a better time to go long Apple, and I think this earnings call is going to be the catalyst to not only find a serious support level at $400, but move up from there. Here are some of the reasons why, from the earnings conference call this afternoon, Apple is a fist-pounding buy.
Reasons Why I'm Longer & Stronger:
1. Massive $60 Billion Buyback
Apple is doing what CFO Peter Oppenheimer described on the conference call as the largest share buyback in the history of the stock market. Apple is upping its $10 billion buyback to $60 billion, which at today's market prices, would represent about 16% of the outstanding shares. The adjusted share price to maintain market cap would put the stock somewhere around $464 today, based just on the news of the buyback.
I had noted this in a previous article on why I was buying Apple at $396:
Treats are coming for loyal shareholders. It's been alluded to time and time again since Einhorn has started pressing shareholders to demand that Apple unlock their cash. CEO Tim Cook had alluded to it dozens of times, and it's only a matter of time before shareholders wind up with an added bonus like increased dividends, preferred stock, or share buybacks.
2. Dividends Increased 15% to $3.05/Share
OK, so 15% isn't a massive dividend increase, but annualized, it's enough to make a difference. Had this been the only move that Apple made to unlock cash, stockholders would have had a problem on their hands. As a compliment to the $60 billion share buyback, it's absolutely perfect and maintains Apple's appeal as a revenue and income stock for more conservative investors.
3. More Cash in the Bank
Even though Apple maintains that it's going to be accessing debt markets to help with its share buyback, I still think it's worth noting that Apple increased its cash in the bank by about $8 billion. CFO Peter Oppenheimer noted on the call that about $100 billion of that was in offshore accounts, and that the company recently sought credit rating through S&P and Moody's. Another analyst noted, "Apple is all growed up and finally got a credit card."
4. EPS and Revenue Beats
The good old fashioned revenue and EPS numbers beat, how 'bout that? Both items came in above analyst estimates for the quarter, deflating numerous bearish conspiracy theories about Apple missing and shareholders "bracing for the worst." For a quarter that absolutely everyone was sure was going to be a meltdown for EPS, Apple managed to modestly beat revenue numbers and EPS. On the heels of CFO Peter Oppenheimer saying last quarter that Apple will no longer sandbag guidance, this is a nice sign, to me, of stabilization in terms of calibration between Apple's guidance, analysts' guidance, and what they're capable of reporting.
5. iPhone and iPad Numbers
Year over year, iPhone and iPad numbers both came in above expectations. iPad numbers were up over 60% year over year and CFO Peter Oppenheimer noted on the call that numerous studies showed that over 80% of iPad sales went to people that were entering into the tablet market for the first time. This is going to lead to integration with other Apple products for people that are familiarizing themselves with the brand for the first time.
6. Record Sales from iTunes Store
Tim Cook made several points alluding to this during the conference call, and rightfully so. With 35 million songs and over 60,000 movies being offered in over a hundred countries, the iTunes store continues to be the (most important) fastest growing media purchase point worldwide. In an emerging market of purchasing media online, which is still transitioning to moves and streaming multimedia (see: Netflix, Google Fiber, Hulu, etc.), the iTunes store remains as the spearhead.
7. New Products Coming This Fall
Tim Cook said it himself. The company has products in the pipeline (hardware and software) that it is extremely excited about and plans on releasing this fall and "into 2014." Whether it's the iWatch, the iTV, or something we haven't even thought about yet, we are going to be guaranteed to have something to get excited about after the summer. New products mean new revenue streams, ideas for the holidays, and plenty of free press from major media outlets.
Tim Cook made a great comment on the conference call about not being able to control the stock price. He indicated that it was frustrating for Apple the same way it's been frustrating for shareholders. Ultimately, he said, the company can't control the day to day price, but it'll keep doing what it can focus on: continuing to innovate.
What Needs Improvement in Coming Quarters
1. Margins Fell
The margins fell to 37.5% this quarter, which was on the very low end of the guidance given by the company. CFO Peter Oppenheimer attributed these margins to one of the best reasons you can give for earnings coming down: it sold too many iPads. Apple purposely gave a price break on the iPad mini in order to make it appealing, and it knew it was going to take a hit on margins. It sold a bit more than expected, therefore, margins suffered accordingly. Tim Cook noted upfront during the call that the margins from 2012 were exceptional and a poor basis on which to make expectations from for the future due to how extremely high they were. Apple commented that Q3 margins will come in a bit lower, mainly due to a different product mix.
2. Mac Sales Came in Light
Mac sales came in at just under 4 million, which represented a decrease of about 2% year over year. CFO Peter Oppenheimer cited that computer sales worldwide were down significantly, positioning a 2% loss in Mac sales as being ahead of the rest of the computing world. Also, as iPhone and iPad sales continue to flourish and the Windows computers of old continue to become obsolete, Mac sales will come up supplemental to other product sales and as home PC turnover continues.
3. Guidance for Q3 Came in Low
Guidance for the 3rd quarter came in lower than expected. From CNBC.com:
For the third quarter, Apple forecast revenue of between $33.5 billion and $35.5 billion, well below the $38.25 billion Wall Street was forecasting. It also expects its gross margin to continue to slide to between 36 percent and 37 percent.
It's worth noting that the upcoming quarter is usually Apple's slowest point of the year. Leading into product launches in the fall and the holiday season, I am fine as a long-term investor with the margins coming down. As we move into Q4 and 2014, I'd like to see these numbers stabilize.
Conclusion
I'm staying very long and strong with Apple. I think we have a well-established bottom here in the $400 level with the buyback and the dividends creating a support level for shareholders that we will not breach. As we move through the summer and fall, I'm going to expect Apple to continue to rise back to the levels it was at in the $500s, as long as the market itself continues its bullish sentiment.
Disclosure: I am long AAPL. I wrote this article myself, and it expresses my own opinions. I am not receiving compensation for it (other than from Seeking Alpha). I have no business relationship with any company whose stock is mentioned in this article.
Additional disclosure: I own AAPL calls and LEAPS.