Open Text Corp.'s (NASDAQ:OTEX) bid for U.S. software vendor Vignette Corp. (VIGN) was received with open arms by RBC Capital Markets analyst Mike Abramsky and took some of the sting away from the enterprise content manager's fiscal third quarter revenue miss and cautious outlook.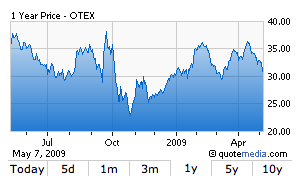 Open Text Corp. said Wednesday it will purchase Vignette for $310-million in a friendly cash and stock acquisition. Later in the day, the company announced fiscal third quarter results, including revenues during the period of $192-million and earnings of $.41 per share.
Mr. Abramsky said the Vignette deal would be positive, for one, because it "further consolidates the ECM industry to OTEX's advantage." He also said it expands Open Text's addressable customer base and add valuable web content management offerings.
He wrote in a note to clients:
Vignette's WCM solutions/technology/expertise brings to OTEX sophisticated features (transactions, analytics, ecommerce, etc) required by larger online accounts, which represent a lucrative opportunity and potentially a growth area when the economy rebounds.

We preliminarily estimate OTEX' earnings could benefit C$.05 to C$.10 per share within first year after close on OTEX/VIGN synergies.
Turning to Open Text's third quarter results, Mr. Abramsky said lower-than-expected sales on lower license revenues combined with management's guarded outlook, were obviously a problem, but likely nothing more than a "speed bump" for the company.
The analyst told clients:
While the license shortfall and lower visibility was concerning, it is also understandable, given the sluggish economy.

However, checks and data points to us suggest macro demand for OTEX compliance solutions remains resilient amidst recession, with OTEX increasingly well positioned to benefit.
Mr. Abramsky maintained his "outperform" rating and left his C$40 price target unchanged.