Telus Corp. (NYSE:TU) released underwhelming Q1 numbers and lowered its 2009 guidance Thursday, but the company was still more optimistic than UBS analyst Jeffrey Fan expected.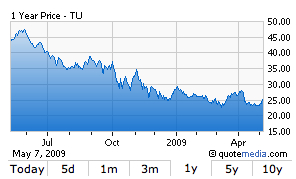 "New 2009 guidance is above our expectations," Mr. Fan wrote in a note Thursday.

The telecommunications company cut its wireless revenue and EBITDA targets by 6% each to C$4.7- C$4.8-billion and C$1.975- C$2.05-billion respectively. UBS has the same numbers pegged at C$4.7-billion and C$1.94-billion instead.

Telus also announced lower earnings per share targets, which include an income tax-related adjustment, of C$3.35 to C$3.65 for 2009.

UBS did not include these adjustments, and had the Telus EPS guidance at C$3.15 to C$3.45, down 7%. UBS nonetheless expects the EPS to be even lower, at C$3.06.

"It's not apples-to-apples," Mr. Fan said of the differing EPS forecasts.

Mr. Fan did note that Telus TV passed the 100,000 mark for TV subscriptions in April, and will expand its offerings to British Columbia and Alberta.

"The launch of Telus Satellite TV later this year will extend our coverage of our entertainment offering," Telus President and CEO Darren Entwistle said in a statement.

Also, Telus posted C$2.375-billion in revenue for the first quarter, up C$25-million or 1%. This is in line with UBS and consensus projections for Q1.

Overall, UBS remains neutral on Telus and maintains its 12-month price target of C$28.50 per share.

Telus was trading at C$21.29, down C$0.01 on Thursday afternoon.