One of the year's top performing sectors is healthcare. The industry has marched steadily higher since the Affordable Care Act was affirmed by the Supreme Court last year.
This year, the S&P Healthcare ETF (NYSEARCA:XLV) has gained 19.8% through April 19th, handily outpacing the 9.7% return for the S&P 500 (NYSEARCA:SPY). And, in the month of April the XLV is an impressive 4.3% ahead of the SPY.
The strength suggests investors have digested the risk of reform and are increasingly comfortable with its impact. For investors who have remained on the sidelines, a bigger question is whether the group can sustain its heady returns.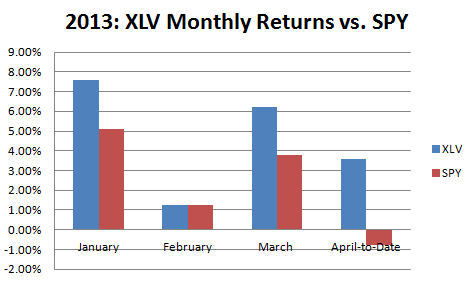 Currently, the sector trails only utilities in E.B. Capital Markets, LLC weekly sector ranking.
This ranking averages scores across 400 large cap stocks to gain insight into sector and industry shifts.
Each company's score is based on earnings growth, earnings beats, valuation, short interest, insider buying, seasonality and money flow.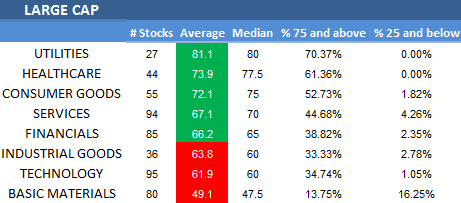 The ranking is notably defensive as investors shun risky assets in favor of news flow driven biotech and dividend heavy pharmaceuticals.
Currently, the top scoring large cap healthcare stocks are Celgene (NASDAQ:CELG), Gilead (NASDAQ:GILD) and Johnson & Johnson (NYSE:JNJ), according to E.B. Capital Markets, LLC scoring system.
In April, I wrote about Celgene's rich pipeline, including Abraxane and Apremilast. Those drugs are likely to enjoy catalysts tied to label expansion over the coming years. Gilead may be best known for its AIDS cocktail. But, it made a big splash acquiring Pharmasset in 2011. The acquisition gave the company a late stage oral Hep C drug, later named sofosbuvir. That drug was filed for FDA approval on April 8th. Finally, Johnson & Johnson has enjoyed a bit of a renaissance this year as investors focus more on improving oncology and immunology drug sales than over-the-counter supply chain troubles.
| | | | | | |
| --- | --- | --- | --- | --- | --- |
| HEALTHCARE |   |   |   |   |   |
| Company | Symbol | Sector | 4/16/2013 | 4/23/2013 | 4 Week MA |
| Celgene | CELG | HEALTHCARE | 110 | 110 | 108.75 |
| Gilead | GILD | HEALTHCARE | 105 | 105 | 105.00 |
| Johnson & Johnson | JNJ | HEALTHCARE | 100 | 100 | 98.75 |
| Abott Laboratories | | HEALTHCARE | 90 | 95 | 93.75 |
| Merck | | HEALTHCARE | 95 | 95 | 82.50 |
But, there's also a seasonal tendency investors should watch closely.
Since 2000, the S&P 500 healthcare ETF has posted some of its best returns in March and April before edging lower in May and negative in June and July.
Source: Seasonal Investor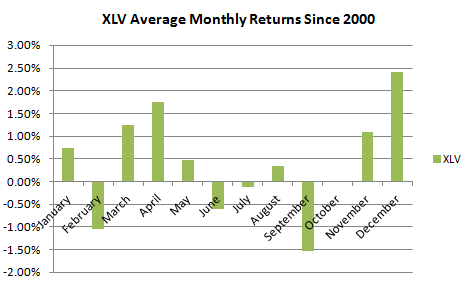 While negative absolute returns suggest position traders sell in May, longer term investors can take solace knowing the XLV's average returns still outpaces the SPY in May, June and August.
If we follow a similar pattern this year, those holding positions through those weak summer months still have a good chance of beating the benchmark.
But, for those with shorter time frames more inclined to rotate positions, May may offer a good time to reduce exposure as healthcare strength appears the result of a normal risk-off trade, rather than something more ominous.
Seasonality may also suggest September and October volatility tied to the Act's enrollment launch may provide a solid entry for a push higher in the final two months.
Disclosure: I have no positions in any stocks mentioned, but may initiate a long position in GILD, CELG over the next 72 hours. I wrote this article myself, and it expresses my own opinions. I am not receiving compensation for it (other than from Seeking Alpha). I have no business relationship with any company whose stock is mentioned in this article.